Schedule File Uploads To Server With FTP Scheduler
FTP Scheduler is a portable utility which lets user upload files to FTP server at scheduled intervals. The application is designed on the idea of divulging HTML page, file, link or archive to public at specific time. All that is required is to enter the FTP account details, followed by files to be uploaded and time of starting the upload task. Moreover, it allows one to automatically shutdown system when uploading process gets completed, so if you're planning to upload enormous data to server till the better part of night, just schedule uploading of files and it will handle without requiring any user input.
Scheduling uploads is easy as pie, just launch the application and from Server window, enter FTP server host address with username and password. Now head over to Files window to either specify folder or files which are to be uploaded. Once done, in Upload window, from pull-down menu, select the date and time to schedule uploading. Here, you can enable Shutdown after upload option, or hide the program user interface to let it work in silent mode.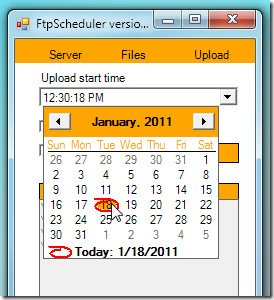 The application supports Windows XP/Vista/7. Testing was done on Windows 7 x64 system .