Download Email Attachments From Gmail, Yahoo, Hotmail, AOL, etc For Free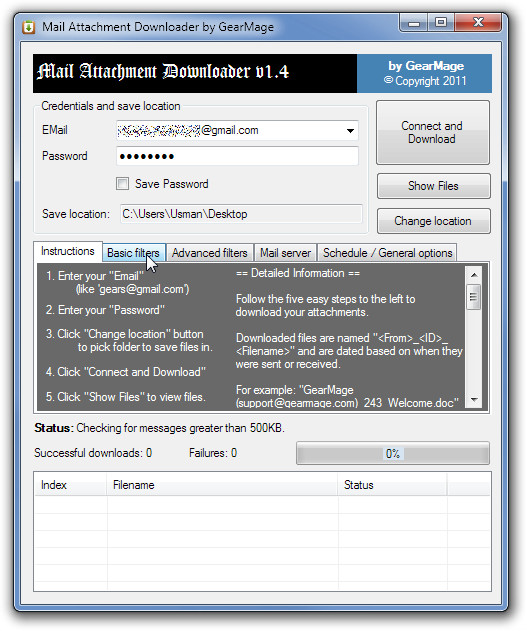 Mail Attachment Downloader is an awesome desktop utility which offers almost every option to customize downloading of attachments from multiple email services including Gmail, Yahoo Mail, AOL, Hotmail, and many others supporting POP/IMAP protocols. What sets it apart from other applications is the fact that it contains a wide range of features to download attachments quickly at specified location. While it's being compounded with scheduling options, you can apply filters in numerous way, for example, you can download files by extensions (images, documents, music or video files), download within a defined date range, download attachments from either only new messages or all mail items, set limit on files sizes, etc. It is further possible to apply filters on messages, you can for instance specify recipient or sender's mail address along with CC & BCC, subject and body text in order to download only required mail attachments.
The main interface displays detailed instructions to quickly get started. Before starting off, you need to head over to Mail server tab and choose the email service followed by specifying account address and password. By default, it downloads attachments in Documents folder, however, you can specify any location by clicking Change location button.

Once initial configuration is set, subsequently move to Basic filters, Advance filters, and Schedule/General options tabs to set every provided option. The Basic filters refers to selecting either all or only new messages. It is also accompanied by options to apply filters on file size and extensions.

Under Advance filers tab, you can select the date range and apply message filter on email address, CC/BCC fields, subject and body text.
Finally, if you need to schedule downloading of attachments, head over to Schedule options tab. Here, you can let it download mails attachments according to set criteria after every hour, 15 minutes, or once in a day. Alternatively, you can set time according to your requirements for downloading files from mailbox. Adjacent to Scheduling options, it allows user to set some general file naming behaviors and server-check timeout interval. Once you done setting up options, click Connect and Download button to start downloading attachments at defined location.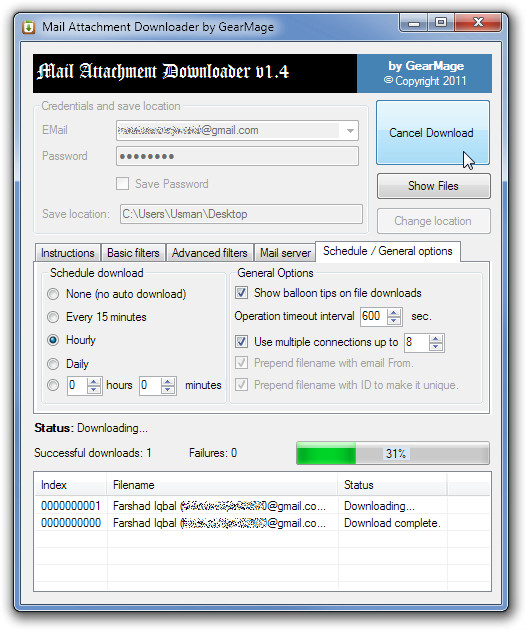 During testing, we didn't notice any problems and it worked as intended. The application supports Windows XP/Vista/7. Testing was carried out on Windows 7 x64 system
Download Mail Attachment Downloader