Schedule & Remotely Shutdown/Restart Your PC From Mobile Phone
Downloading a large file that has an hour left to complete, and you don't want to stay up just to shut down your PC? Stepped out in a rush and forgot to put your system to hibernate? Perhaps you want your VPN connection to terminate after a certain interval, or want a certain application to automatically launch at a certain time? For all these cases, Airytec Switch Off comes in handy.
Available in both installable and portable flavors, this light and small tray application can automatically turn off, suspend, lock or hibernate your computer, based on either a pre-defined scheduling or through remote access. It can also launch any program through its highly configurable script support.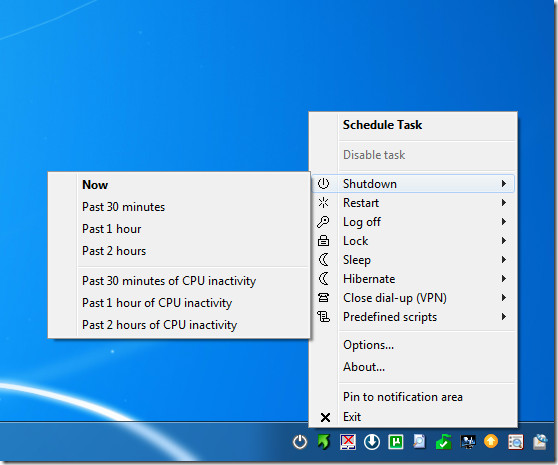 When running, you get a tray icon with some preconfigured options, with intervals of 30 minutes, 1 hour and 2 hours. They can also be based on CPU inactivity. Selecting 'Schedule Task' gives you more freedom, where you can program a task to execute based on a timer (including one for CPU idle time) or a one-time task with time and date setting. The program can be set to run silently,where it won't generate any alerts before running the defined task.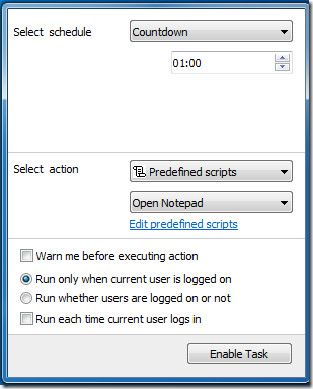 One of the most powerful features of Switch Off is its predefined scripts. By default, the software comes with only one; Open calculator, but you can add as many as you like. Click Edit predefined scripts to access the scripts folder. You can create any new scripts in the notepad, saving them with .cmd extension, and they will appear in the pull-down menu. In the screenshot above, the Open Notepad script being shown is my own creation.
The options dialog offers three sets: General, Other and Remote. You can set language, notification and quick-action parameters here.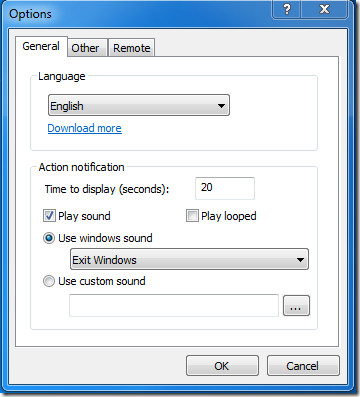 The Remote tab is of more interest (not available in the portable version) since it allows you to enable and configure remote access parameters for Switch Off. You can also set a remote access password (recommended but not required) to keep your settings secure.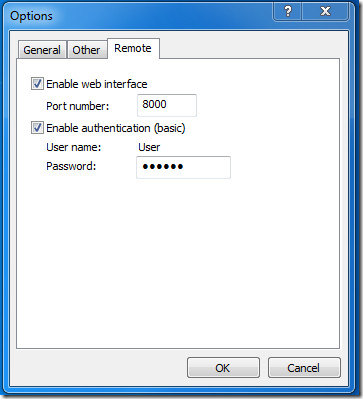 To access remotely, you need to enter your PC's external IP address followed by the port that you have specified, so that it looks something like https://12.34.56.78:8000, where 12.34.56.78 is assumed to be your PC's external IP address. Enter this in any web browser, including mobile web browsers, and you get access to your PC's remote Switch Off panel. Please note that the application must be running in order to access web interface. Check out more details here.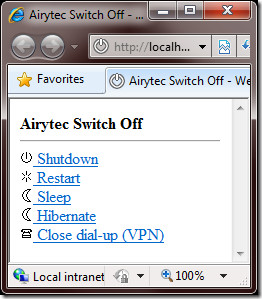 Airytec Switch Off is a user-friendly and useful utility that can come in handy at many a times. It works on all versions of Windows starting with 2000, all the way up to the latest Windows 7, and is gentle on memory usage.