How to schedule screenshots on Windows 10
A tool that can take screenshots is basic nowadays. Windows 10 has two different screenshot tools out of the box and there are a lot of great, free screenshot tools that compete with it. A feature that's absent on most screenshot apps though is a scheduling feature. Screenshot tools are meant to, mostly, work with user interaction. If you need to schedule screenshots on Windows 10, Auto Screen Capture is the tool for the job. It doesn't just schedule screenshots a few minutes or some hours ahead. Instead, it can schedule and take regular screenshots for months on end.
Schedule screenshots
Download and run Auto Screen Capture. Its interface is going to give away how amazing the app is. It can schedule screenshots for multiple screens and/or an active window.
Run the app and wait for it to load your screens. It takes a while to show a preview of the screen so wait until it does or the screenshots will all come out black. Once you've done that, use the calendar on the left to select what day(s) of the month you want to take screenshots on, and then scroll down to the tabs that trigger screenshots.
You can set screenshots to be taken on a specific time, or after regular intervals, or you can go to the Triggers and set a screenshot capture when, for example, an app is launched.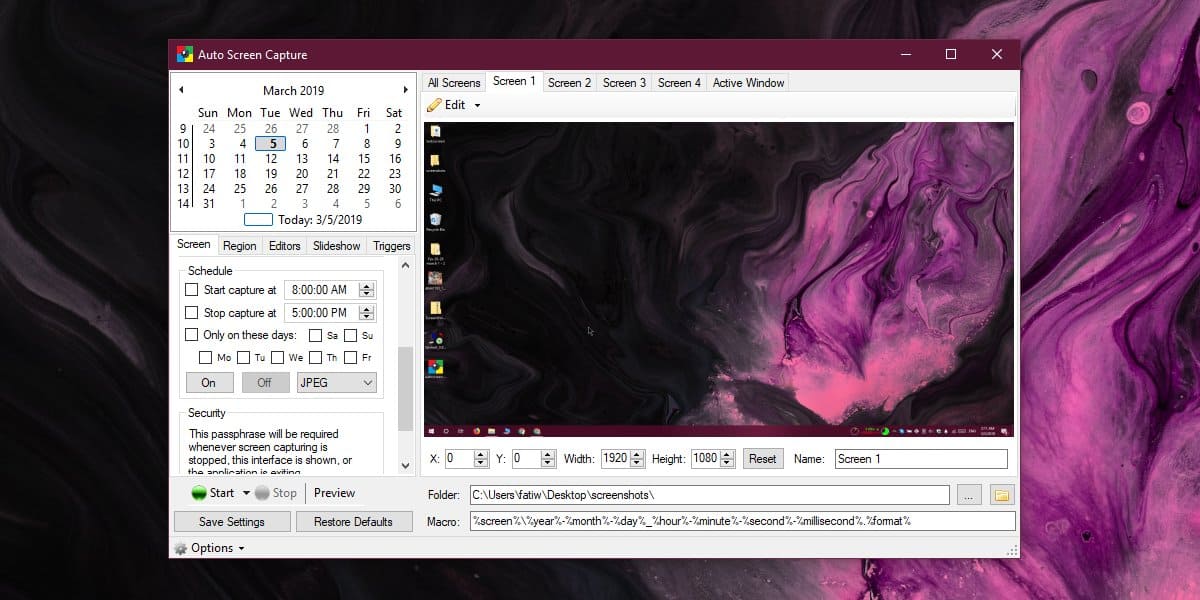 To set the format of the screenshot, go to the Screen tab and scroll down. You can choose either JPEG, BMP, GIF, PNG, TIFF, and more.
When you're ready to start taking screenshots, click Start and close the app. It will minimize to the system tray.
If you need to take these screenshots and make sure no one interrupts them or turns the app off, you can password protect it. To password protect the app, scroll further down the Screen tab and you'll see a Security section where you can set a password that will be required to stop the app.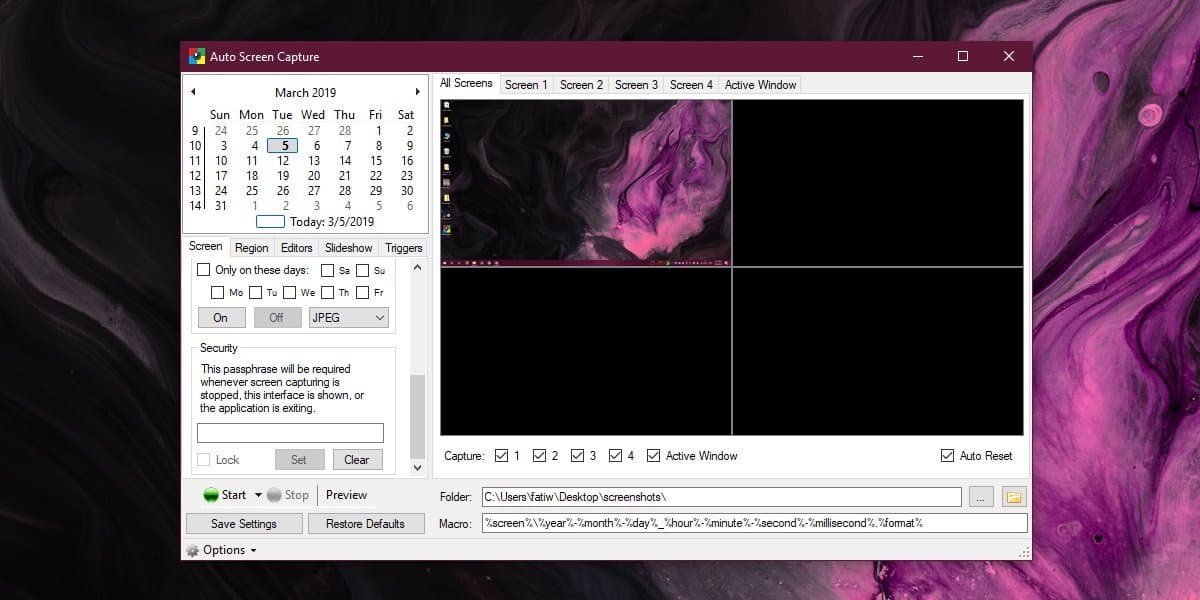 It goes without saying that this app, in addition to being a good screenshot tool, is also something of a surveillance tool. If you need to keep an eye on what someone is doing on their system e.g., on a child's computer, but you don't want to drag the system down with a screen recording tool, this app is worth a shot. If you want to hide the app from the system tray, click the Options button and uncheck the option to show the icon in the system tray.
Need to disable screenshots on Windows 10? It's possible.