How to screenshot UAC prompt on Windows 10
When a user, admin or otherwise, attempts to install an app, open Command Prompt with admin rights, or edit the registry, they're stopped by the User Access Control (UAC) prompt. The prompt is easy to by-pass if you know the admin user credentials. This user prompt window is a higher-level window than ordinary windows and as such, you can neither record nor screenshot it.
Screenshot UAC prompt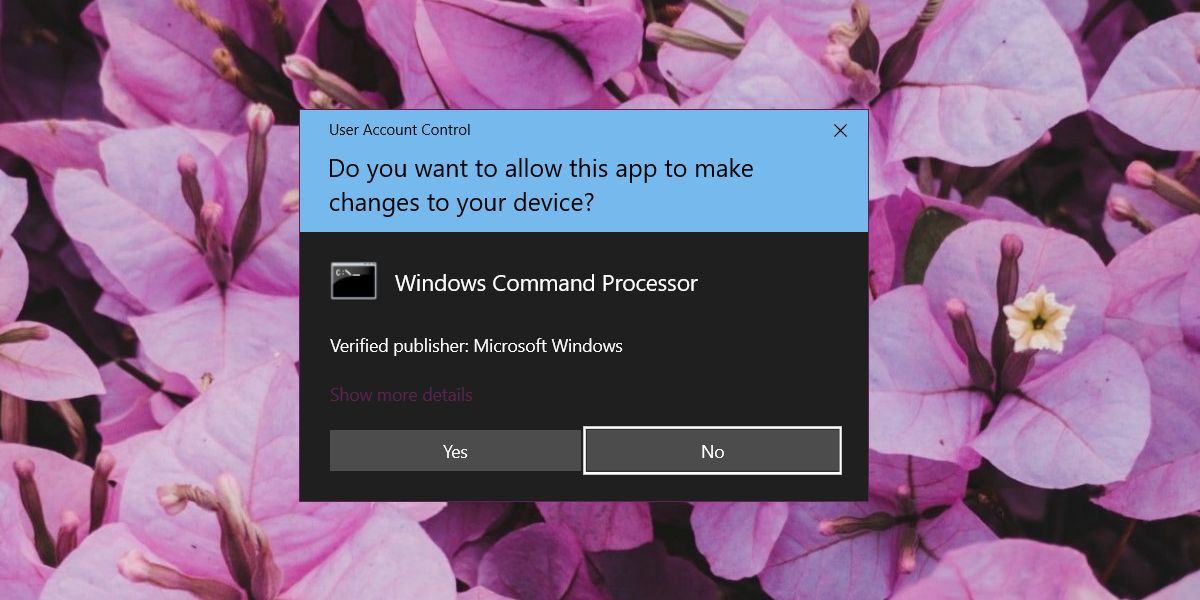 In order to screenshot the UAC prompt, you need to change the level that is assigned to this window. Doing so involves reducing the level of protection the UAC prompt provides. Once you've taken your screenshot, you should reset the UAC prompt back to its original state/level.
Open Command Prompt with admin rights and wait for the UAC prompt to appear.
On the UAC prompt, click Show more details.
When the details expand, click the 'Change when these notifications appear' option.
Alternatively, open File Explorer and paste the following in it and tap Enter. Click 'Change user account control settings'.
Control Panel\User Accounts\User Accounts
A Control Panel window will open. Here, move the slider down to the second notch, and click OK.
When you next see the UAC prompt, you will be able to use any screenshot tool, including Win+PrntScrn and just PrntScrn to screenshot it. You will also be able to record the UAC in a screencast.
Once you've captured the screenshot or recorded your screencast, return the setting back to what it was.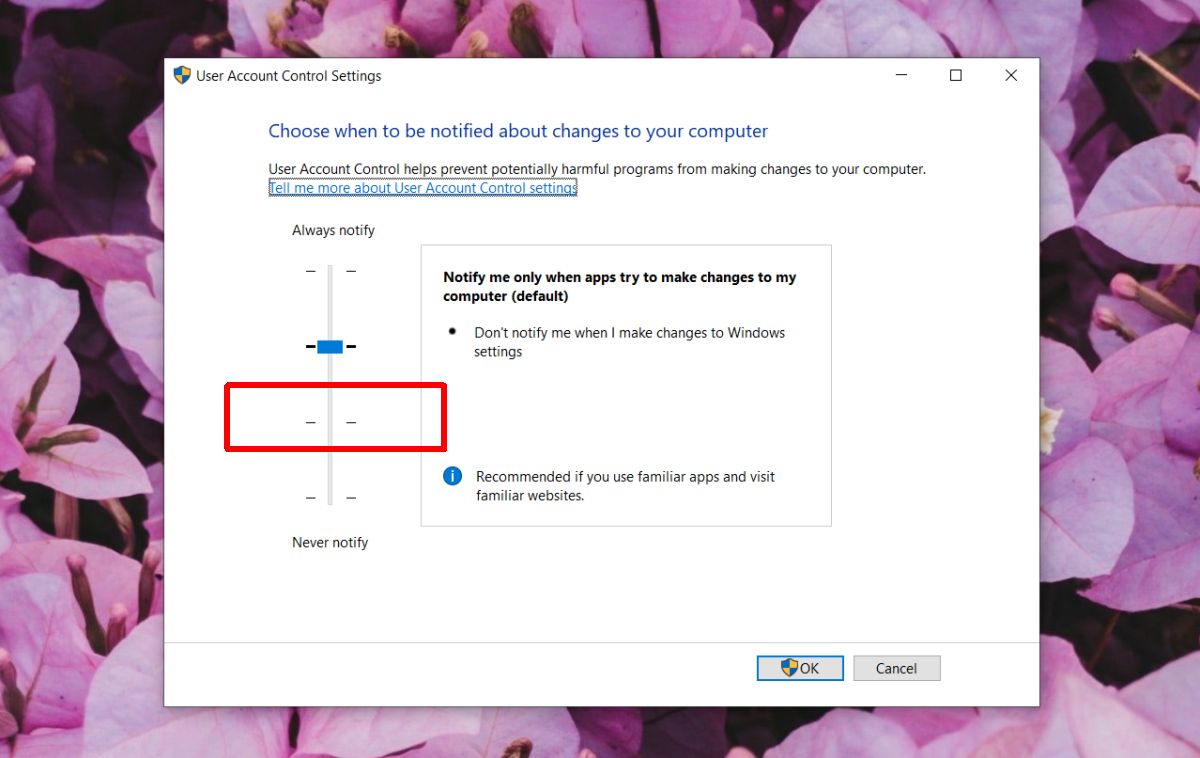 UAC prompt overlay
The default UAC settings apply an overlay to Windows 10 when it appears. It makes it difficult for a user to interact with the system without first attending to the prompt. In some cases, the UAC prompt may open in the background but it will, in most cases, stop you from what you're doing and demand action.
The overlay also prevents malicious apps from interacting with anything going on behind the UAC. If, for example, a script is written to automatically accept a UAC prompt, the overlay will block the script from accessing the Yes and No options that the prompt presents. This is why it is important to reset it once you've taken your screenshot.
Conclusion
Screenshot apps and tools generally aren't malicious and you do not stand to leak any important information if you screenshot or record the UAC prompt but because it adds an overlay when it appears, it blocks screenshot and screencasting tools from working. It's basically a side-effect to how the prompt works.