Set Automatic Volume Adjustment Schedules With Volume Concierge
The PC volume has a funny behavior. The same level of volume sounds low in the day time, but if you try to play something without lowering the volume at night, it seems as if the volume is a lot higher. It can be annoying for you, as well as for other people, specially if you share a room. If another person is sleeping in the same room, you can disturb him due to the high volume. To avoid such situations, what you can do is use an application that automatically changes the volume levels at pre-specified times. If you ever had problems with volume of your PC being too loud at odd times, Volume Concierge is here to help. The application has been developed to automatically change the volume of your PC. All you need is to define the time and volume percentage to schedule volume control rule. The application lets you set days and time to run volume control rules at scheduled intervals. You can add multiple schedules for different date and time, turn each schedule on/off and edit them. The application also displays a warning if one schedule comes in conflict with another.
Volume Concierge has an Add New Volume Rule button on the bottom-left corner. Clicking it will allow you to add a new schedule.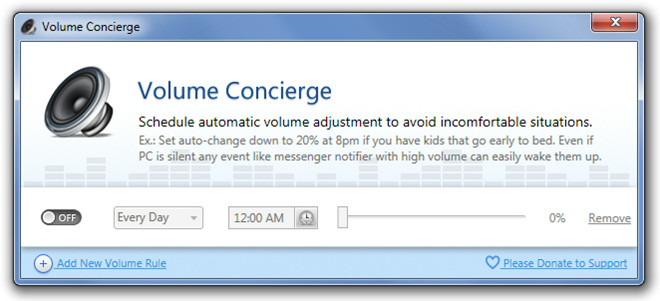 For the first time usage, it requires activation. The activation is free and just requires you to specify your email address.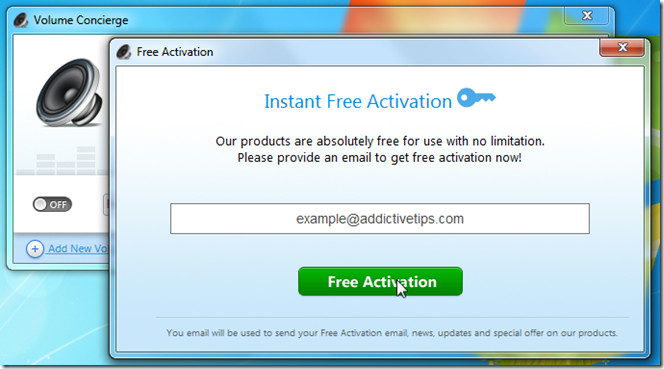 Once activated, you can start adding schedules according to your preferences. To make changes, turn on the schedule by clicking ON/OFF. From a drop down menu, you can choose to run the schedule Every Day, only on Work Days or only on Weekends. The time settings are available in intervals of 15 minutes. Adjusting the Volume Bar changes the percentage of volume to be set at the defined time. Volume Concierge prevents you from adding two schedules with same day and time. On closing the window, it will be minimized to system tray, from where you can open the configuration console, disable auto-run and quit the application.
Sadly, it doesn't let you choose time of the schedule other than the listed time interval of 15 minute. It also doesn't allow you to choose the days, other than three day specific options, on which you want to run the schedule. Volume Concierge works on both 32-bit and 64-bit versions of Windows XP, Windows Vista and Windows 7.