Set Windows 8 Lock Screen To Cycle Through Background Images With Chameleon
In Windows 7, there are no native options to customize your lock screen. For instance, if you want to change the background, you have to use a third party application, such as Windows 7 Logon Screen Tweaker, a portable tool that lets you change Logon screen UI elements such as the background and Windows 7 logo, and perform several other tweaks. In Windows 8 & RT, you get native lock screen customization options within the Personalize section of PC Settings, one of which is setting a custom background image. Now, you can pick any image from local storage, but unlike the desktop, the Windows 8 Lock screen does not cycle through a group of backgrounds of your choice. That is where Chameleon comes in. This Windows Store app takes Lock screen background customization one step further by automatically downloading and applying a different background after a user specified time interval. The app has built-in streams for famous wallpaper sources, including National Geographic Photo of the Day and Bing Picture of the Day. More on the app after the jump.
In order to get the app, go to Windows Store, search for "chameleon" and press Enter. From the search results, select the tile labeled Chameleon to head on over to its Windows Store page for installation.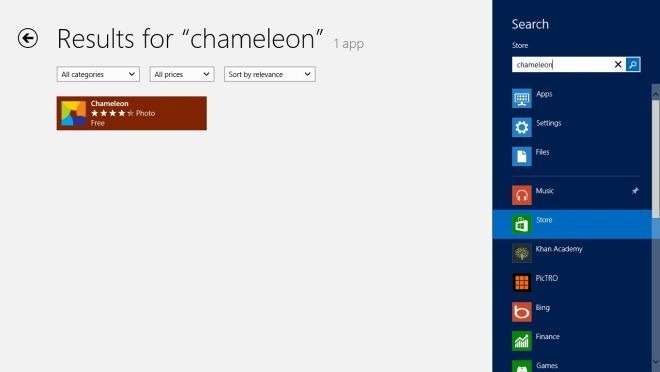 The main interface of the app has a number of different albums available, allowing you to choose a new wallpaper every day. You can select any image from the Online Pictures, as well as the ones stored in your local drive.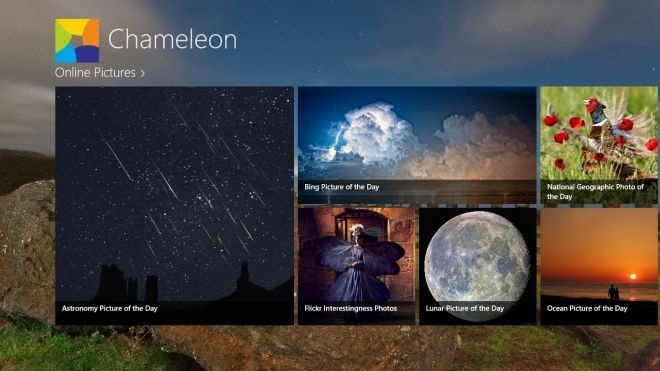 The Online Pictures section has Astronomy Picture of the Day, Bing Picture of the Day, National Geographic Photo of the Day, Flickr Interentingness Photos and others.
If you want to set the Lock Screen to automatically change after certain amount of time, right-click anywhere within the app (or swipe in from the bottom or top of the screen) to reveal the app bar. From the lower right corner, select the time period after which the image will be changed and hit Start. You will need to allow the app to run in the background.
Open an image and hover the mouse on the lower left side to view the Explanation for each photo added by the author.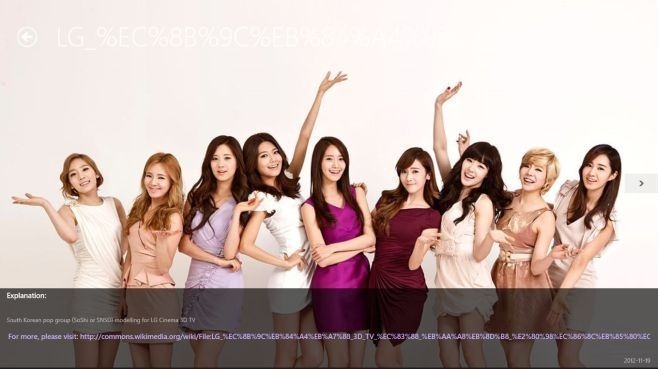 While viewing an image, you can save it to your computer, set it as the background image for the app and set it as the Lock Screen background.

Chameleon works on both 32-bit and 64-bit versions of Windows 8.
Get Chameleon from Windows Store