Shark007 Brings Its Complete Audio/Video Codec Pack To Windows 8
The right set of codecs are an essential element for smooth media playback. Windows 7 includes most of the codecs that are required to play most common audio and video files. Both Windows Media Player and Media Center use native Windows 7 codecs, yet fail to recognize various media files such as MKV, MOV, AVI, H264 etc. The reason is simple; the native codecs pack doesn't support playback of such files. However, you can opt for third-party applications, such as KMPlayer and VLC, as they don't usually have any problem playing those files. Nevertheless, folks who are not interested in going further than using native Windows multimedia solutions, can always use our previously covered Windows 7 Codecs, a codec package by Shark007 that allows Window Media Player and Media Center to play the aforementioned formats. Unfortunately, Windows 8 suffers from same situation, and looks like Microsoft turned a deaf ear to this nuisance. To cope with this, you can use Shark007's Windows 8 Codecs – yup! the same codec package now support Microsoft's new operating system as well.
It should be noted that the codec pack tries to download Babylon toolbar into your computer. You can easily avoid this by unchecking its installation during the setup.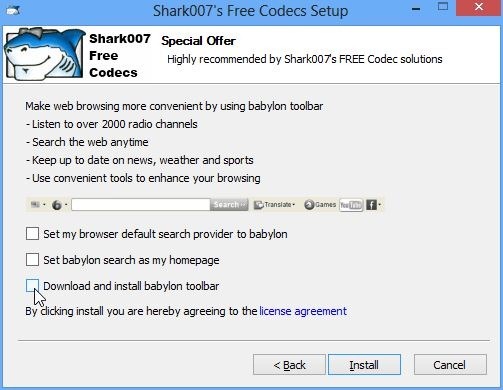 After installation, the application pins its Settings icon at Start Screen. So, in case you're wondering, you can both execute and uninstall the codec pack from Start Screen. The Settings console looks quite similar to what we had seen earlier, while reviewing its Windows 7 counterpart. It contains various tabs, where each tab houses its own set of options. Tabs include Config, Misc, Audio, AVI, H264, MPEG – DVD and Windows SWAP at the top. The first trio of tabs from the left contain global settings, whilst AVI, H264, MKV and MPEG – DVD, reflect format specific configurations.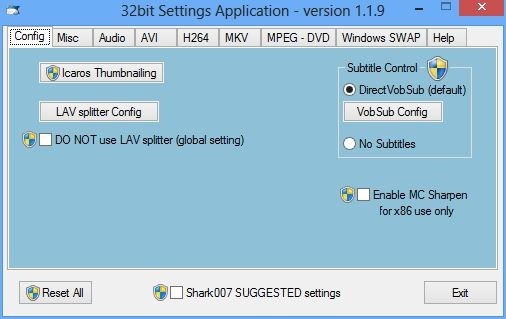 For instance, Audio tab lets you specify the output channel for the media playback. You can choose among TrueHD/DTS HD-MA (HDMI), AC3/DTS only and turn off bitstreaming (although the available settings are dependent on your machine's specs).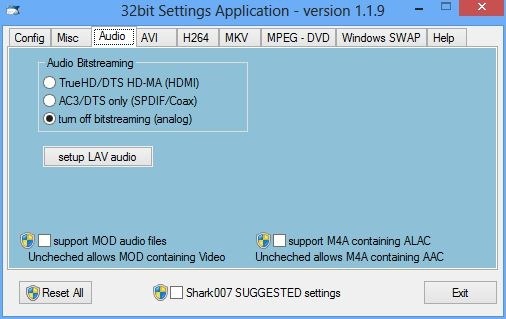 A new addition to this codec pack I noticed is Windows SWAP. This option lets you choose between native Microsoft codecs or any third party splitter, such as LAV's codec, which you have installed yourself. Additionally, you can also toggle a few other parameters.
The application supports Windows 8 only, as you can always utilize the previously-covered Windows 7 codec pack for earlier iterations of the operating system. Testing was carried out on Windows 8 RTM, 64-bit.