ShellExView: Remove And Manage All Installed Shell Extensions
ShellExView is a great little utility from NirSoft, which is built solely to manage all the installed shell extensions in the system. Managing and removing the shell extensions manually is one cumbersome task as you need to tweak with relevant registry files. The application's usage requires absolutely no special guidance as you can easily view and manage all the installed extensions.
After the application is launched, it will list down the installed extensions. If you have used any NirSoft's application in the past, interface will certainly appear as quite familiar. The usage is simple, right-clicking the shell extension  will bring up options like; Disable and enable item, Open CLSID in RegEdit, Save & copy selected items, and lot more. You can also change the shell extensions' status in bulk. Just select the required shell extension items and a right click will bring up all aforementioned options.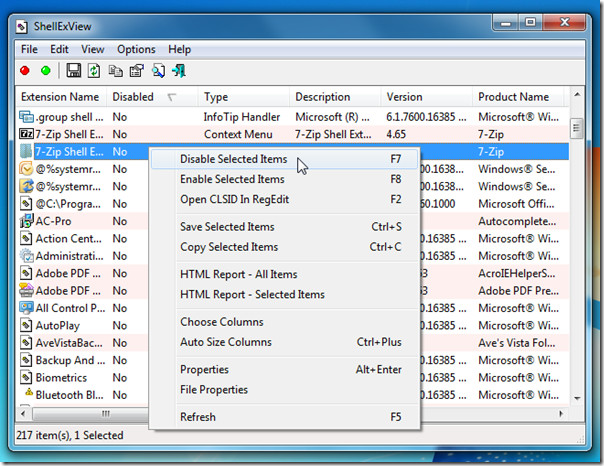 The Open CLSID In RegEdit option will immediately open the corresponding registry key(s) in Windows Registry Editor, where you can change the settings of the registry keys and enable/disable them manually.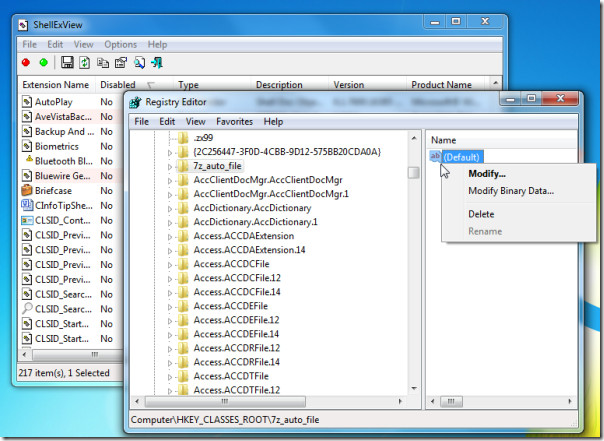 To view the complete detail of an installed shell extension, double-click the item to view information in separate window.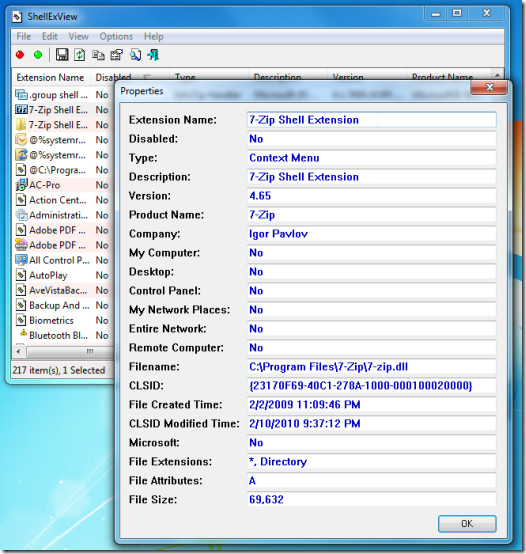 Advance registry knowledge is required to disable shell extension manually, users who considers themselves amateur in registry editing environment have to study a lot before taking a step to modify registry keys which may take much of precious time.  This application is capable of managing and enable/disable shell extensions under one hood eventually helpful for novices and pros alike.
It runs on all Windows based OS, we tested it on Windows 7 x86 system.