Show Thumbnail Preview Of ZIP & RAR Image Archives [Windows]
Windows Explorer does not show the thumbnail preview of all image and video formats, this is why you need to install Raw Image Viewer to view the thumbnail of all Raw images in Windows. In similar fashion, Windows Explorer does not show the thumbnail of image archives in ZIP and RAR formats, two of the most popular archive formats.
CBX Shell is an awesome little shell that enables Windows Explorer to display the thumbnails of both ZIP and RAR image archives. Just install the tool and it will enable this useful functionality.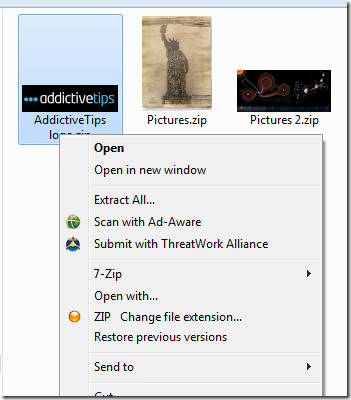 You might need to restart the system in some cases before you can view the changes. Personally we believe this is quite an awesome addition, the only downside is that it supports only 2 archive formats for now. There is no word yet from the developer to expand it to other archive formats.
We tried it on Windows 7 32-bit OS and the result can be seen in the screenshot above. It works on Windows 2000, Windows XP, Windows Vista, and Windows 7, compatible with both 32-bit and 64-bit versions.