Snipping Tool++: Upload Images To Imgur & Text Snippets To Pastebin
Windows 7 comes with a Snipping Tool application that easily lets you capture different kinds of screenshots. Albeit it's not flooded with a wide array of features, it's a major improvement over the previous Print Screen method that would take screenshot of the whole screen, which you can then paste in the integrated Paint utility and make a few adjustments thereafter. If you still aren't quite satisfied with Snipping Tool, then you might need to look for some alternative solutions, and Snipping Tool++ is just one of those. You may call it an evolved version of Windows default Snipping Tool that contains a few additional features that are never found on the former one. It's an ultra-light, Java-based application that, along with simply enabling you to capture the screenshots, also lets you upload them directly to Imgur, and in addition, uploads text snippets to PasteBin. Yes! you might be wondering what PasteBin has to do with screenshots; well, an added feature never hurts anyway. Moreover, if you frequently find the need to upload various images to Imgur (a renowned image sharing web service), then the application might come in handy to upload multiple images to the site (at most 50 within an hour) without firing up your web browser.
The application resides quietly in the system tray. Right-clicking its notification icon pops up the context menu, which contains Preferences, and additional options under Upload and Save menus. Hop on to the Preferences window first to make a few application adjustments before you start taking screen captures.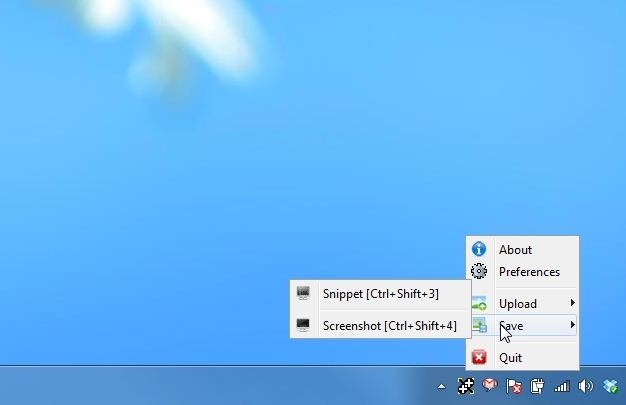 Preferences contains five tabs in total – General, Snippet, Upload Data, Controls and Pastebin. Under Snippet tab, it's advisable to Enable Editing to unlock editing mode amidst the snippet capturing processes. You may also optionally enable Multi-Snippet Capture. Upload Data tab lets you know of the total number of images upload to Imgur within an hour. You can also take a look at supported Hotkeys under Controls tab, and specify your account details (or leave it as Guest) under Pastebin tab. Don't forget to hit Apply when you're done.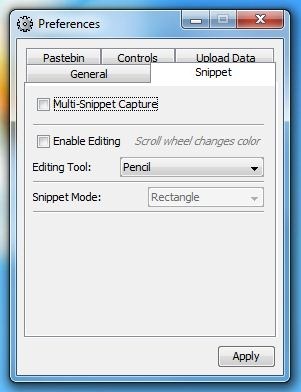 To save a snippet, press Ctrl+Shift+3 (or select Save>Snippet from right-click context menu) and then use your mouse to drag and select the area you want to capture. Afterwards, you can add annotations, such as a box or draw your name before saving the final image. The captured shot can instantly be uploaded to Imgur via pressing Ctrl+Shift+1 hotkey.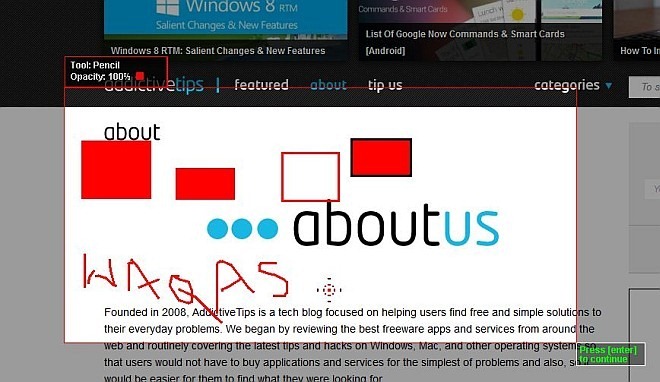 Another handsome feature of Snipping Tool++ that I mentioned earlier is its ability to upload images from your local directory to Imgur. The Multi Image Uploader console provides a feasible way to drag and drop multiple image files over its window, and click Upload to instantaneously start the uploading process. It's very fast and highly convenient way to upload images in batch. After completion, it provides Upload Links and Deletion Links to all the image files.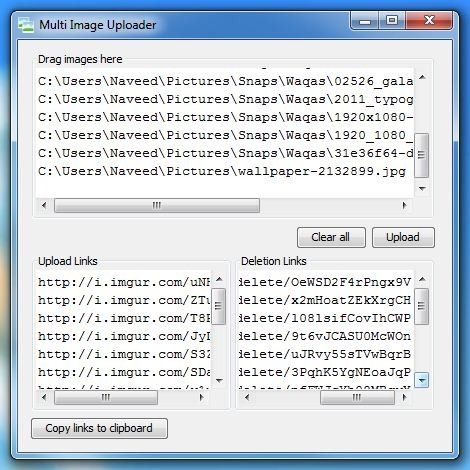 During testing, the application failed to upload any text snippet PasteBin. Other than that everything worked as it should. The application is portable and supports all Windows versions, provided you have Java Runtime Environment (JRE) installed.