SolEol – Upload & Download Subtitles Using OpenSubtitles.org [Desktop]
After downloading subtitles for movies and TV shows, you will have to rename most of the files to match with the title of the video files so that media player, like VLC, can automatically detect the subtitle file associated with video file. If you go through such a tiring process each time just to download and play subtitle file, you should use SolEol. It's a small yet intuitive desktop subtitle file downloader which not only downloads subtitles in specified language from OpenSubtitles but replaces the name of downloaded subtitle file with the video title, so you won't have to do it manually. A simple subtitle uploader is integrated within the application to upload subtitles directly to OpenSubtitles. Just drop the Movie or TV serial file over it, and it will search for most appropriate subtitle file in specified language, download it, and then change its name to match the video title, automatically.
When launched for the first time, it will ask you to specify subtitle language(s), and OpenSubtitles username and password. Once done, click Save to get to main interface.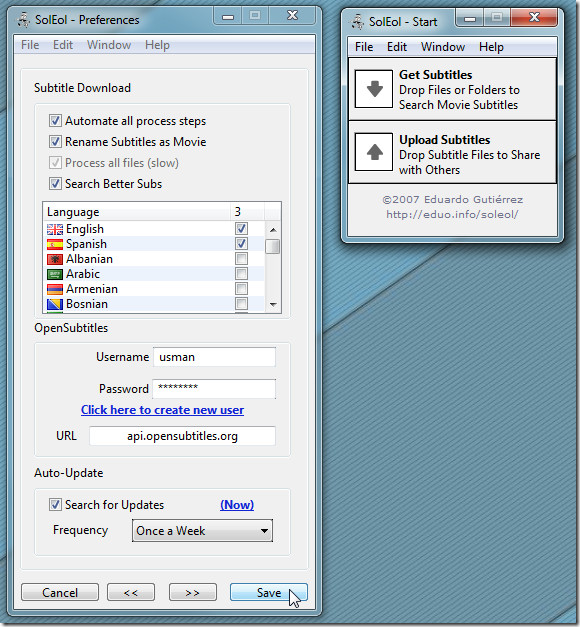 When you want to download the subtitles, click Get Subtitles and drop the video file over the downloader window. It will start downloading the subtitle file from OpenSubtitles.org into video source directory.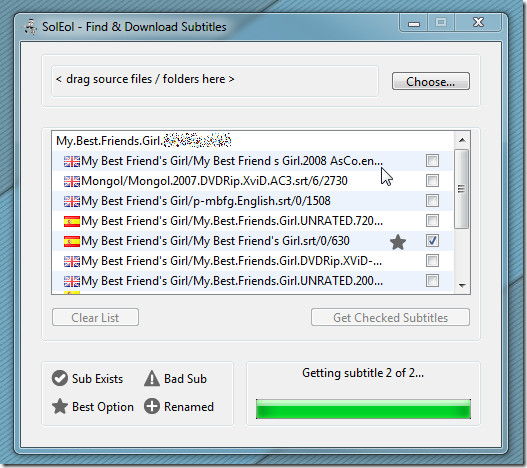 The upload process is similar, click Upload Subtitles and drop your subtitle file to upload it to your OpenSubtitles.org account.
SolEol is by far the quickest subtitle file downloading and uploading application. It's available for Windows, Mac, and Linus OS platforms.