How To Stop Windows 10 App Defaults Resetting
An odd bug that Windows 10 has is that it will reset app defaults. App defaults tell Windows 10 which apps will open which types of files. For example, you can assign Notepad to open all TXT files, or you can assign Notepad++ to open all TXT files. Windows 10 has some default file associations that users can change but for most file types, you need to set the default app on a per file type basis. The app defaults resetting isn't difficult to fix but it takes a long time to do it, especially if you go about it on a file-type basis.
To combat this, there's an app called Stop Resetting my apps which, as the name describes, will stop Windows 10 from resetting app defaults.
Stop App Defaults Resetting
Download and run the app. Right off the bat, you'll notice that it supports only a few select apps and they're all stock Windows 10 apps. To stop Windows 10 app defaults resetting , click an app. A stop symbol will appear on it to indicate that the default is locked. That's about it. If the bug plagues your system, the next time it surfaces, the app defaults should be untouched.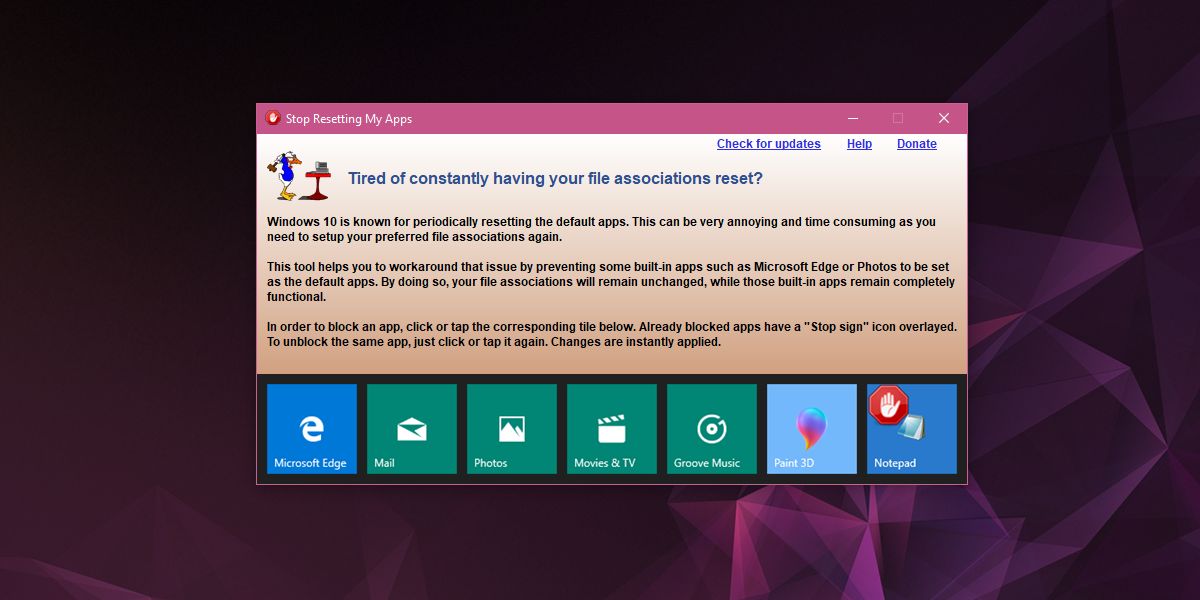 Limitations
Since Stop Resetting my apps only supports stock apps, there's a very obvious limitation here. Any third-party apps, and the file associations that go with them, can still be reset. This app is a half-solution to the bug. If the bug kicks in, the default apps like Photos and Movies will not, for example, override file associations for VLC player or IrfanView.
There are two versions of this bug on Windows 10; one where the app defaults are reset at random, and one where the defaults are reset after a minor or major update. The app can only prevent the bug in the first scenario. If app defaults reset after a Windows 10 update, there isn't anything that the app can do.
Alternative Solutions
If this problem plagues you often, more often than you'd like and this app isn't enough to keep your workflow from being interrupted, you're going to have to go the nuclear route; do a clean Windows 10 installation. If you can't do that, it's best to set file associations on an app basis. This lets you select an app, like VLC player, and automatically associate all file types that VLC player can open and associate it with the app.
To do so, open the Settings app and go to the Apps group of settings. Go to the Default apps tab. Scroll down and click Set defaults by app.