Stream Media From Your PC To Network Devices With ALLMediaServer
Have you been looking for a simple solution to stream videos, music or pictures on a smartphone or other DLNA compliant device directly from your computer? ALLMediaServer is probably what you need then. It's a Digital Network Living Alliance (DLNA) server that gives access to media files stored on you PC across devices on your network. The application provides access to the connected devices on your network either through Ethernet or Wi-Fi. If you're unfamiliar with DLNA, it's a media sharing technology that uses Universal Plug and Play (UPnP) for all the media management. Lucky for you, all of the modern gadgets, including Android, iOS, TVs, receivers etc., come packed with DLNA out of the box. In what follows, I will guide you how to setup ALLMediaServer to stream audio, video and photos to your multimedia gadgetry.
UPnP means that most of the work is done by the application itself, hence requires little effort from your side. When you launch the application, click "DLNA Servers detect" at the top to scan for connected computers on your network. If you see ALLMediaServer in the list, then you're all set for streaming the content.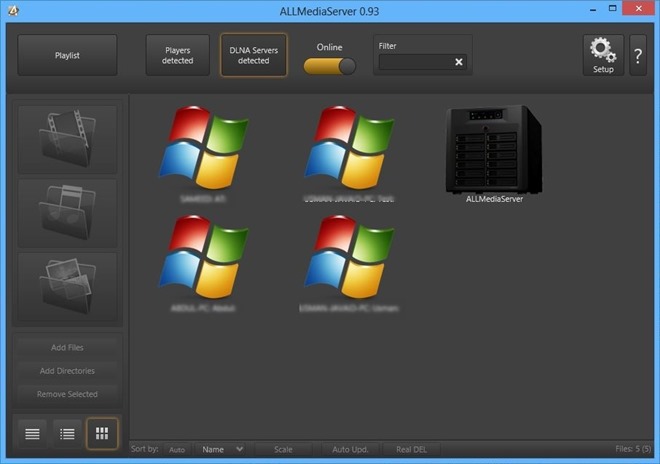 Now click Playlist and then add your media files into the application via clicking Add Files or Add Directories at the bottom left. The application automatically sorts out the files according to the related categories, and you may toggle the pertaining content On/Off. Also make sure, the network status of the tool is set to Online. This feature allows you to enable or disable media sharing within a single click.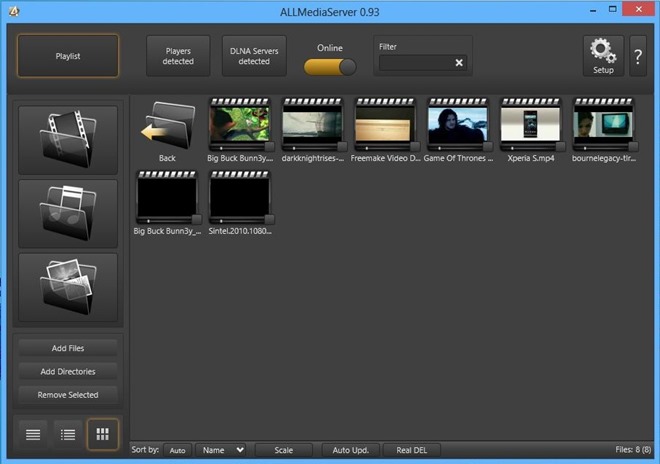 When specified as Online, ALLMediaServer should appear under Media Devices within the Network window. So for instance, if you want to stream media from your desktop PC to your notebook, simply open Network window and click ALLMediaServer.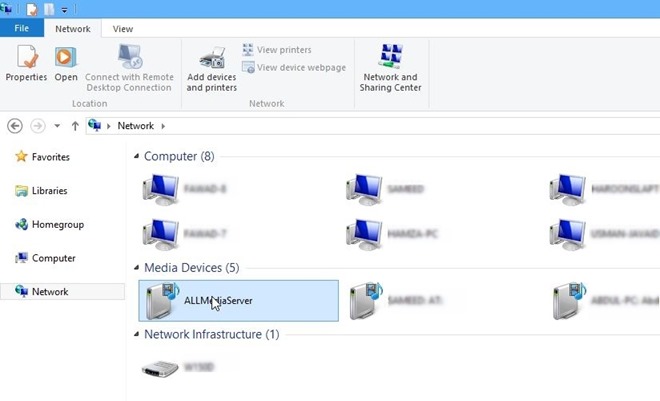 Thankfully, Windows Media Player supports DLNA and detects the shared content from where you can playback the selected files. Advanced users can also configure third-party players, such as VideoLAN, KMPlayer etc, which act as Digital Media Renderers (DMR).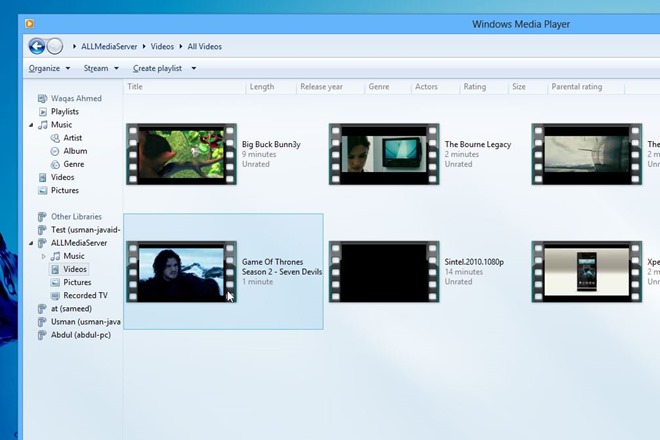 If you want to stream media over to your Android smartphone, you can always grab a DLNA compliant app from Google Play Store. There are many paid and free applications available. During testing I connected a Galaxy S II handset via BubbleUPnP app and everything worked like a charm.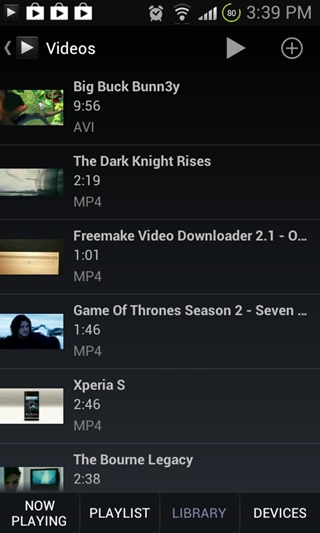 Looking for alternative DLNA media server applications? Well, you can always check our previously covered LXiMedia, TVersity or Home Media Center tools. ALLMediaServer works on Windows XP, Windows Vista, Windows 7 and Windows 8. Testing was carried out on Windows 8 Pro x64, and Samsung Galaxy S II running Android 4.0.