SubiT: Search For & Download Subtitles From Context Menu
The right subtitles can make a perfect movie experience even better, especially if you have a hard time listening to what's being conveyed, or want to watch a movie without waking up your roomie. More so, when your favorite movie isn't in your native language, subtitles are the only way to get a grip on the movie's actual dialogues. One of the major features of widely popular video containers, such as MKV, AVI, MP4 etc, is that you can easily obtain subtitles off the internet and sync them with your movies. However, if you don't want to waste your precious time Googling for the required SRTs, then SubiT is definitely going to lend a helping hand here. It is one of the best utilities to instantaneously download subtitles, right from your desktop, within a few clicks. SubiT lets you select various subtitle sources, including the far-famed OpenSubtitles.org and SubCenter.org, just to name a few, and looks for subs within the selected sources in conjunction. As of now, it supports four different languages, viz. English, Hewbrew, Norwegian and Russian. The interface is quite intuitive and the application also provides Context Menu integration to enable one-click subtitle search.
SubiT is a very simple utility and there are some minute sophistications involved. Albeit it's designed to select multiple languages at the same time, this process didn't work for me during testing, so I had to opt only for one language at a time. To get started, launch the application and select Settings after clicking the miniscule Tool button at the bottom right corner of the window. Head to Providers tab, and then select your preferred language under Language Order (try not choose multiple languages, as it might not work for you, too). Optionally, you can specify file associations under Context Menu and change a few generic settings under Global. When done, Click OK to close the window.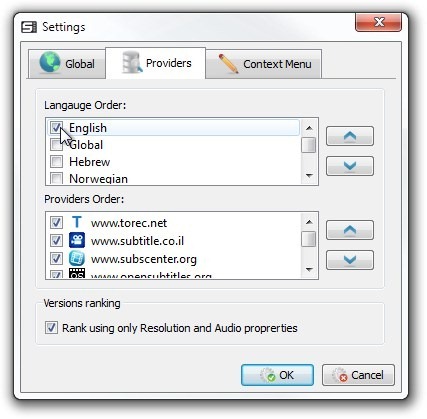 Once on the main window, drag and drop your movie file over the application (alternatively, you may manually type the Movie name in the search field) and click the Magnifying Glass button on the upper right. SubiT will start searching for the best possible match for your subtitle file. Once a perfect match is found, it automatically downloads the subtitle file in the actual video directory and closes the application window (you may uncheck auto close option in Settings).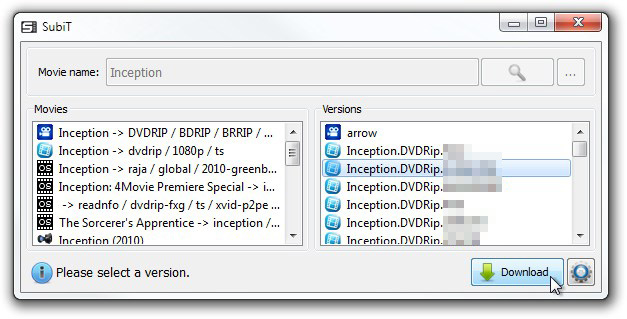 Another noteworthy feature is its Context Menu integration. All you have to do is right click the movie file and select SubiT from the context menu, which, in turn, will open the application, download the subtitle file and close it. This method is rather quick and more efficient.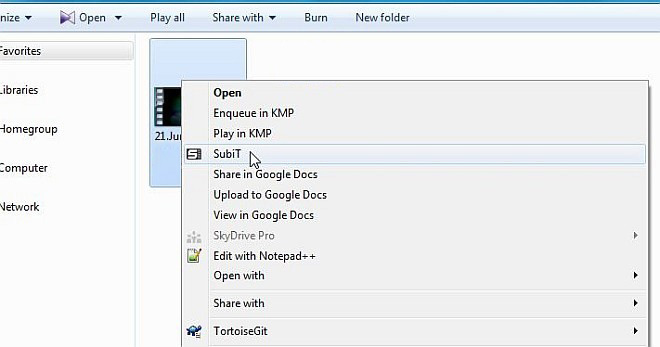 SubiT is an open source application which supports Windows and Linux operating systems. Testing was carried out on Windows 7 Ultimate 64-bit edition.