Subtitle Player To Play SRT Files Over Any Movie That Lacks Subtitles
Subtitle Players have their own niche, they do not come useful all the time but when they do, they can be a real life saver. The chief usage of Subtitle Player is when watching free legal Movies and TV Shows online. Since most websites do not provide an option for Subtitles, you can manually download the subtitles, load them in subtitle player, and then watch the Movies and TV Shows with subtitles.
Just last month we covered Greenfish Subtitle Player and today we came across another better alternative called JustSubPlayer, which provides an option to search for any text in the subtitle file, allowing you to jump quickly to that text without having to spend countless minutes searching for it.
Since subtitle players display a transparent overlay, they can be placed anywhere on the screen. The developer has provided a perfect screenshot showing how you can use JustSubPlayer to display subtitles on SouthPark shows online.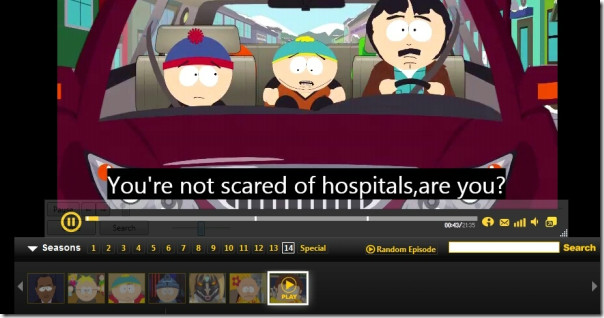 Apart from Instant Search, another great functionality is to increase or decrease the text size of the subtitles.

It only supports subtitles in .SRT format, it makes sense since it is the most widely used subtitle format. The application works on all versions of Windows.