Swiff Player Plays SWF Files And Can Be Used As Alternative To Adobe Flash Debugger
Adobe Flash Professional suites are extensively used for creating animations and application applets, these applets are generally exported into SWF (Shockwave Flash) format to embed into Web pages. Adobe Flash Professional suite offers a simple debugger to run SWF files separately, but this poses a question that what if you need to run SWF applet without having to install Adobe Flash suite or using a debugger. This is where Swiff Player comes in handy, it is designed solely to run SWF animations and application applets while supporting hardware acceleration for experimental purposes.
It is a simple player and there are not many options and features to go around with, the important part is that it includes a rendering mechanism to smoothly play the SWF animation and to run an application. The product is free of charge and having absolutely no strings attached. It supports simple drag & drop behavior, you just need to drag a file into the application window to play the animation.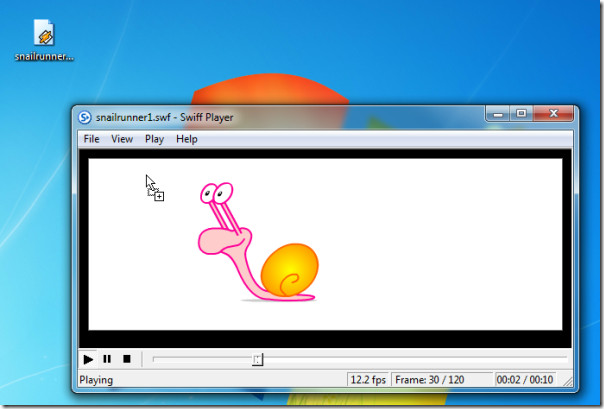 Under View menu, you will find Full Screen view option and from Play menu you can toggle looping, and play, pause & stop the video. For viewing the frame related information, you can open Properties windows under File menu.
We found it to be very responsive and it played SWF files without lagging a frame behind. It runs on Windows based OS, we tested the application on Windows 7 x86 system.