Sync Files Between Amazon S3 & Local Drive With Amazon S3 FileSync
Amazon S3 FileSync is an open source application that synchronize files to and from your Amazon S3 account, as well as, between two local folders. This application aims to make two way synchronization between local and Amazon S3 folders easy by preventing you from following tedious backup methods like burning data to optical discs or saving them to external drives. The application is portable , and can be taken anywhere to sync data instantly with your Amazon S3 account without having to set up and configure the account settings.
It delivers a simple solution for Amazon S3 users to keep their data synced with their accounts. To sync your data, select a local folder that you want to send to your S3 storage account, and then select Amazon S3 Bucket option. Now, enter your Amazon S3 key (ID), secret pass key, and then select a synchronization mode, (Upload, Download or Exchange 2 way). Once done, click Sync Files Now to begin synchronizing your data.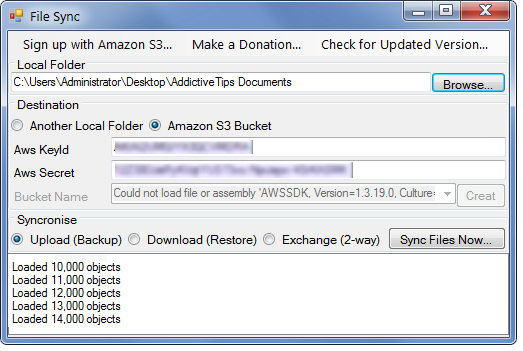 Alternatively, you can also use this application to perform synchronization between two local folders by selecting the Another Local Folder option. Amazon S3 FileSync can be used for both cloud based synchronization (with Amazon S3), as well as to create backups on local drives.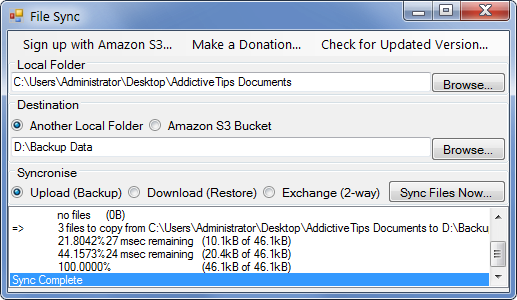 It must be noted that copying is performed in 2 passes, i.e. uploading of small files is performed first followed by the bigger files (in the second pass). The developer will add custom encryption option in next iteration. It works on Windows XP, Windows Vista and Windows 7.