Sys Toolbox Pro Displays Essential PC Information In One Window
Recently, a friend of mine started experiencing overheating issues with his computer's motherboard, that made him quite pissed due to the fact that he had purchased it quite recently (not more a than a couple of months ago) as part of his gaming computer upgrade. So, he just gave me a call to see if I could fix that. Nevertheless, it was still under warranty, so we just called the manufacturer to demand an RMA for the board, and sent it for replacement. Everything went smooth and steady until the support person asked us about the serial number of the board, and we didn't have the box handy. That's when I decided to look for a solution online and came across Sys Toolbox Pro, which not only helped us look for the right serial number without removing the motherboard from the case, but also showed us loads of additional system-related information at a glance.
Although there are other similar Windows apps like Speccy and PC Hunter that give much more advanced and in-depth information regarding your system, Sys Toolbox Pro aims to provide most of the info right at the front, which is what makes it quite intuitive and user-friendly even for newbies because there are no tabs, menus or sections to navigate here to access the info. The application shows you in-depth software and hardware information of your computer including the operating system installed, the amount of storage space on your disk drive(s), RAM, CPU, motherboard serial number, battery status (in case of battery or backup power), display resolution, BIOS, system time, user accounts, startup processes, network status and more.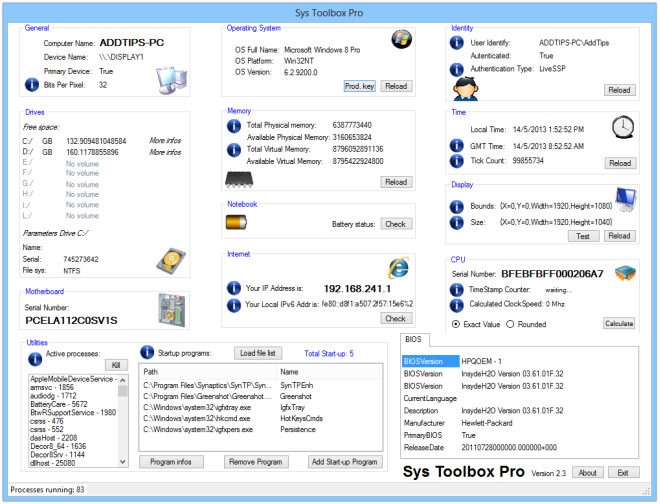 Apart from displaying system info, the app lets you kill unwanted active processes that might be consuming system resources. You can kill the any such process from the Utilities section of the application window. Beside killing processes, you can view, add or remove startup programs that automatically begin running at Windows logon.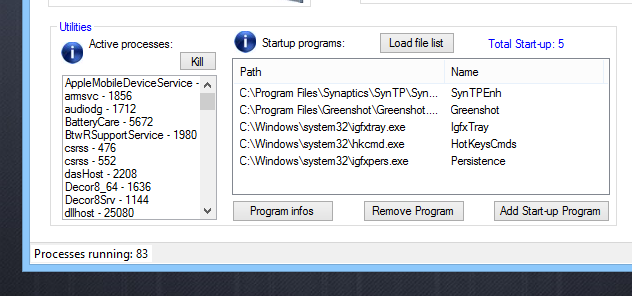 Sys Toolbox Pro lets you easily retrieve your Windows product key by clicking the 'Pro. key' button. The key is displayed in a separate prompt, which allows you to copy it to clipboard in order to paste to the required location. Likewise, the application also lets you view the current battery status in case of using it on notebook. To do that, you just need to click 'Check' in the Notebook section. Lastly, it also shows you the IP address of your computer. The application displays both IPv4 and IPv6 addresses.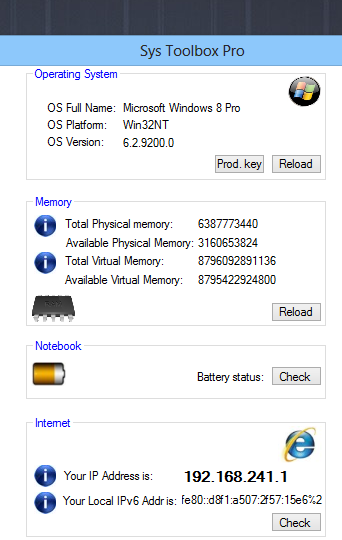 Even though Sys Toolbox Pro is not jam-packed with a plethora of features, its user-friendly design and ability to provide the required information in a simple interface makes it worth giving a shot. It supports both 32-bit and 64-bit OS editions of Windows XP, Vista, 7 and 8.