System Performance In Windows 7 Taskbar
Most System Performance monitoring tools work from system tray. Windows 7 has an awesome taskbar which can help certain users display basic visual information on it. Windows 7 Taskbar Monitor is a small portable tool that does exactly this. According to the developer, it is inspired by iStat Pro for Mac OS X.
It is just another fancy way of showing the performance in a eye-candy visual taskbar. To make it work, launch the app and choose any one of the three given system monitor options.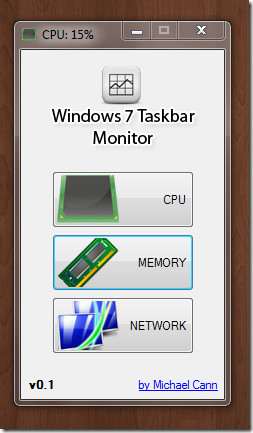 To display all three performance information, you will need to open the app three times and choose different options from each one respectively.

It works best when "Never Combine" option is chosen for the Taskbar Buttons from the Taskbar Properties. It is developed exclusively for Windows 7 only.
Download Windows 7 Taskbar Monitor