Text To Speech WAV: Transcribe Text To Speech & Save It To A WAV File
Text To Speech WAV is a handy text to speech utility that converts any text to WAV audio format, according to user defined bit rates. Unlike other applications of its kind, it also allows saving an audio file of the text to speech playback. You can also select the volume and playback speed. During testing, we found the speech rate, volume and bit rate features of this application to be pretty smooth in terms of providing text to speech playback, and also found the saved WAV file (from a sample text playback) to run seamlessly on a third-party media player.
Like all text to speech applications, simply enter the text in the available text box, and click Say to initiate the audio playback. You can select audio formats (stereo/mono), volume and speech speed (rate) to suit your playback needs. When the text to speech playback begins, the word being played in audio format is highlighted within the application's text box. To save a text to speech playback audio, click Save to Wave file.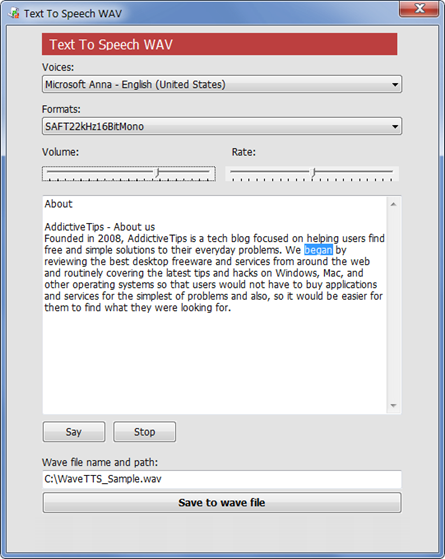 It is worth mentioning that the program is ad-supported, as it displays an ad for checking out more applications by the developer on the application's interface. Text To Speech WAV works on Windows XP, Windows Vista and Windows 7.