The Wizard Could Not Start Microphone (Windows 10): Here's How to Fix It
All laptops come with a built-in microphone and they have support for external mics while desktops only work with external ones. Unlike speakers or headphones, a stand-alone mic isn't as easy to set up. On paper, they're plug & play but generic mics are often incompatible with newer audio drivers, new hardware, or the latest Windows 10 updates.
Setting them up takes time, so if you're trying to use a generic or name brand mic with your Windows 10 system and the wizard could not start the microphone, or you're unable to configure it via the built-in wizard, there are a few simple fixes you can try.
Wizard Could Not Start Microphone: Check the Basics!
Microphones are a bit complicated to set up on a Windows 10 desktop but you'll find most mics that connect via an audio jack will work easily with a phone. Try connecting your mic to a smartphone and see if it is detected. Try connecting it to other devices to see if it's working.
If the mic has physical volume controls or its own On/Off switch, make sure that it is turned on. If you're connecting it via the audio jack, try connecting a different device to it and see if it works. If not, you might have a problem with the audio jack itself.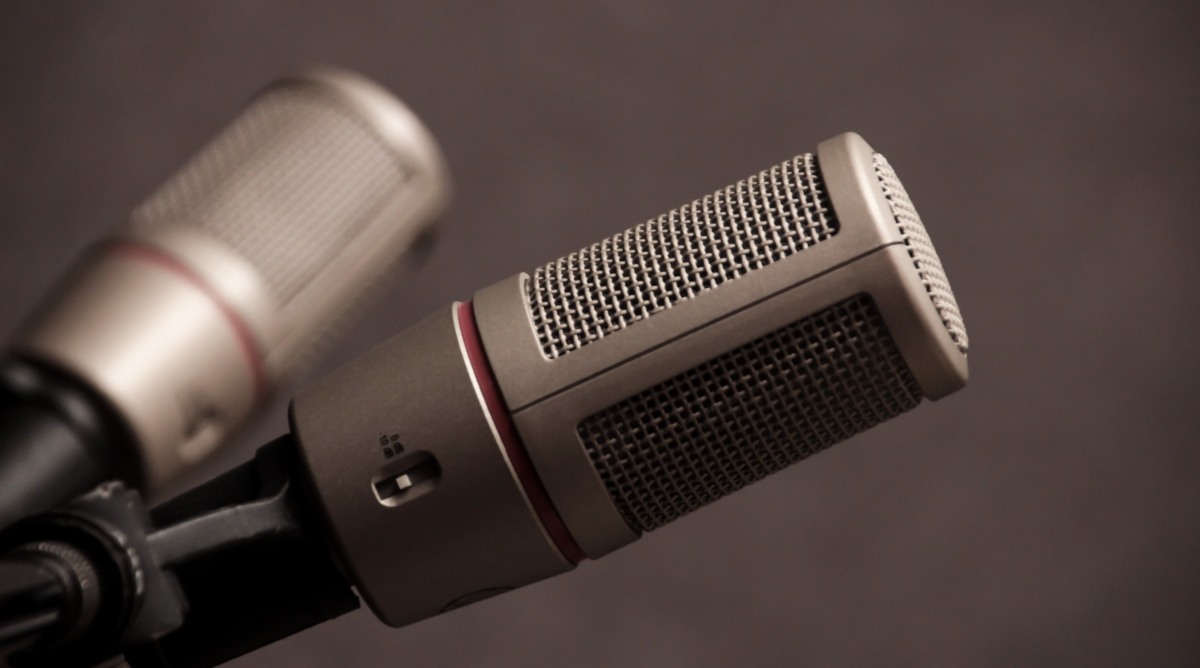 The Wizard Could Not Start – THE FIXES
1. Check Microphone access
If you're using an external mic, it is possible that it hasn't been enabled in Windows 10.
Open the Settings app.
Go to the Privacy group of settings.
Click Microphone.
Make sure you see the message 'Microphone access for this device is on' message. If you do not, click Change, and enable access.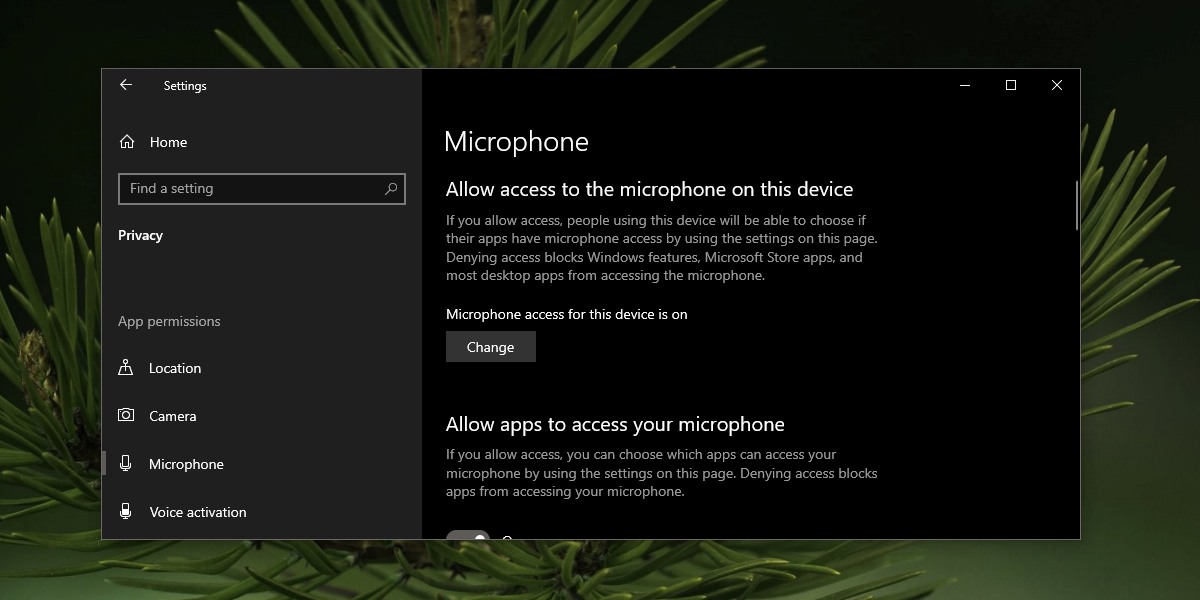 2. Run audio recording troubleshooter
If your microphone isn't working or fails to set up, run the audio recording troubleshooter.
Open the Settings app.
Go to the Update and Security group of settings.
Select Troubleshoot.
Click Additional Troubleshooters.
Select the Recording audio troubleshooter.
Apply any fix that it recommends, and restart the system if prompted to.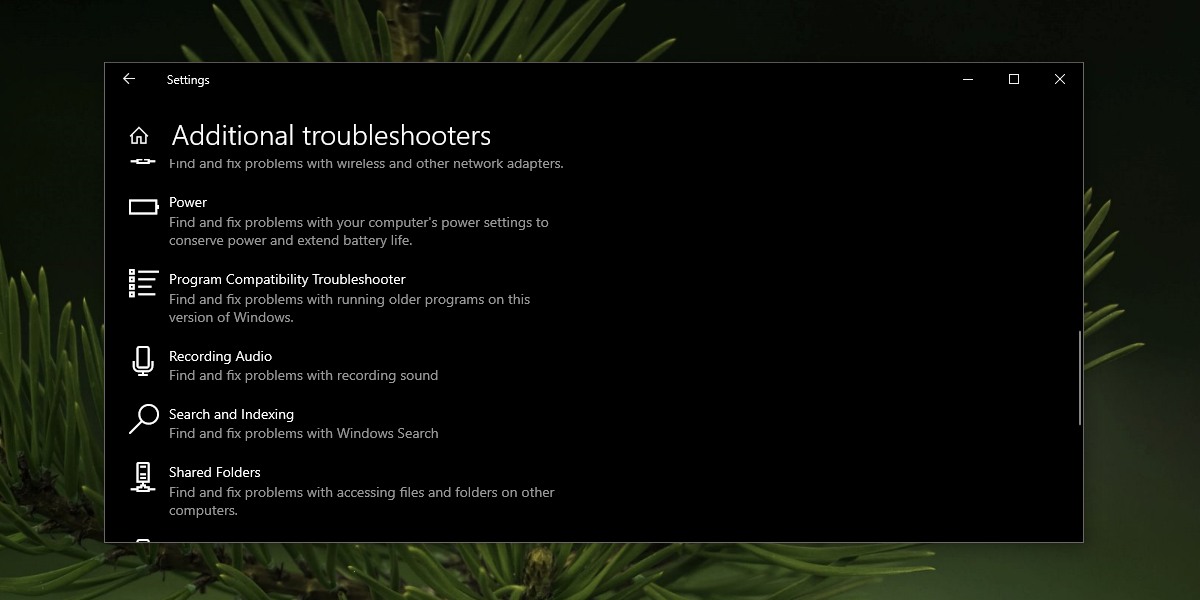 3. Check audio manager
Some systems, particularly those sold by Dell and HP have an audio manager app installed by default. These apps may be preventing the mic from working.
Open the audio manager app installed by your system manufacturer.
Go to the audio input or microphone tab.
Make sure the mic is enabled.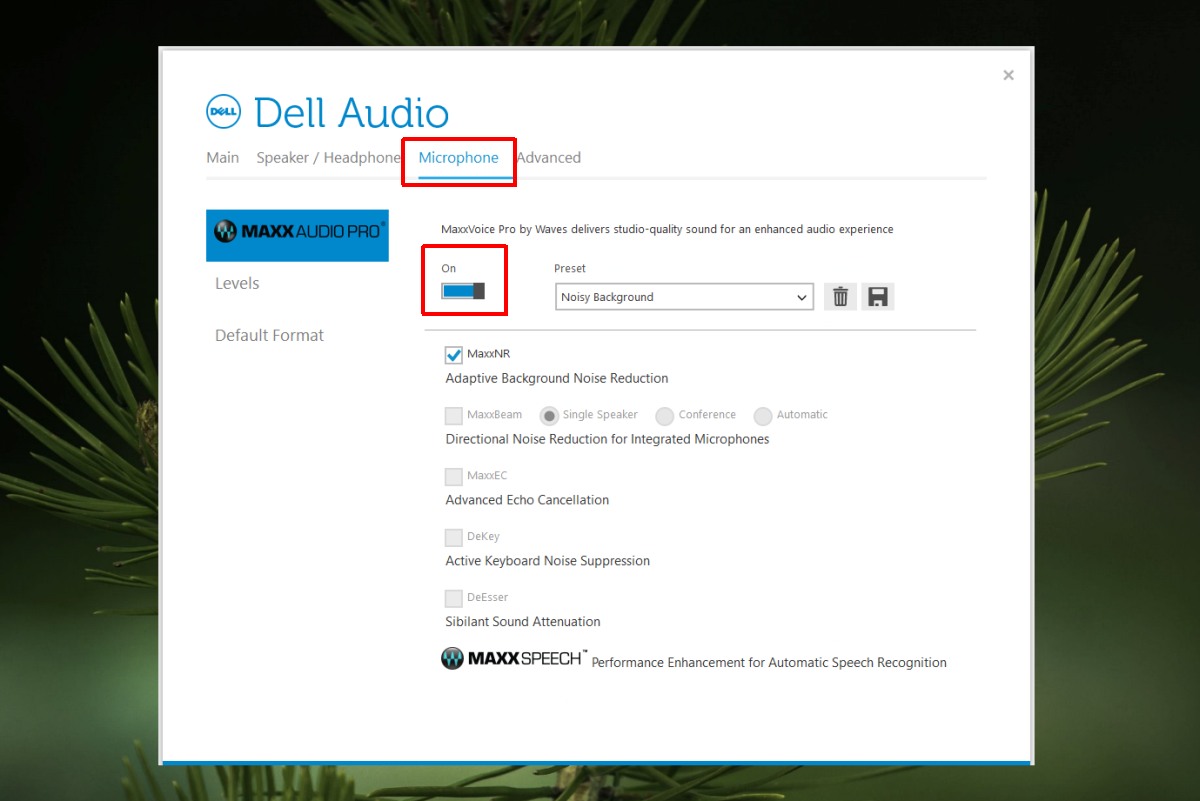 4. Check mic volume level
A mic, like speakers, has its own volume level. If the volume level is set to zero, the mic may appear to be working but it won't detect any audio input.
Go to Hardware and Sound.
Click Sound.
Go to the Recording tab.
Double-click the mic to open its properties.
Go to the levels tab.
Make sure the 'Microphone' level is not set to zero, and it's not set too low.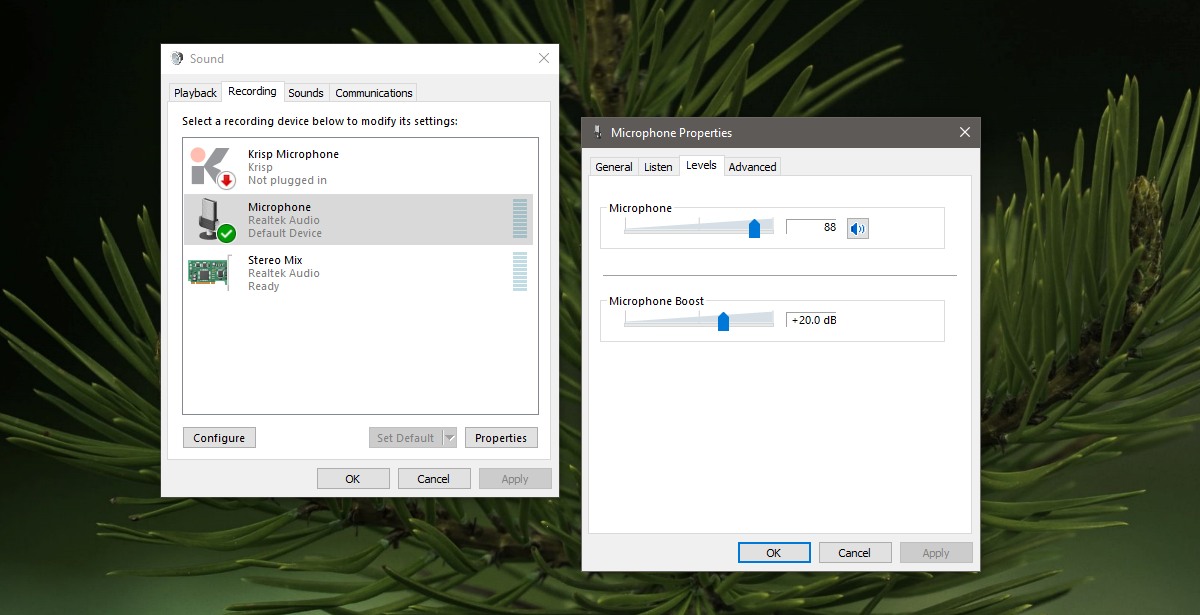 5. Enable microphone
A device may be connected to your system and be disabled at the same time. This will keep it from showing up in apps, and your system will not be able to detect it at all.
Open the Control Panel.
Go to Hardware and Sound.
Click Sound.
Go to the Recording tab.
Right-click in an empty area, and select 'Show disconnected devices' and 'Show disabled devices'.
If your mic appears, right-click it and set it as the default device.
6. Uninstall and reinstall the device
A problem installing the device when it was first connected to your system can prevent it from working and being set up. Uninstalling and reinstalling it will often fix any errors that might have occurred during the first installation.
Expand the Audio inputs and outputs group of devices.
Right-click your mic and select Uninstall device.
Once the device has been uninstalled, disconnect the mic (if it's an external one) and connect it again. If it's an internal mic, restart the system.
Windows 10 will automatically detect the new hardware and install drivers for it.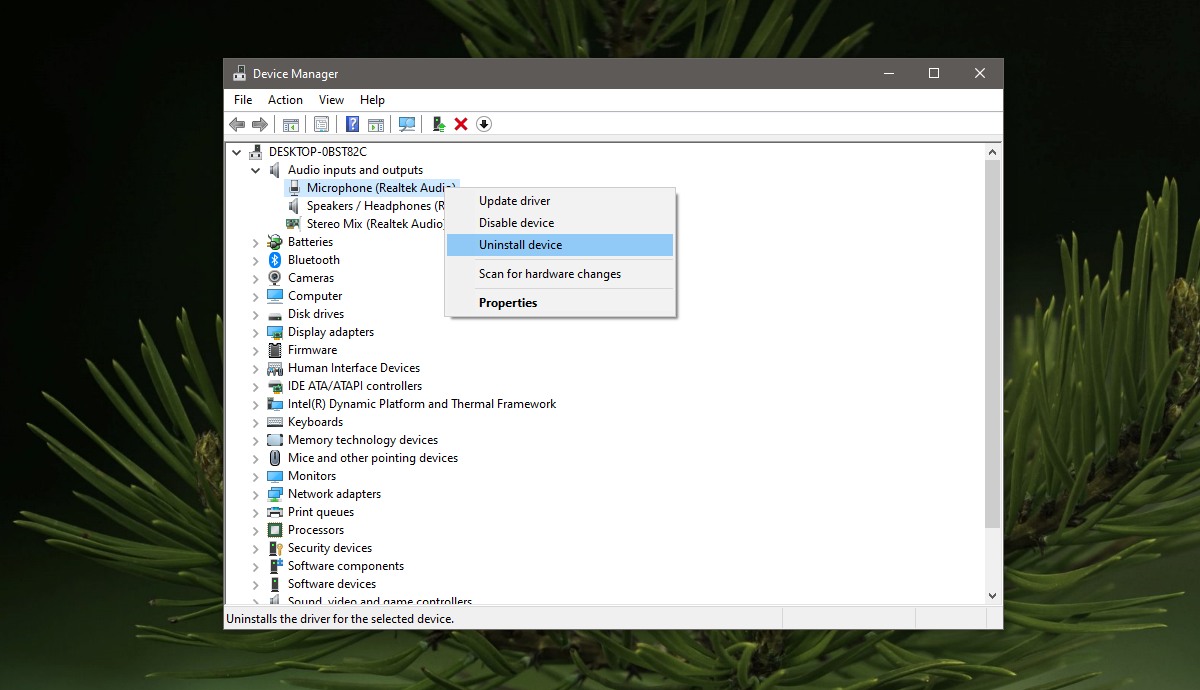 7. Check for audio driver updates
An audio driver update may be needed to get the mic to work.
Open the Device Manager.
Expand the Audio inputs and outputs group of devices.
Right-click the mic, and select Update drivers. 
Install any updates that are found and restart the system.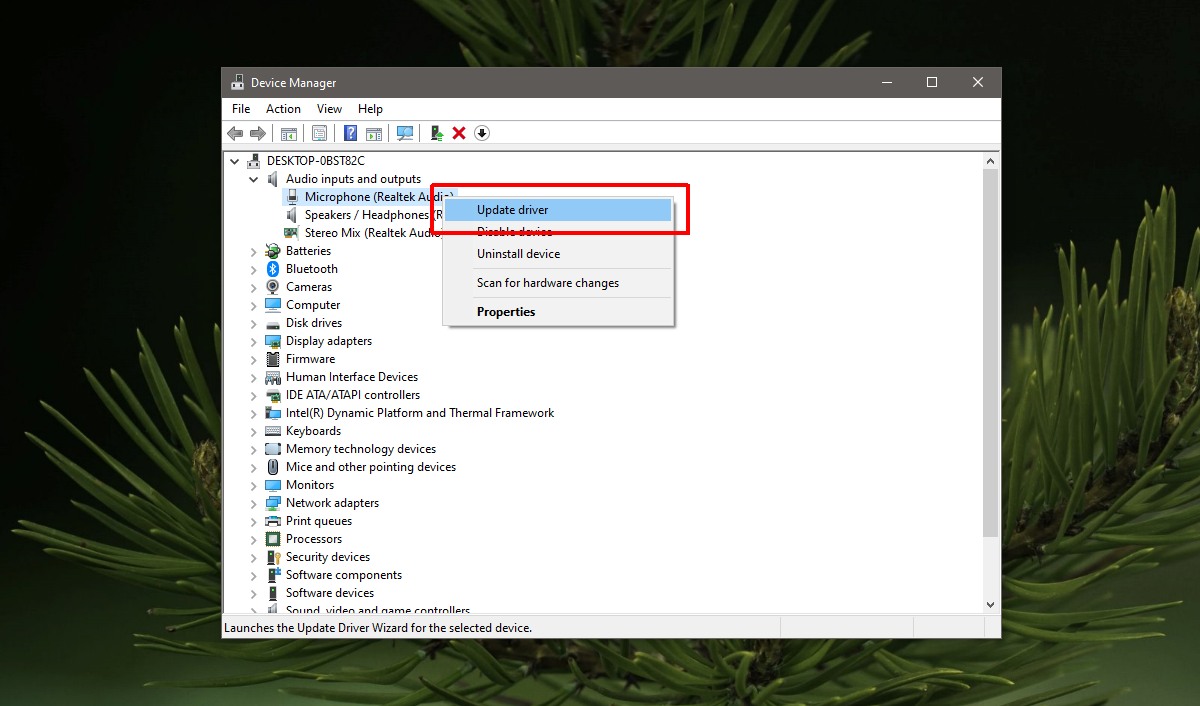 8. Install proprietary audio apps
If you're using a name brand microphone, you may need a proprietary app to get it to work and configure it.
Visit the website of your mic's manufacturer and check for apps that go with your model.
Install the app.
Connect the mic to your system, and run the app.
Allow it to detect and set up the mic.
9. Use an audio jack to USB adapter
It is possible that there's a problem with the audio jack. The problem may be a hardware or a software problem but in a pinch, you can buy a cheap audio jack to USB adapter and connect the mic over a USB port. It's highly likely that the mic will show up and you'll be able to use it. Check out our guide on how to use a converter.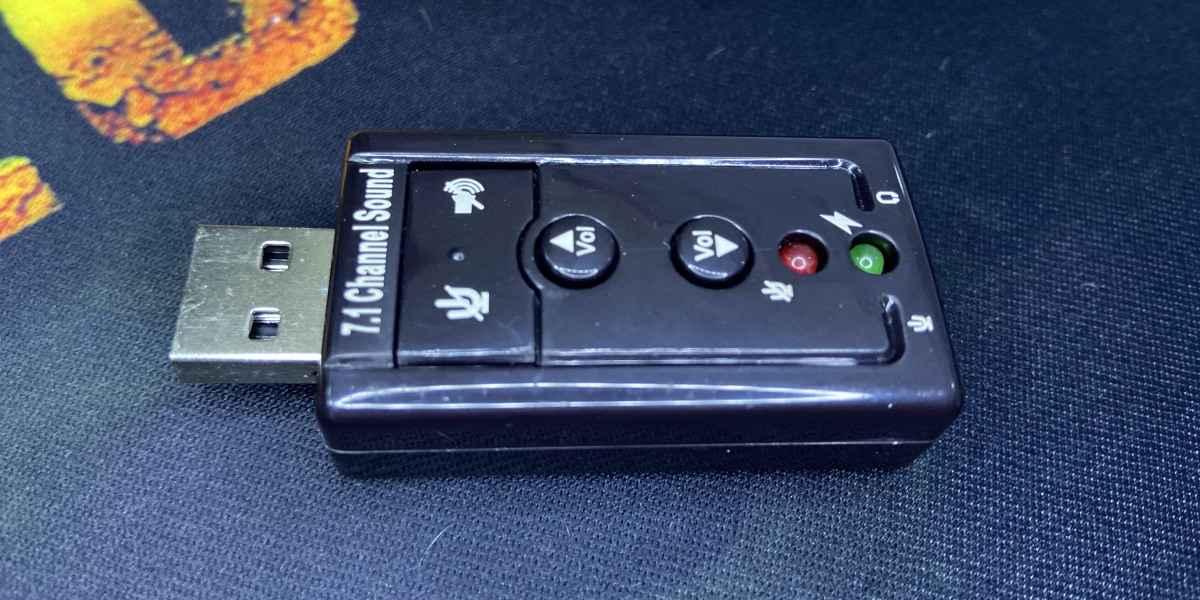 Conclusion
Mics are complicated to set up even though most use the same audio jack that speakers and headphones do.
Windows 10 hasn't really made it any easier to set them up which is why it's often a long process to get a mic up and running but these solutions will allow you to set up your device and use it fairly easily.