Transfer Files From One Server To Another Using FTP Rush
FTP Rush is an FTP client which provides robust features, such as, assigning custom mouse actions, built in scripts/commands, and support for SFTP and FXP  (File Exchange Protocol). Other supported formats include FTP and TFTP. FTP Rush is quite similar to FileZilla. However, it's settings appear somewhat easier to configure than the former, with the option to easily assign mouse actions for execution of common tasks according to defined parameters.
IT professionals can greatly benefit from FTP Rush by using it's built in script and command designer to automate routine tasks. The FXP feature can be quite handy for migrating a website between two FTP servers, without the need to download content to a hard drive. Although, Filezilla provides support for a comprehensive set of File Transfer Protocols, FTP Rush has more simplified configuration options which make it more useful for beginners.
Connecting FTP rush is like any other FTP client, you have to enter the login credentials of the FTP server and click Connect. Like most FTP clients, the connect button is a plug icon, located on the top toolbar of the main interface. You can transfer, queue, delete, rename and create file directories from right-click context menu.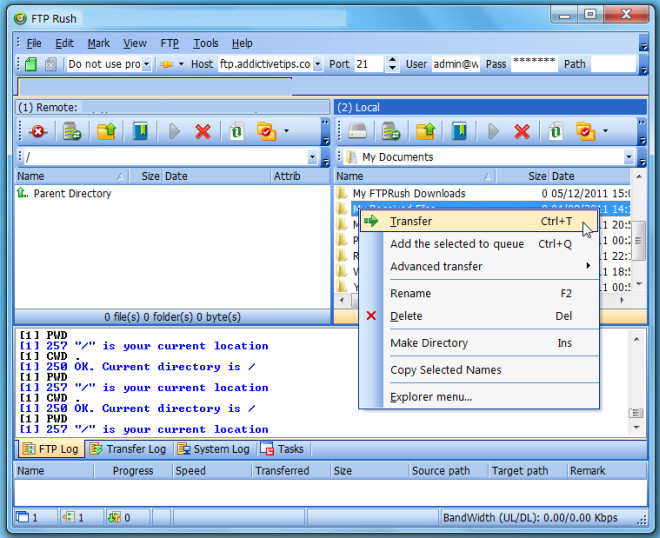 Advanced settings can be accessed from the Tools menu which contain many nice features to customize your settings for managing FTP Rush. The General tab provides FTP directory caching, folder path,  logging and UPNP settings, whereas, Connections tab provides configure connection time out, proxy and related settings within a list of sub-tabs.
To manage file transfer settings, head over to the Transfer tab, from where you can set an upload and download limit, TCP/IP buffer size, queuing and disk buffering options.
The Display tab includes, layout, color and highlighting options within a range of it's sub-tabs, whereas, the Mouse Actions tab is a handy resource for allocating mouse button actions for fast execution of tasks.
The Confirm tab can be utilized for enabling a number of confirmation prompts when FTP rush is exited, when a window is closed or a file deletion is about to take place, before items are removed from queue and so on.
FTP Rush works on Windows XP, Windows Vista and Windows 7.