TurboShredder: Quickly & Securely Shred Sensitive Files With Zero Pass
When you delete files from your computer using the default Windows delete function, they go to the Recycle Bin. To completely remove them from your computer, you either have to empty the recycle bin in order to ensure that they are not consuming the much-needed space on your hard drive, or press Shift + Delete in the first place, to skip the entire recycle bin process. However, even after being removed from the Recycle Bin, these files can still be recovered using any data recovery program. If working in a sensitive environment, anyone with malicious intentions who has access to your computer can recover the deleted files and use the information against you. Moreover, if you're working with a highly classified data, the effects of harm can even be more adverse. This is where file shredders come in handy. What file shredders do, is they eliminate any chance of recovering the file from your hard drive by completely wiping off the data. They use overwriting techniques for data destruction, so it becomes completely unrecoverable for unintended personnel. Today, we have a file shredding utility for you, simply labelled as TurboShredder. This is an open source application for Windows that allows you to quickly shred files, leaving them completely unrecoverable.
The application is really easy to work with and sports a simple design. Files can be added to TurboShredder via drag and drop or by using the classic Add function. Just grab the files that you want to shred and leave them over the main interface of TurboShredder to add them to the list. If you add a file by mistake, you can remove it from the list by selecting it and clicking the Remove files from the list ( – ) button. It should be noted that there are various methods of file shredding. And the application allows you to use Zero, Ones, Random, Secure Random and Peter Gutmann methods for shredding the data. You can also choose to Add Zero Pass during shredding. When everything is set, click Shred! button available at the left side. It doesn't take much time to get rid of your files and you can halt the process anytime by clicking the Stop button.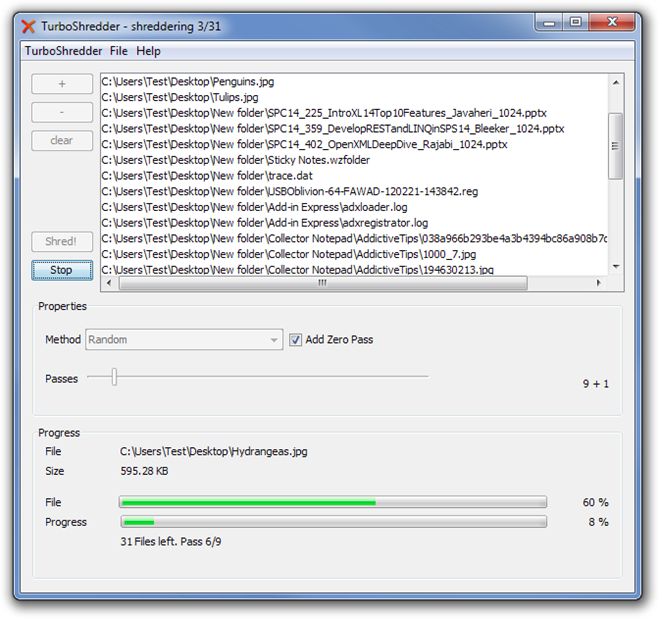 TurboShredder is a really handy tool and it aims to completely wipe off your data. The application works on all 32-bit and 64-bit versions of Windows XP, Windows 7, Windows 7 and Windows 8. It was tested on Windows 7.