How To Turn Off Game Bar In Windows 10
Windows is great for gaming if you prefer a PC over a platform like PlayStation or Xbox. Gamers who prefer a PC will argue that it's better than an Xbox. That's an argument to be had in the comments section of an obscure YouTube video, though, so let's not get into it. If you prefer to game on a PC, Windows is the best option. Mac and Linux don't really compare.
For a long time, gaming was about actually playing games. Recently though, people have taken to broadcasting gameplay. Twitch is a testament to how much people like to watch gamers play online. It's so popular that Microsoft added a neat little game recording and broadcasting feature in Windows 10. You can record gameplay and broadcast it, or you can turn off Game Bar in Windows 10 if you don't like it.
It's pretty easy to turn off Game Bar in Windows 10. All you have to know is where to look. This method works in Windows 10 Creators Update. Open the Settings app and go to the 'Gaming' group of settings.
On the Game Bar tab, turn off the 'Record game clips, screenshots, and broadcast using Game bar' option.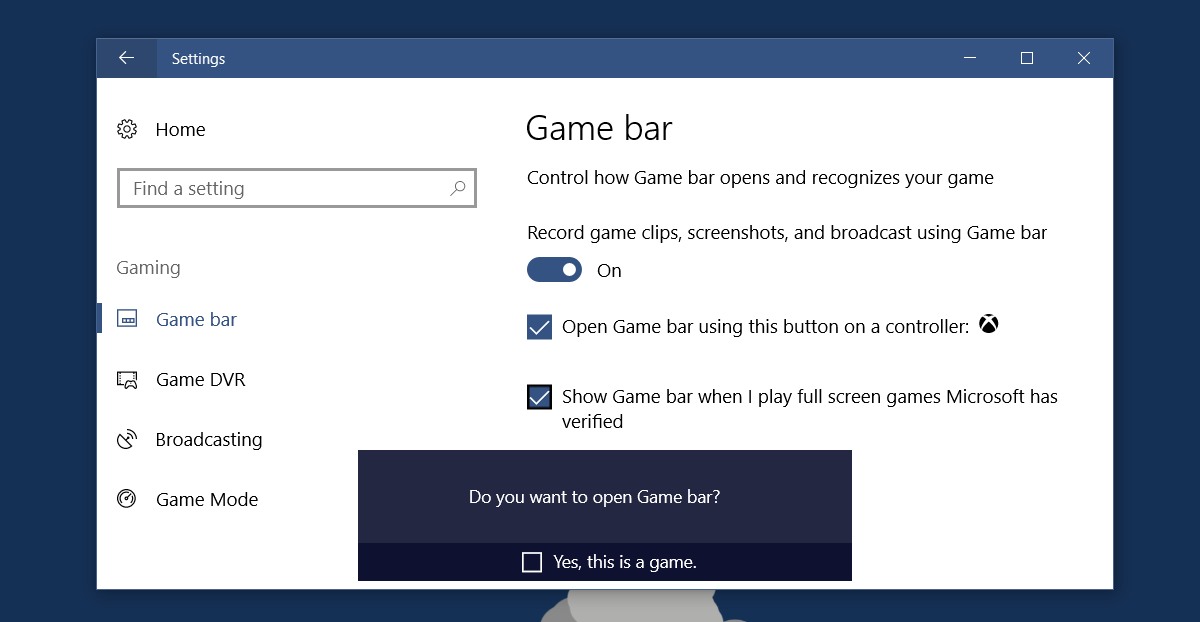 The Game bar will no longer open regardless if you tap the Win+G shortcut or the X button on your Xbox controller.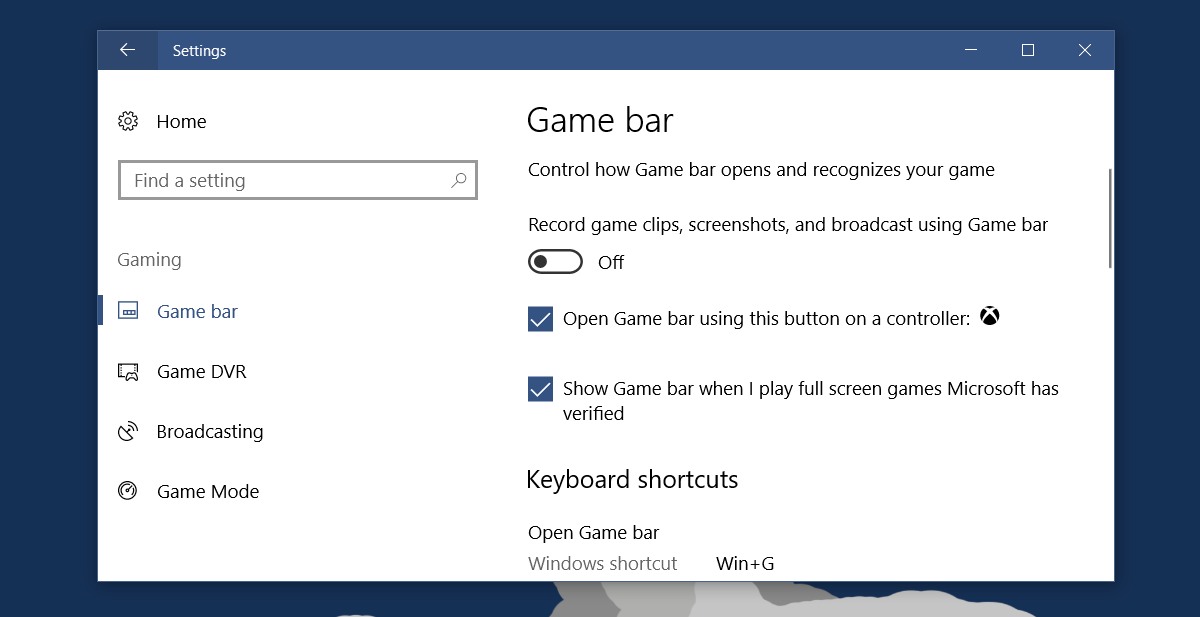 If you like the Game bar but don't want it to open when you press the X button on your controller, you can disable it. Uncheck the 'Open Game bar using this button on a controller' option. This will not turn off Game bar in Windows 10, but it will stop Game bar from opening when you press the X button on your Xbox controller.
The Game bar pops up regardless if your system has Game DVR or not. Game DVR doesn't work on all systems running Windows 10. It is locked to specific hardware though that's a bit unnecessary. You can get Game DVR on an unsupported system with a little app though it might not work as well.
Game Bar doesn't have anything to do with Game Mode. If you turn off Game bar in Windows 10, it doesn't turn off Game Mode. To turn off Game mode, you have to go to the Game Mode tab in the Gaming group of settings. One reason to turn off Game bar in Windows 10 is that it sometimes clashes with games in full screen mode. The feature is a nice addition from Microsoft but it has its bugs.