Turn PC Into Virtual WiFi Hotspot With WiFi HotSpot Creator
With the advent of Wifi, internet usage was revolutionized, getting rid of tangled wires. Every device comes out today contains a Wifi, from your PC to smartphone, laptop to tablet and TV to Blu-ray players, it seems as if Wifi has now dominated our lives. The beauty of Wifi is that you can get instant access to the internet wherever there is a hotspot. However, sometimes we need to access internet in places where Wifi hotspot is simply not available. Luckily, there are various tools available for Windows that turn your PC into a Wifi hotspot, so it would work exactly like a Wifi router or access point. If you have been looking for one, then today is your lucky day. Try WiFi HotSpot Creator, a handy tool to create a WiFi hotspot and share your internet connection, so WiFi enabled devices like laptops, smart phones, and tablets, can connect to internet via PC. It auto-enables the ICS (Internet Connection Sharing) option of your current connection to seamlessly turn your PC into a WiFi hotspot; you don't have to go through the tiresome process of opening Network & Sharing Center. Just launch the tool, enter the connection name and passphrase to create your WiFi hotspot. Moreover, it creates WPA/WPA2 PSK based secured connection, allowing you to connect those WiFi enabled devices which cannot connect with wireless ad-hoc network. More details ahead after the break.
The application has a very simple and neat looking interface design. To share your internet connection, the first  thing you need is to enter the name of WiFi hotspot and then enter a minimum 8-digit password in the Passphrase field. Now from NIC drop down menu, select the internet connection which you want to share.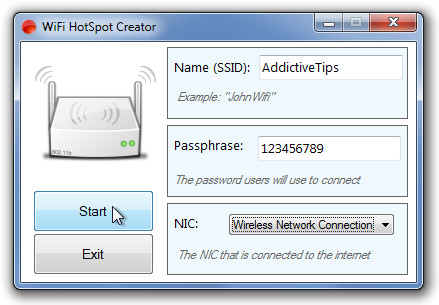 Once you're done entering the required information, click Start to create your WiFi hotspot. You can minimize the application and the connection will still remain, however, clicking Stop button to the left stops the connection.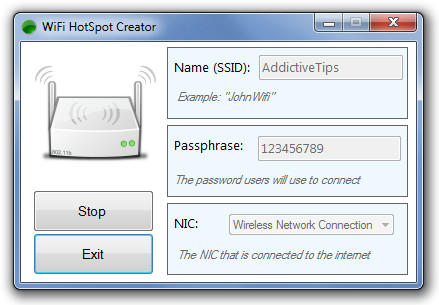 During testing, we did not find any issues. However, it attempts to install a toolbar in your browser without asking for permission. It must be noted that if the application is not working on your PC, you might have to upgrade your network adapter, as older adapters do not support creating virtual WiFi hotspot. Testing was carried out on Windows 7, Ultimate 64-bit edition.
Download WiFi HotSpot Creator (Softpedia link provided since the application is not listed on product page)