How to get tap gestures with Synaptics drivers on Windows 10
If you have a precision touchpad on your Windows PC, you can use taps and swipe gestures to execute various actions on your system. If you don't, your options are limited. In some rare cases, you might be able to use some gestures but that's if you're running the touchpad drivers that Windows 10 installs and not Synaptics' touch pad drivers. If would like to enable two and three finger tap gestures with Synaptics drivers, you can use an app called TwoFingerScroll.
Note: This app is for older systems without a precision touchpad and limited driver support. If you have a newer system, download the latest drivers available for your touchpad and use them instead.
Tap gestures with Synaptics drivers
Download TwoFingerScroll and run it. The app doesn't have to be installed and it will run in the system tray. Click the app's system tray icon and select Settings from the menu to configure the gestures.
The Settings windows has two tabs that are relevant; Scrolling and Tapping. Some touchpads that require Synaptics touchpad drivers also have poor scrolling support, or none at all. If you can't scroll with two fingers on your touchpad, the Scrolling tab will allow you to enable it for your touchpad.
The Tapping tab is where you can enable two and three finger tap gestures. There are four types of gestures that can be enabled with TwoFingerScroll; one + one is when you tap with one finger and without lifting it, tap and hold with a second finger. The Two finger tap is tapping with two fingers at once. The Two + one finger tap is where you tap with two fingers and without lifting them, tap with a third finger. The three finger tap is tapping with three fingers.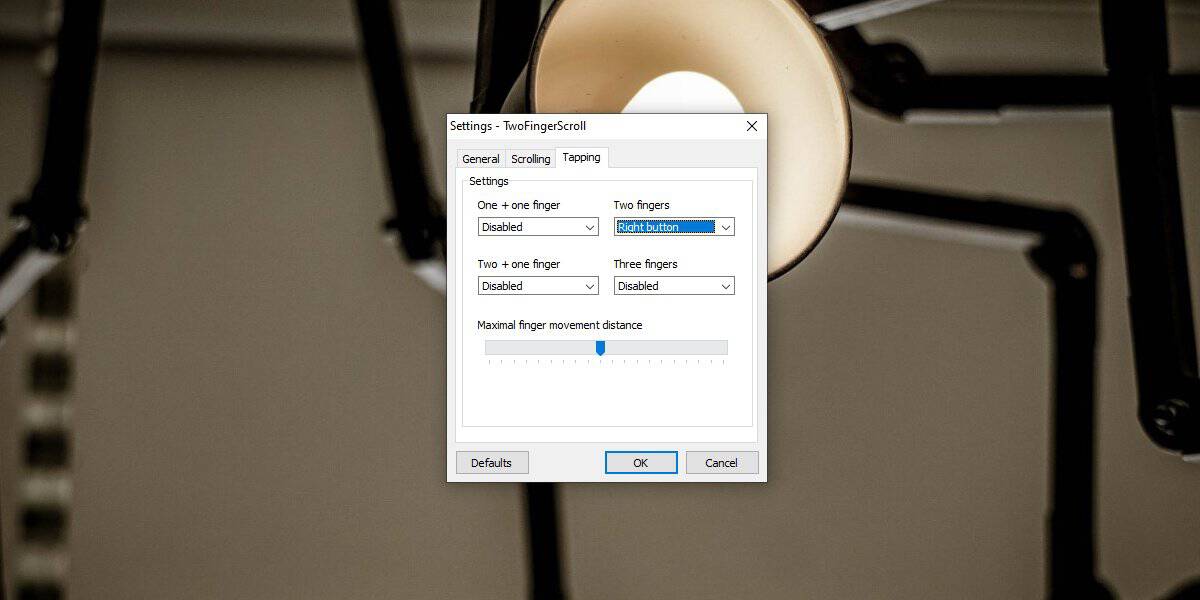 You will need to configure the taps a bit so that the app recognizes them. The 'Maximal finger movement distance' needs to be adjusted if the taps aren't recognized. The distance helps the app distinguish between the fingers that you're tapping with.
The app supports limited actions for the tap gestures; you can only configure it to execute mouse clicks. You can't configure it to do anything other than clicking and scrolling. This app won't give you the same experience that users with a precision touchpad have but it will improve navigation for you.
Synaptics touchpad drivers aren't always the best. In some cases, the drivers that Windows 10 installs are actually better. This is anecdotal but I have an old Dell laptop that doesn't have a precision touchpad but the Windows drivers for it allow it execute these gestures without any third-party apps whereas the Synaptics drivers do not enable them.