How To Unlock Windows 10 With Mi Band 2
When you think of activity trackers, the Mi Band 2 isn't one that comes to mind. The Apple Watch, Fitbit's line of trackers, and Android Wear are the wearables people are familiar with. You'd be surprised to know that the Mi Band is still a pretty popular tracker and for good reason. It's dirt cheap and basic. If you're ever curious as to whether or not an activity tracker will help you reach your fitness goals, this one is a reasonable device to sink your money into. The device is basic but it's still a wearable which means you can unlock Windows 10 with Mi Band 2. This will not let you lock Windows 10 with the band. The Mi Band 2 doesn't work with Dynamic Lock on Windows 10.
This should technically work with the Mi Band 1 as well but we haven't tested it with the device. If you already own the Mi Band 1, there's nothing to lose trying this method out. This works only with Windows 10 and for good measure, you should be running the Creators Update at the very least.
Download Millet Smart Unlock
Windows 10 lets you unlock your desktop with wearables but it seems you need an intermediary app to configure the unlock mechanism. For the Mi Band 2, you need an app called Millet Smart Unlock. This app is available in the Microsoft Store under its Chinese name 小米智能解锁.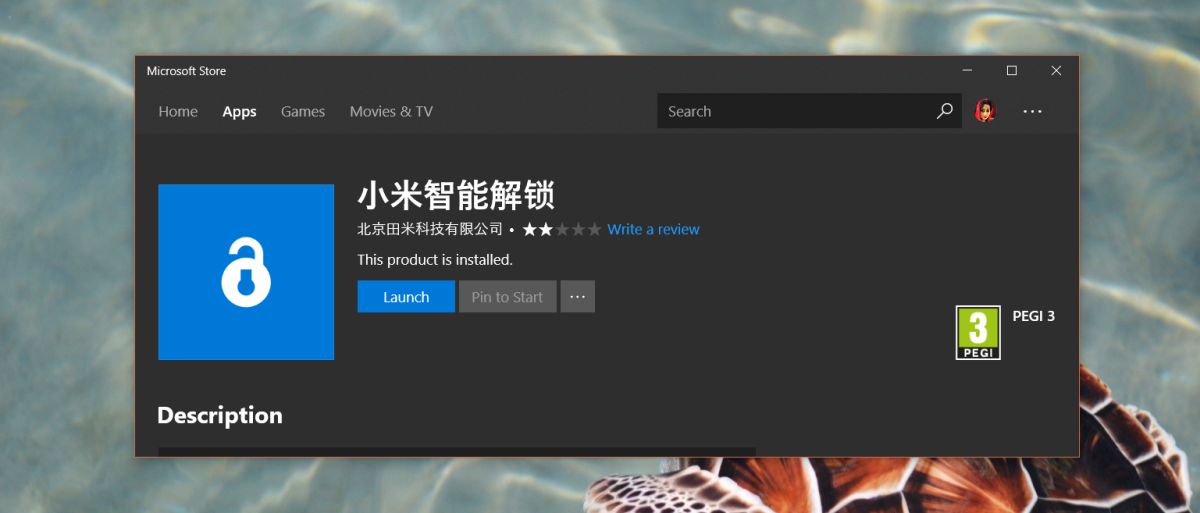 If you're unable to download the app because it isn't available in your region/country, you can temporarily change your country to China, download the app, and then change the region back. To change the region, open the Settings app. Go to Time & Language. Select the Region & Language tab and change your country to China from the dropdown. Visit the Millet Smart Unlock's app store page and download this app.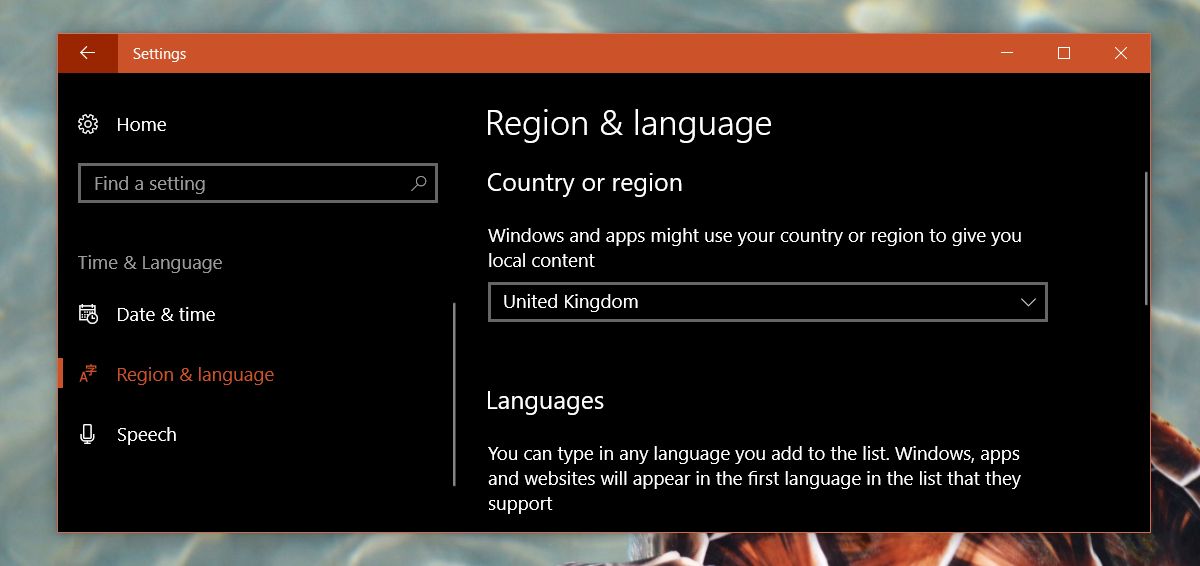 Connect Mi Band 2
Launch the Millet Smart Unlock app. During tests, the app wouldn't launch from the App List in the Start Menu. If you have the same problem, simply open the Microsoft Store app and go to your app library. Here you will see the Millet Smart Unlock app i.e., 小米智能解锁 listed. Click it, and click the Launch button.
Before you can connect the Mi Band 2 with your Windows 10 desktop, you must disconnect it from your phone. This doesn't mean that you have to unpair it from the Mi Health app on your iPhone or Android phone. All you need to do is disconnect it. If the band is the only Bluetooth device you use with your phone, you can turn Bluetooth off and it will work. Be sure to sync your data at least once a day by connecting the band to your phone when your desktop is turned off.
Launch the app and on the Scan Band, wait for your Mi Band 2 to be detected. It will send a vibration alert to confirm it has detected the correct device. Respond on your device.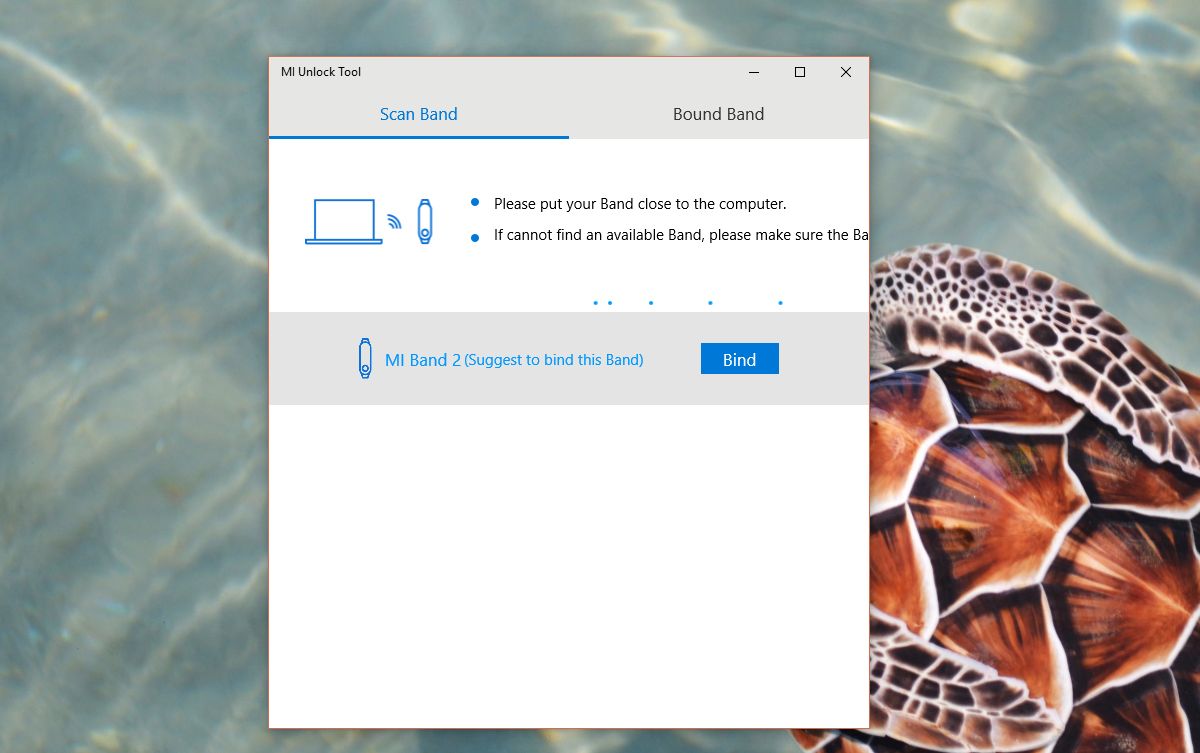 Enter the PIN for your Windows 10 user account when prompted, and you're good to go. You can close the app. It doesn't need to run all the time for your Mi Band 2 to unlock Windows 10.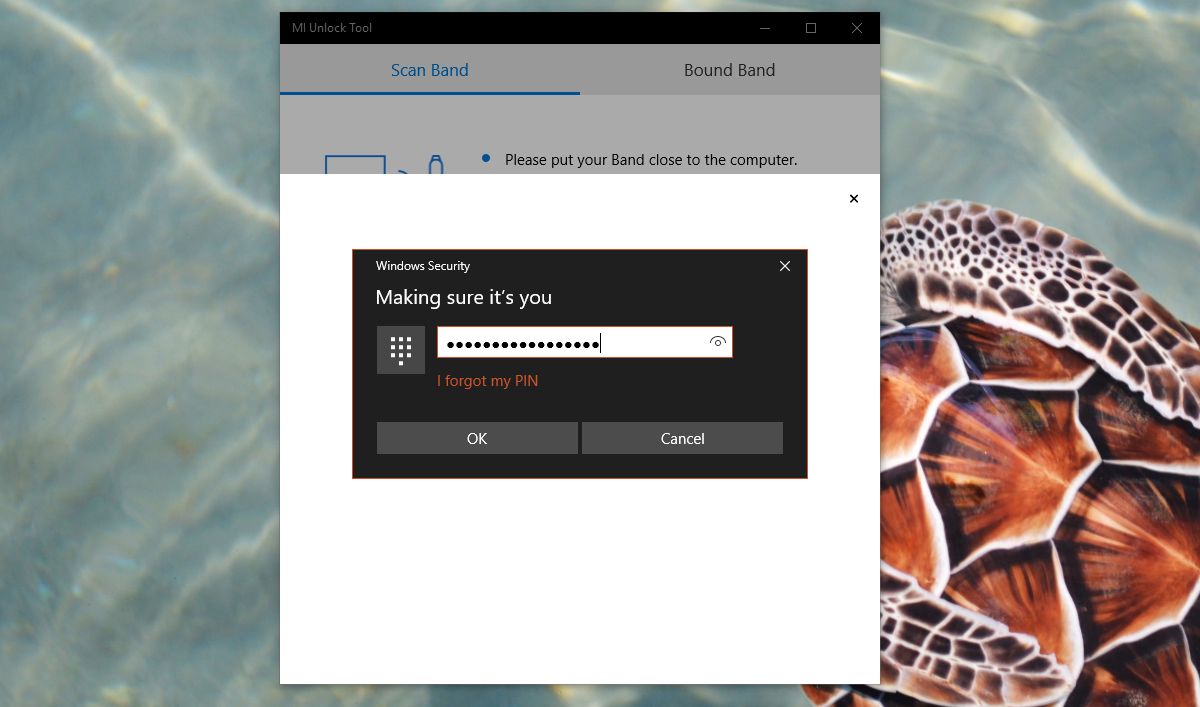 Lock your screen and both the lock screen and login screen will show you that it can unlock with the Mi Band 2. You need only bring it close to your desktop, and it will unlock. You will see the Windows Hello icon for just a second.