UnRarIt Batch Extracts Rar, Zip And 7z (7-Zip) Archive Files
UnRarIt is an archive extraction program which can unpack RAR, ZIP and 7zip compressed archives together in one go. It supports drag and drop functionality and automatically extracts different kind of compressed archives to a specified folder. You can also extract password protected archives before entering a password or selecting a password list to crack the archive before extracting it. In case you have forgotten the password of a compressed archive, the cracking mechanism will try  passwords from a text document list and also utilize recently or commonly used terms in order to crack the archive's password.
With the smart directory management feature of UnRarIt, you can generate directories with essential data only and can remove unwanted content to refine your extracted archives. The supported archives include both split and nested archives which makes it easy to obtain data from compact and fragmented sources to compile them in a tidy manner by selecting a single directory. It can also rename and/or delete successfully processed archives.
To begin, drag and drop compressed archives to the main interface, select a destination folder and click Extract Files. Since UnrarIt uses optimized extraction libraries and supports multi-threading, therefore, extraction process utilizes the optimum potential of multi-core processors for a better performance and a quicker process completion time.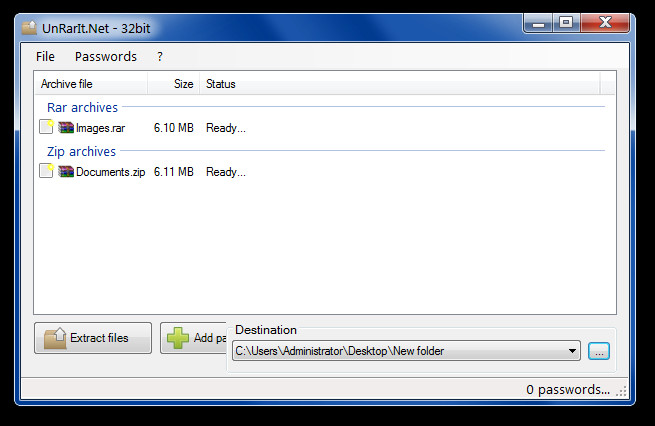 During the extraction process the names of the files being extracted are displayed and correctly extracted files are marked with a green tick sign.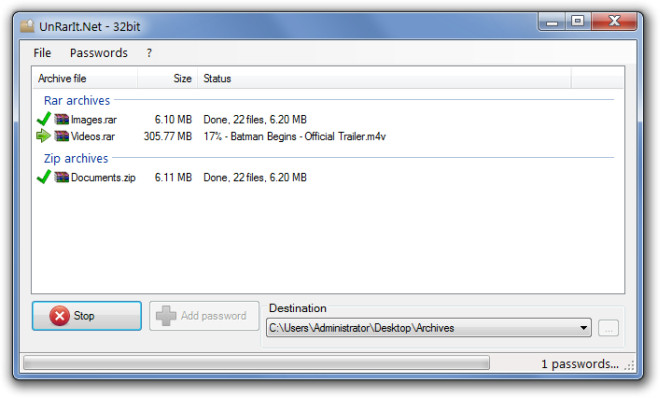 To extract password protected archives, select the file and click on Add Password to specify the password for authentication, you can then extract the file(s) to your selected folder. If you require cracking the password of a compressed archive, then you can use the Import option to load a password list to try and crack the password. During testing we successfully cracked an archive by assigning it a password and then importing a text list with multiple passwords including the correct one. The password list requires being saved as a text file.
You can open the archive directory, clear an item or all items from the list, reque items to extract them again and delete items via right-click context menu.
File extraction settings can be configured from File –> Open Preferences. The available options allow automatically skipping, overwriting, renaming and prompting for an action for duplicate files. Other options include auto removal of items after extraction and enabling extraction of nested archives.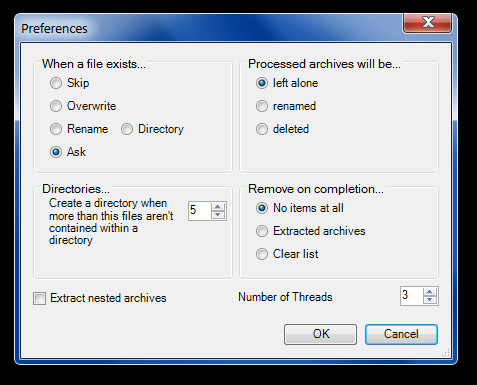 UnRarIt works on Windows XP, Windows Vista and Windows 7.