Cloud Export Downloads Data From All Google Services To Local Drive
Recently, we reviewed Google Takeout web service, which is meant to allow users to extract data from numerous services offered by Google. Cloud Export an open source application which provides a similar utility but with more extensive options. It automatically extracts data from specified web applications and saves it to your local folder. Cloud Export has roots based on the Data Liberation Front agenda, which is a Google engineering team, assigned with the goal to make it easier for users to move their data in and out of Google products.  Such services are already gaining importance in the light of recent data related issues such as the Gmail data loss for some users and Dropbox security issues which have raised questions about the security of data saved using cloud applications. The supported accounts for importing data include Gmail, Google Contacts, Google Reader, Picasa, Google Health, Google Finance, Google Talk, Google Docs, Twitter: RSS, Identi.ca/StatusNet: RSS, IMAP account, Jabber, and OFX (Financial Institutions).
Using Cloud Export is easy, click Settings option, enter your account credentials and select the online service from which you wish to extract data. You will be displayed a number of  web services which can be selected to download your data. If you select your Gmail account or a service containing many of your saved items, then the downloading process can take a bit long (depending upon the size of the downloaded data).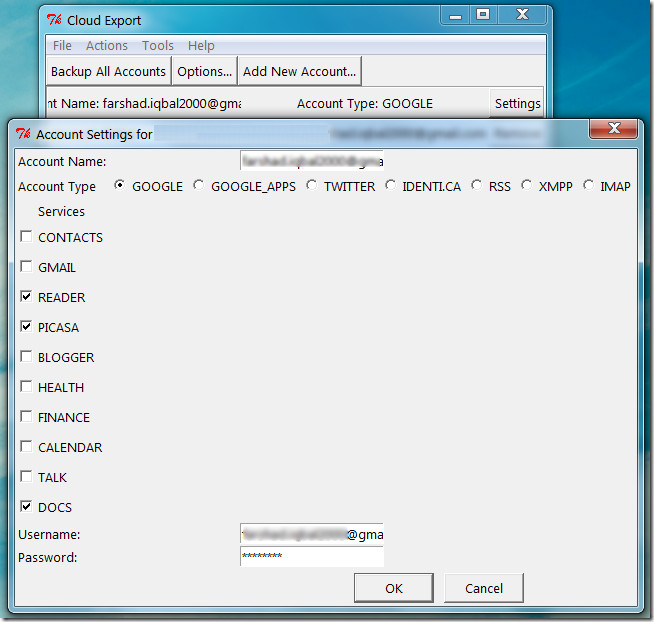 You can specify a destination directory to save your data from Options. The default location to save data is C:\Users\Username\exported.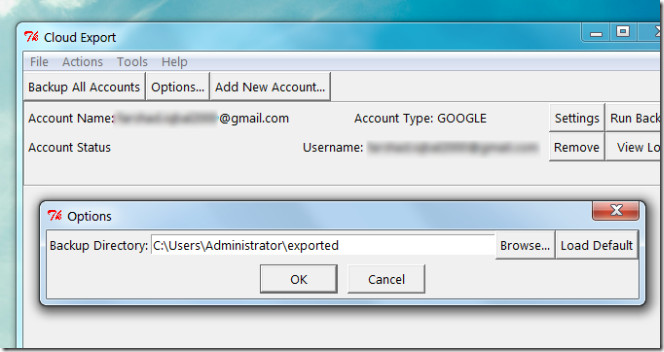 Click Backup All Accounts to start downloading your data.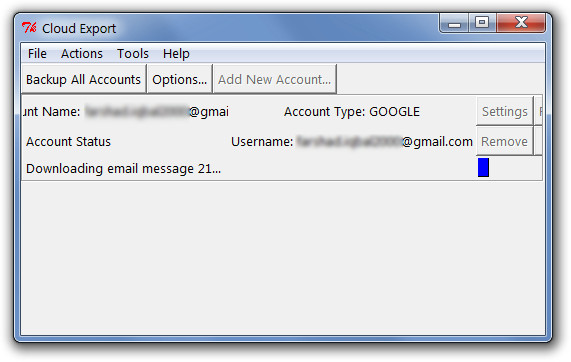 All data will be saved in separate folders in convenient categories. For example, your Picasa albums will be saved within a folder named Picasa, with separate sub-folders for your saved images, profile picture, and scrapbook photos.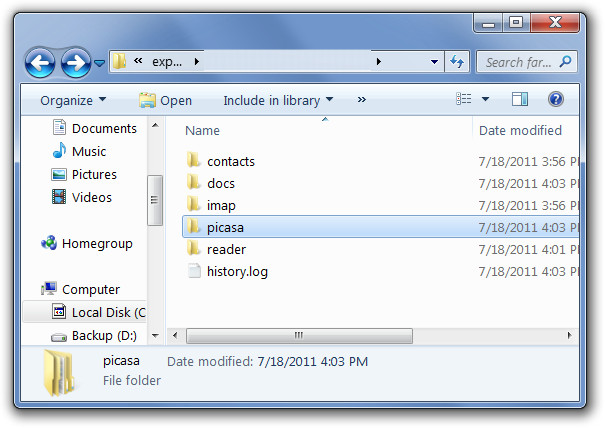 Cloud Export works on Windows XP, Windows Vista and Windows 7.