UPnP Ports Works: Router Management
UPnP Ports Works is a portable application build to handle router management without requiring administrative rights. It encapsulates numerous features which provide detailed information regarding issued commands and delivers an unparalleled troubleshooting interface simultaneously.
Unlike other complex apps, it is far easier to use when it comes to support wide range of router manufacturers. UPnP Port Works also offers flexible set of commands that range from modifying or viewing port forwarding entries to retrieve pertinent router information.
Launch UPnP Works, Click Connect to connect with router. Once connected, go to Management tab. Here you can add PnP router port entries for forwarding. Add the desired name of apps for which you want specify port forwarding and fill in respective entries. Once finished adding app names, hit Synchronize to start executing queries. You can also copy, export, or import port entries list.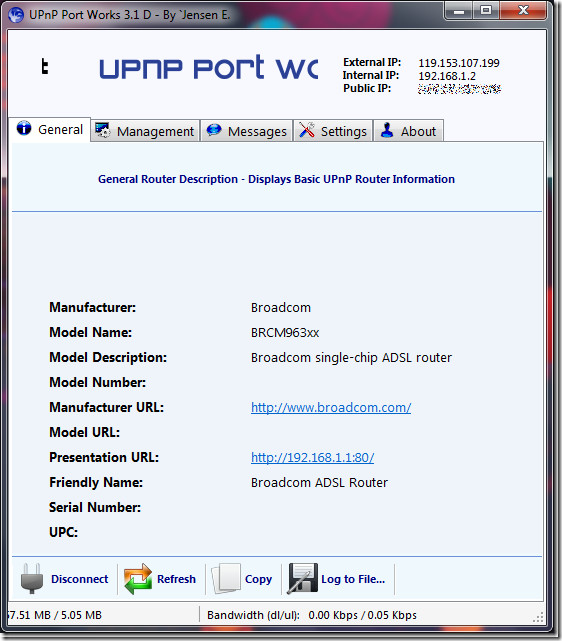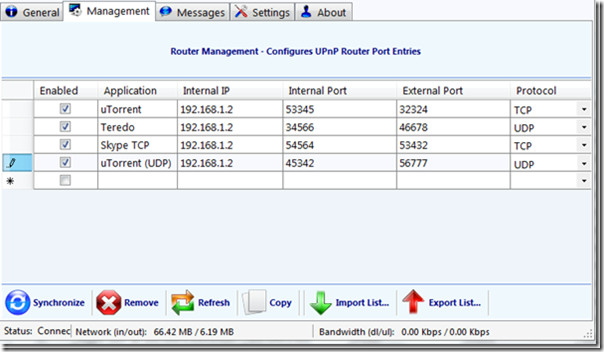 Hit Settings tab, to configure basic settings which mainly includes; UPnP Discovery and Timeout, setting time interval for Port mapping entries, shows notifications on system tray, etc. To check which query and function has been executed successfully hit Messages tab that shows log file.
The complete feature list can be found on author's product page.
It works on Windows 7, Windows Vista, and Windows XP.