Use Mouse Movements To Launch Programs [Windows]
In Windows, program launchers will superb functionality are abundant, like our previously reviewed Launchy or LaunchBar Commander. All have their own ups and downs, and the offer something different from each other. Hot Corners is a relative infant when it comes to features offered, but what makes it stand out and equal is the method that it uses to launch programs – mouse movements.
This tool maps the four corners of screen against a program, folder, file or command of your choosing. Moving the mouse to one of the corners will launch the corresponding operation.
The application is very minimalistic. After installation, you get an 'arrow' icon in system tray, where you can map applications with Hot Corners.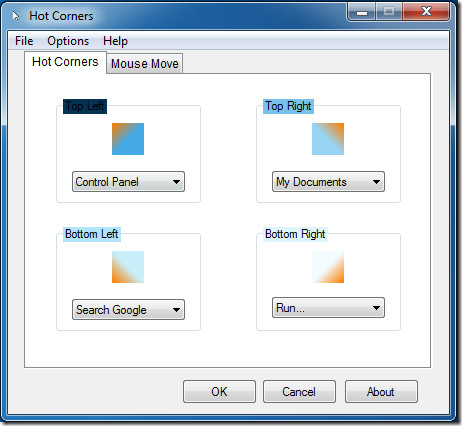 In the screenshot above, I have done the mapping such that I can launch My Documents just by moving the mouse to the upper right corner of the screen, and so forth. In the Run option, I can specify any command that can go with the Run dialog box.
The next tab is Mouse Move. This is again a set of four mappings but with a different touch. Programs mapped under Mouse Move will be launched with a combination of Windows key + X + mouse direction.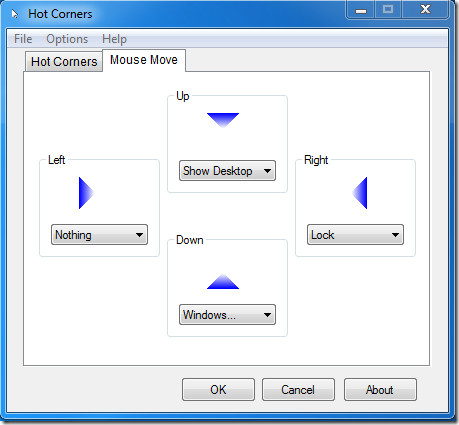 The mapping options are same here as well. The software allows 8 different applications/folders/files/commands to be mapped in total. You may control the mouse movement recognition sensitivity though Options.
The developer mentions that some antivirus software may recognize Hot Corners as malware, whereas it is not. The source code for the program is available on the developer's website.
Hot Corners was tested on Windows 7 32-bit operating system. It should work on previous versions of the OS as well.