How to View Clipboard History on Windows 10
If you use a clipboard manager app on Windows 10, updating to the Windows 10 October 2018 update may negate the need for it.
This new version lets you store your clipboard history and recall a previous entry with a simple keyboard shortcut. Here's how you can view clipboard history on Windows 10.
">
Clipboard History On Windows 10
First, make sure you're on the October 2018 build by opening the run box, and typing winver in it. The version should be 1809.
Before you can view clipboard history on Windows 10, you need to first enable it. Open the Settings app and go to the System group of settings. Select the Clipboard tab, and turn on clipboard history.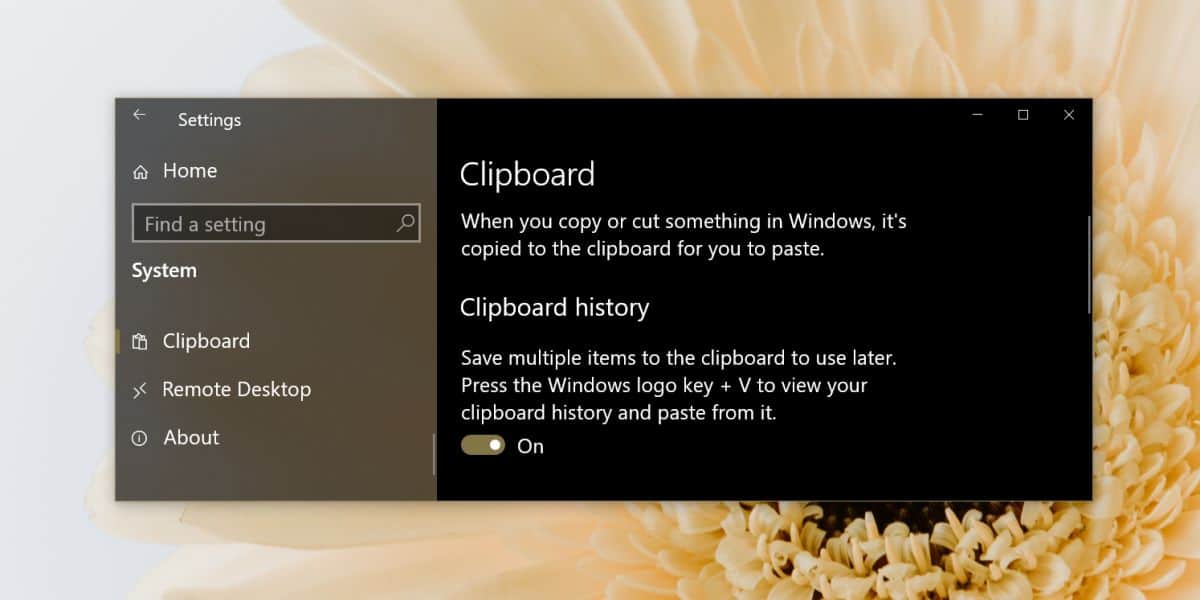 You can view clipboard history on Windows 10 from this point forward. Anything that you copied before enabling it will not appear.
Where is my clipboard?
To view your clipboard history, tap Windows logo key +V. A little panel will open that will list all items, images, and text, that you copied to your clipboard. Scroll through it and click an item you want to paste again.
If you look closely at the panel, you will see that each item has a little pin icon on it. Clicking it will exempt the item from being cleared when you clear your clipboard history.
Speaking of which, you can clear your history by clicking the Clear all button on the clipboard history panel. You can also delete it from the Clipboard tab in the Settings app.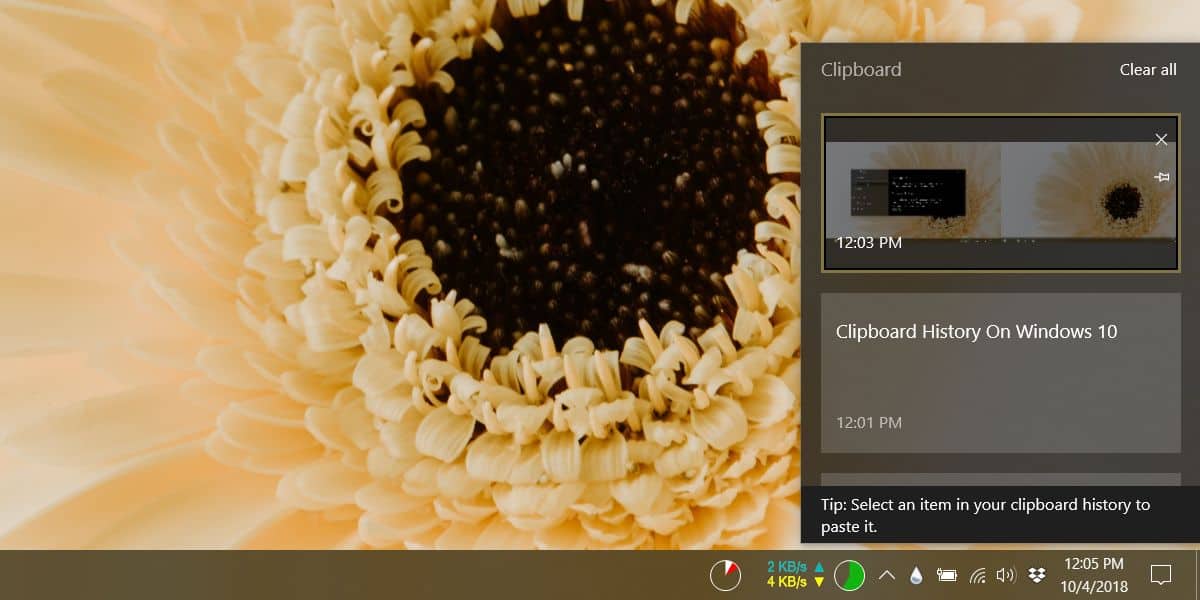 The clipboard can also be synced across devices but this option isn't enabled by default.
A word of caution on clipboard history
Users tend to copy and paste sensitive information like logins, passwords, and even banking information to their clipboard.
This isn't a good idea, ever, but before the October 2018 update, it wasn't as dangerous because Windows only remembered the last entry on your clipboard.
If you enable clipboard history on Windows 10, you need to take special care that you do not copy sensitive information to your clipboard. If you do copy sensitive information to the clipboard, make sure that you clear it out immediately. You can remove individual items from your history.
Parting words
The history will persist past a system restart so you have to be proactive about keeping it clean.
Sensitive information shouldn't be stored there but to make sure that it's still usable, you should trim the items on the clipboard regularly so that only important items are kept long term.
There doesn't seem to be any limit on how many items it can store but since this is a native Windows 10 feature, you can expect it to store a reasonably large number of items.
Windows 10 Clipboard FAQs
How do I turn on my clipboard history?
Select Windows logo key + V, and then select Turn on.
How do I sync my clipboard items to my Computer?
Select Start > Settings > System > Clipboard . Choose On under Sync across devices.
How do I clear my clipboard history?
Select Start > Settings > System > Clipboard > Clear clipboard data > Clear — this will clear everything on your device and the cloud, except for pinned items.
Select Windows logo key + V and then select the Clear all option at the top — this will clear your device clipboard history.
What if I want to get rid of something in the clipboard history?
Select Windows logo key + V to open the clipboard settings and then next to the item in question, select Delete.
How do I sync my clipboard to my phone?
Unfortunately, you can't sync your clipboard history to your phone yet. This feature will be added in the future.