VLC Launcher Plays Media Files With Exclusive Audio And Video Settings
From all the media players available out there, VideoLan VLC has the most comprehensive set of video and audio features which users may tweak with to fit their Audio/Video needs. If you work on video editing projects and use VLC to check different effects every time before permanently applying those effects like, color intensity, sharpness, gray scaling ,etc., to video in question, you must be manually changing the default video settings from VLC Preferences. VLC Launcher is an open source application, designed to define a wide range of audio and video parameters for specific set of media files, so you can watch them without having to manually apply the effects and to tinker around with other audio and video settings.
It comes handy in many situations. For example, I love to use the 5.1 speakers for HD movies but normal speakers for Music. You may, for instance, always want to watch specific part of a movie or listen to last 5 minutes of some audio track, just launch the application, specify required media file and define the start and end time range. When you launch the media file in VLC, it will start from the exact time you've specified.
It has almost all audio and video features and options which are available in VLC Media Player. After launching the application, under Base tab, select media file and start changing settings exclusively for specified media file, including, audio and video parameters, media file time range, process priority, always on top, repeat active media file, sound volume, DSP / equalizer.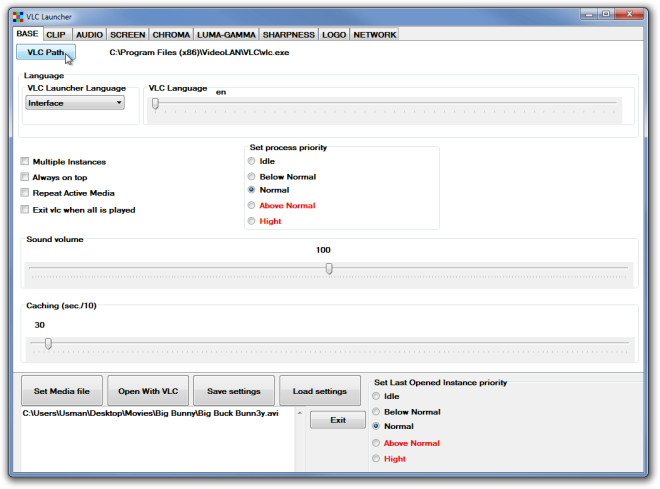 Under Clip, you can define start and end time range and media playback speed.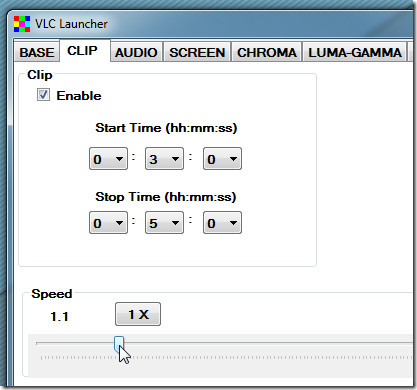 The Audio tab contains equalizer for changing Global Gain and audio bands values. The Screen tab refers to tweaking with different screen modes, setting aspect ratio, video size, etc.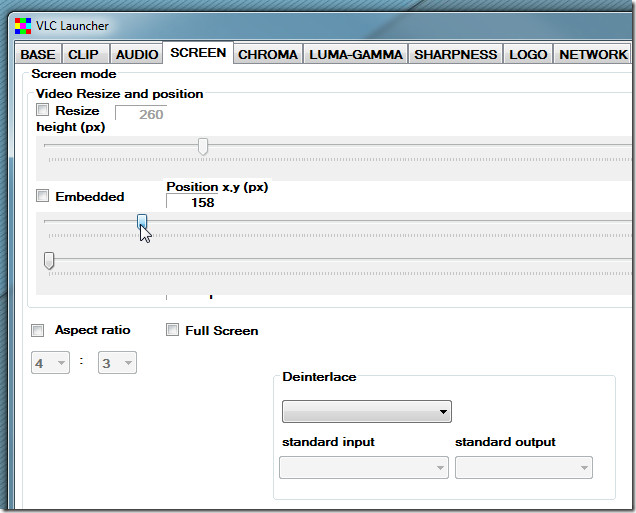 Under Chroma and Luma-GAMMA, you can change various video color specific settings, such as, saturation, brightness, DIMA image layout,  contrast and so on.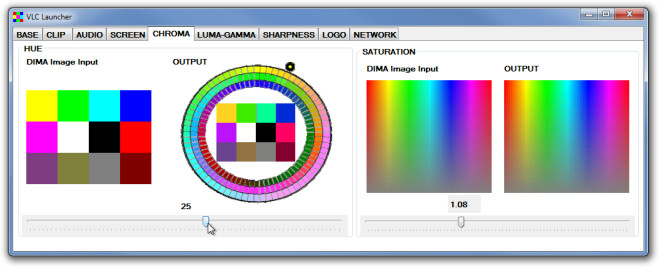 Similarly, you can change video sharpness and select logo image which you want to show over video. From Network, you can set browser and streaming settings. Once you've changed all the required settings, move to Base tab, and click Open With VLC to watch the video as per configured settings.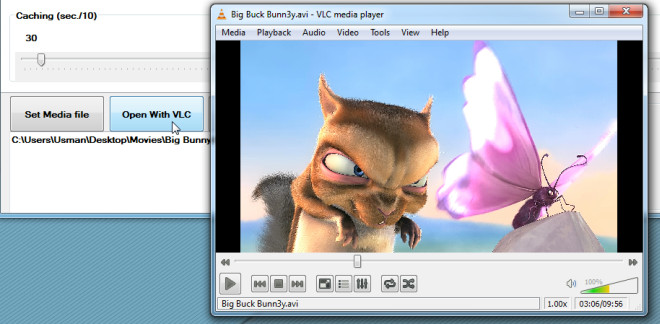 VLC Launcher works on all versions of Windows.