Volumouse: Control System Settings via User-Defined Mouse Wheel Rules
In order to change various settings of Windows, normally you have to go to the Control Panel and open the relevant options to configure them according to your requirement. Even some simple settings, such as  changing the Display Brightness or the Power profile requires you to go through the whole process. Some people might not know about it, but Windows features a hotkey menu named Windows Mobility Center (accessible by pressing the Windows + X hotkey), that allows users to change the Brightness of their monitor, Increase/ Decrease System Volume, Switch between available Power profiles, Turn Wireless On and Off, Manage Secondary Display Adapters connected to the computer, change Sync settings and  Turn On/ Off Presentation Settings. Today, we have an application for Windows that goes one step further and, in a simple way, greatly enhances the amount of control you have on the system. Volumouse is a system control application what lets you define wheel mouse rules to perform different tasks, such as control volume, increase/decrease brightness, and change transparency of desktop windows. By using your mouse scroller, you change volume settings for Default Playback, Default Recording, Speakers, Internal Aux Jack and Microphone, as well as adjust Windows Transparency and Screen Brightness. A total of 12 wheel mouse rules can be defined by choosing different keyboard keys, and conditions to activate the application. More on Volumouse after the jump.
The application lets you choose the Mixer Device, and define 12 different Wheel Mouse Rules. You can select the key or condition to activate the wheel controls, such as Alt key is down, Left mouse button is down, Ctrl+Shift are down, No Key is pressed, VLC Player is focused, The cursor is on screen edges etc. Each combination can then used to control a component and a different channel of the component, e.g., Left Channel, Right Channel, Mute/Unmute.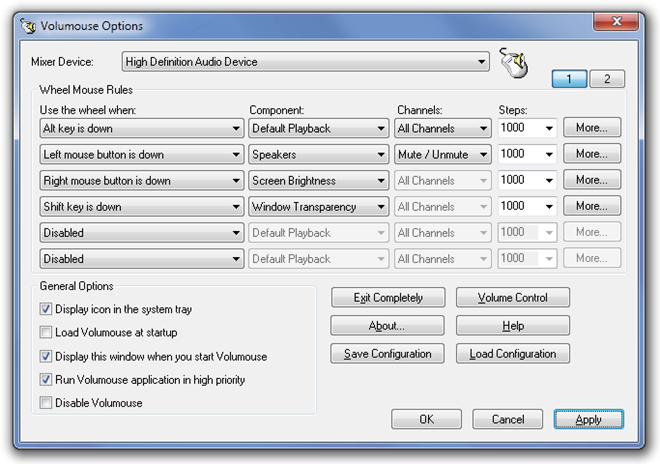 Whenever the predefined condition is met, a scroll bar will appear on your desktop. Move you mouse and up and to increase or decrease the intensity of the selected option. For instance, if you want to reduce the screen brightness, just keep the right mouse button clicked and scroll down (based on the program settings in the above screenshot).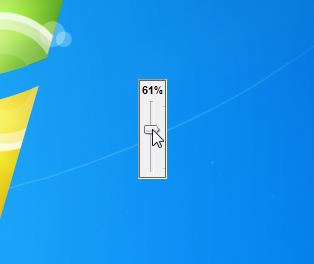 Click More to access the Advanced Rule Options of the application. It lets you adjust the Indicator Options, Rule Activation Options, Custom Key Combinations, Hot Keys etc.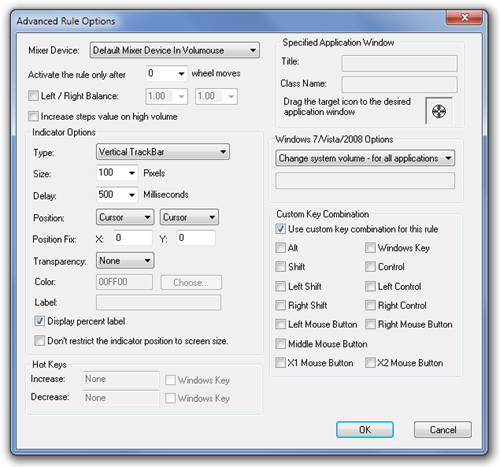 Volumouse works on both 32-bit and 64-bit versions of Windows XP, Windows Vista, Windows 7 and Windows 8.