VSDC Free: Yet Another Feature Rich Video Converter For Windows
Gone are the days when you'd demand a media converter to convert a video file into a specific format. Nowadays, portable multimedia devices such as smartphones, tablets, game consoles etc., are capable of playing almost every audio and video format. Despite that, the need for video converters doesn't seem to fade away, and you may often find yourself looking for one should a native video format not work for you. Most folks use HandBrake for converting video and audio files between different formats, as, beyond doubt, the program holds a lot of potential. VSDC Fee Video Converter is another such tool that packs a slew of features, and supports all popular video formats. The application includes presets for a number of devices, including PC, iPod, PSP, Playstation, Xbox, BlackBerry, Zune, PPC etc, for one click conversion process. What's more, there's an integrated video editor, which can be used to trim or merge files before you send queue them for conversion. Moreover, using its Disc Burner feature, you can easily burn files to optical discs without having to use an external CD/DVD writing application.
The interface houses different tabs at the top. The Files tab lets you add the input files to the application. Since it allows you to add multiple files at a time, batch conversion is also possible. The preview pane to the right lets you watch the video from within the application. Files that are added (you can click Add Files on the toolbar to add files) appear in the source list.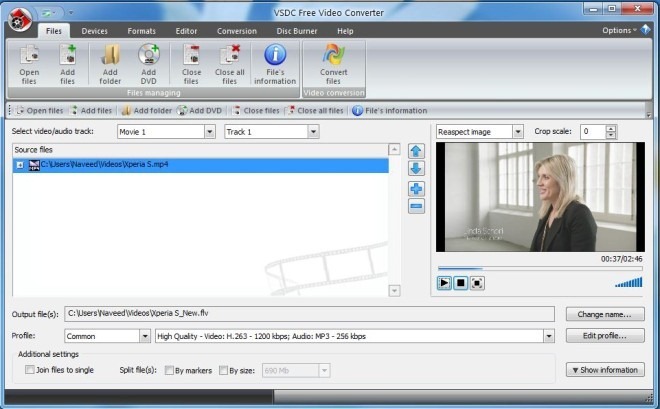 The Devices tab holds all the presets for the devices that I mentioned earlier. However, it's also possible to choose a profile from Formats tab, which also contains a wide range of  formats such as AVI, MPG, MOV, WMV, MKV, RM, SWF and FLV. Even after a format selection, you can further fine tune the settings from the Profile drop-down menu at the bottom, for instance, when you want to alter video resolution or output quality. Furthermore, clicking Edit Profile at the bottom right enables you to specify custom settings for both audio and video.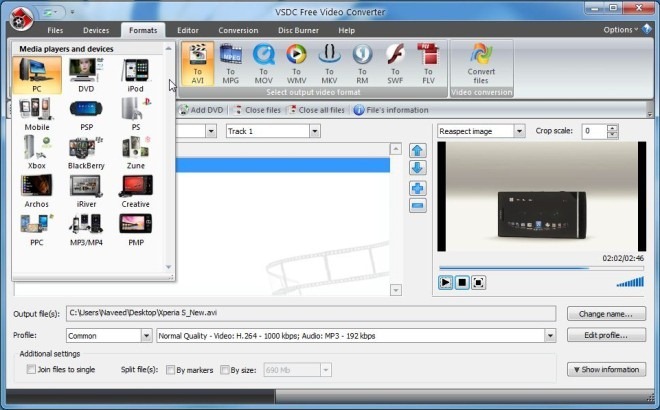 Clicking the Editor tab opens the Video Editor in a separate window. The editor can be used to cut away any unwanted chunks from the video. Simply select the beginning and ending part of video by placing a marker, and the application will not include that region while performing the conversion. Don't forget to hit Apply changes after configuring the settings.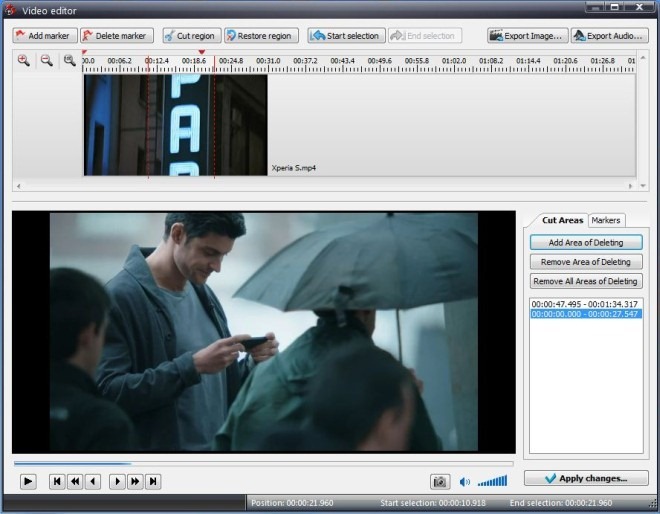 When everything is in place, click Convert files on the toolbar to begin the process. Total conversion time may take up to several minutes depending on the length of video, as well as the performance of your PC.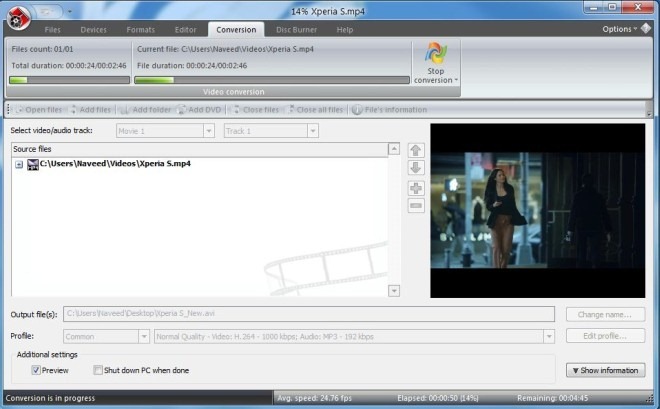 VSDC Free Video Converter works on Windows XP, Windows Vista, Windows 7 and Windows 8. Both 32-bit and 64-bit OS editions are supported.
Download VSDC Free Video Converter