Weeny Free Video Cutter: Trim Videos & Export In Various Formats
There are times when you come across this amazing movie and you want to save a few scenes from it on your computer for later viewing. There are numerous video cutting tools available for download, and AddictiveTips have also covered several of them, like SolveigMM AVI Trimmer, a compilation of great online video editing tools, as well as top five desktop tools (here). Weeny Free Video Cutter is another video trimming software which can cut various video file formats within a few seconds. Not only that, it also enables you to set the output files to other popular formats after the cutting process, for example, .mp4, mp3, .avi, .mpg etc. The application is simple to use with nice interface and satisfying output quality. More to follow after the jump
To cut a video, select it by clicking Add Video File. Now, choose the part of video you want to cut by using the trim sliders right next to the play, pause and stop buttons. You need to select both the start frame and the end frame of the video section you want to extract. The application contains a Segments database in the mid-right section and you can add as many video segments as you want. This options helps you select various parts of a single video in their respective segments, which saves you quite a lot of time. As I mentioned earlier, there are numerous video and audio formats to choose from to set as output file. The available file formats can be selected by using the drop down menu under Video Formats. Additionally, you can set other video output options like codec, size (resolution), bitrate, framerate, along with audio options such as bitrate, sample rate, number of audio channels.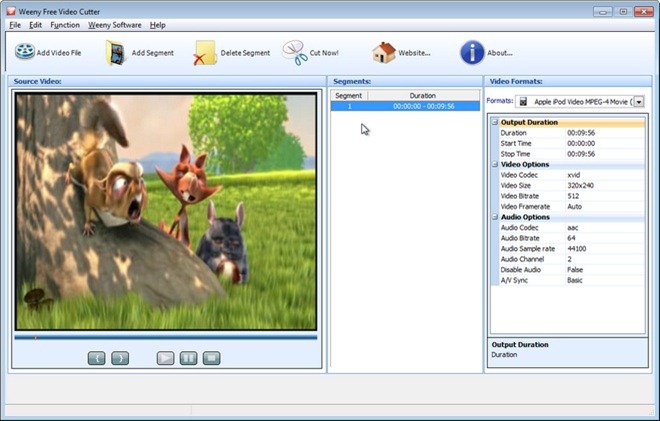 In case you want to change some user-preferences, head over to Options under Edit menu. The configuration window contains General, Audio, Video and DVD settings. The General tab contains options like selecting Output Folder of your video files, Process priority and Number of threads to use in case you're using a multi-core processor. Audio Tab lets you select output audio volume as well as other format parameters that I mentioned earlier.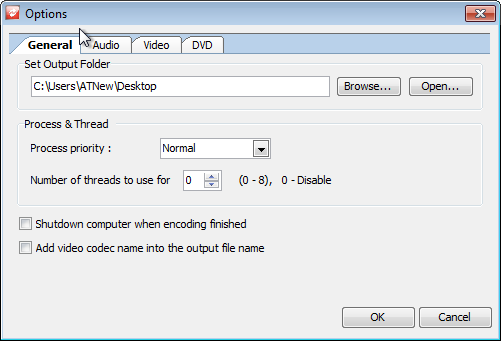 Under the Video tab, you can alter a few options like Video Preview (DirectX, GL2, GL), Encoding Filters (Deinterlace and Inverse telecine (IVTC)) and Video Resize (Fit to width, Fit to height, Expand to video size, Round to 16 pixels). There is nothing much to explore under the DVD tab. After choosing your desired settings, click OK.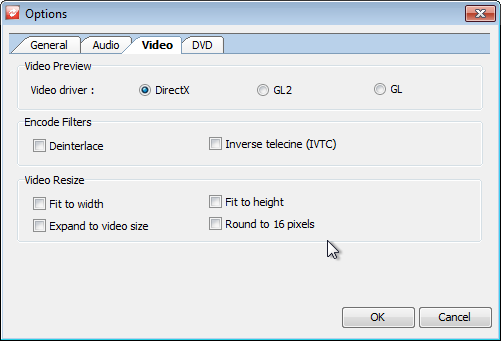 Once you have carefully mapped out the video part you want to trim, just click Cut Now! button at the top to start the cutting process. A small progress window will pop up, showing you a summary of output settings and the remaining time before the process gets completed. Here, you can choose to stop the process as well as mark Shut down computer when encoding finished.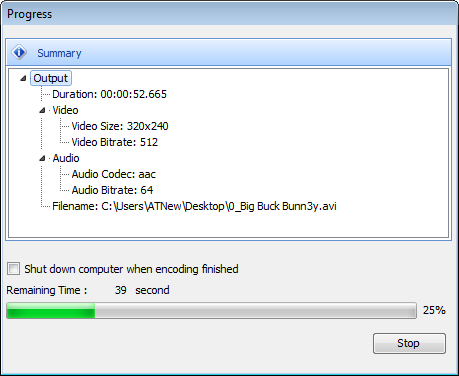 The application is available for free, and works on Windows XP, Windows Vista, Windows 7 and Windows 8, on both 32-bit and 64-bit OS.
Download Weeny Free Video Cutter