What Are The Camera Roll & Saved Photos Folders In Windows 10
Libraries in Windows are a long standing feature, and they're pretty useful. The libraries have mostly been left untouched as Windows went from one version to the next. In Windows 10, the Pictures library has three new folders; Camera roll, Saved Pictures, and Screenshots. The Screenshots folder is self-explanatory and ties right in with the screenshot feature added in Windows 10. The screenshots you capture via the Win+Prnt Screen short are saved to this Screenshots folder. The 'Camera Roll' folder is something you can expect to find if you've connected a digital camera, or an smartphone to your PC but that's not where it comes from. The 'Saved Photos' folder and what it's for is anyone's guess. These two folders are created by the Camera and Photos apps respectively. Here's what they're for and how you can move them to a different location.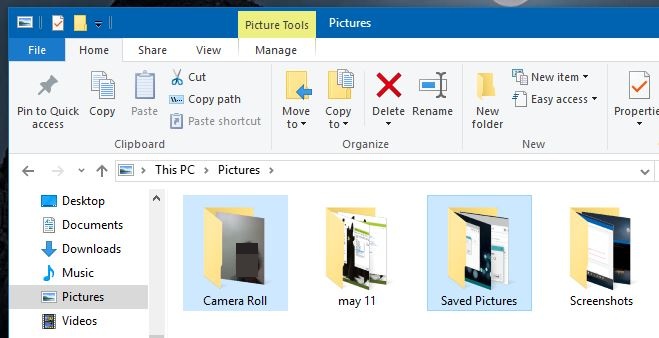 The Camera Roll folder is created by the Camera app. Windows previously didn't have a dedicated Camera app but as of Windows 10 that's changed. All photos you capture via the Camera app are saved to this folder. You can't delete it because the app will add it right back. What you can do is you can move it to a different location.
The Saved Pictures folder is created by the Photos app though it doesn't save photos to it when you edit them. By default, it saves edited photos to the same directory the original photo is in.
You can't delete these folders unless you also delete the Camera and Photos app. Deleting the folders otherwise will simply bring them back.  What you can do is move the folders to a different location. To do so, simply cut and paste them elsewhere. The Camera and Photos apps will not create them again in the Pictures library. The apps will automatically detect the new location for these folders and save photos to it whenever they need to.