What Is Windows.old Folder And How To Remove It
We will be discussing the following points in this post:
What is the Windows.old Folder ?
What is Included in Windows.old?
How To Remove The Windows.old Folder?
What is the Windows.old Folder ?
You might have seen the Windows.old folder in your C drive, this is because you have probably performed an upgrade or custom installation of Windows 7 or Vista, in either case your old Windows folder is renamed to Windows.old. This is done so that you can copy files from the old installation, should you need them.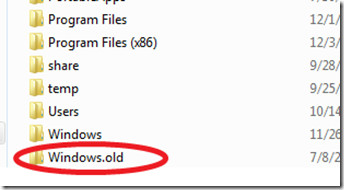 The typical reasons for the presence of this folder are:
You install Windows Vista/Windows 7 via upgrade on a machine which was running on older version of  Windows especially Microsoft Windows Vista/XP/2000.
You perform a custom installation of Windows Vista or Windows 7 instead of an upgrade installation.
What Is Included In Windows.old ?
The following sub folders are present in the Windows.old folder.
Windows
Documents and Settings
Program Files
How To Remove The Windows.old Folder ?
Once you are pretty sure that you no longer need any data from Windows.old then it would be a wise decision to remove it, to conserve disk space. Here is an easy way to remove it.
Right-click the C drive or any other drive where Windows is installed, select Properties, and hit the Disk Cleanup button to launch the Disk Clean Up utility.
In order to remove Windows.Old, check  the Previous Windows installation(s) option and hit OK.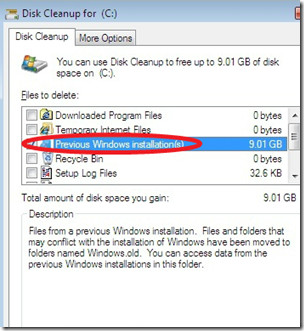 It's that simple. Removing the previous Windows installation can save you quite a large amount of hard disk space, as you can see in the screenshot above, the old windows installation was taking 9Gb.