Windows 7 Desktop Cleanup Wizard – Clean Desktop
For those users of Windows 7 and Vista who miss the desktop cleanup wizard of Windows XP, here is an app which performs the desktop clean up operations for Windows 7 and Vista. Clean Desktop scans & detects desktop items which have not been used in the last 30 days and lists them down. You then have the option to delete them.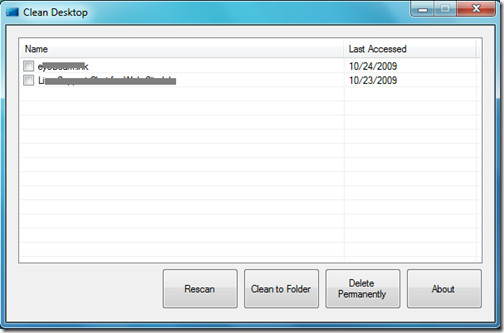 In the list you will find the desktop icons which were not used within the last 30 days, hit the Rescan button to get the fresh scan results, the Clean to Folder button does not delete these icons rather it moves them to C:\Users\[username]\Desktop\Unused Icons folder, the Delete Permanently button removes these icons permanently.
You can also consider another utility called Deskcretary which helps in cleaning up your whole desktop. Enjoy!