Windows 7: Quick Way To Take Ownership Of File/Folder
Guess what is the most annoying part of Windows 7? Every time you try to access a system file/folder you get "Permission Denied" error. The only way to override this error is to take ownership of that file/folder, which is quite a lengthy and tiresome process which is hated by almost every system administrator.
Thanks to Take Ownership Shell Extension developed by Rizone, taking ownership of file/folder in just a click away. Just launch the tool, hit Install, and you will find Take Ownership option in the Windows Explorer right-click context menu. Launch the app again, hit Uninstall, and the option will be removed.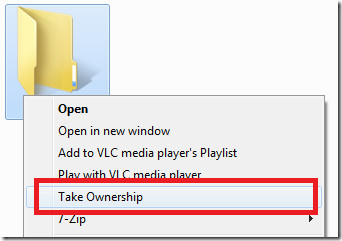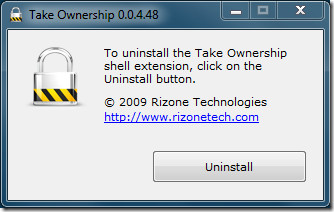 Compared with the default method of taking ownership, this small portable utility can indeed come useful and is perfectly safe to use.
Apart from Windows 7, it works on Windows XP, Windows Vista, and Windows 2003/2008 Server. Both 32-bit and 64-bit are supported.