Windows 7 WinHosts File Editor
There are plenty of reasons why you may want to edit the Windows 7 WinHosts file, one of the most popular one is to block certain websites from opening up. This post will guide through both manual and automatic ways of doing so.
Manual Method
Type Run in Start Search and hit Enter. In Run dialog box, paste the following path,
\WINDOWS\system32\drivers\etc\hosts
and hit OK.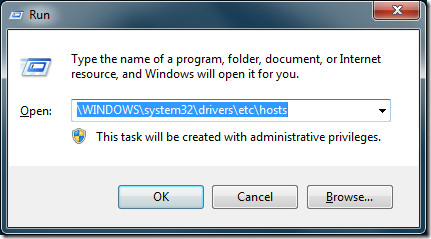 Select Notepad from the Open with dialog window to open the WinHosts file in notepad. Now scroll down to find the IP Addresses and their host information, such as, 127.0.0.1 localhost. This mean localhost is getting mapped to 127.0.0.1. To block certain websites you need to map the URL with 127.0.0.1 as shown in the screenshot below.
It can also be used to speed up the loading of websites that you visit most frequently. What happens when you load a certain URL in the browser? It is first converted into IP Address and then loads up. If the correct IP Address is already given in the WinHosts file then it will speed up the loading since the system will not need to convert the URL into the respective IP Address.
It is recommended to use this only to block certain websites, entering multiple IP addresses to speed up the browsing can actually slow down your system.
Automatic Method
If the manual method is too complicated for you, grab a small opensource freeware called WinHosts-bss. It displays all entries in the Windows WinHosts file making it easier for the user to add/remove them. Select an entry from the list and hit Delete to remove it. Enter the IP Address, Host Name, and hit Add to add it to the WinHosts file. It's that simple.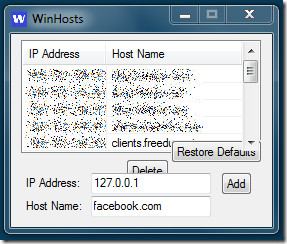 Important Note: This app will be detected as a virus by Microsoft Security Essentials. It is actually a false positive, for confirmation you can download the source code and check that the code is clean. It is detected as false positive because the app edits WinHosts file. Don't worry, the app is perfectly clean. We tested it before reviewing!