Windows Media Player Not Showing Video (Just Sound) – FIXED
The Windows Media Player is one of the most popular apps that Microsoft discontinued in favor of UWP apps. WMP was the stock video and audio player on Windows 7 and it allowed users to burn CDs, create playlists, and organize their music as well as videos.
The Movies & TV app and the Groove music app collectively fall short of most features that are available on Windows Media Player. The only shortcoming the Windows Media Player app has is that it can't play all types of files e.g. MKV files.
Windows Media Video Not Showing
If you're using Windows Media Player and it won't show you any video playback, it may be a problem with the app or with the video file itself.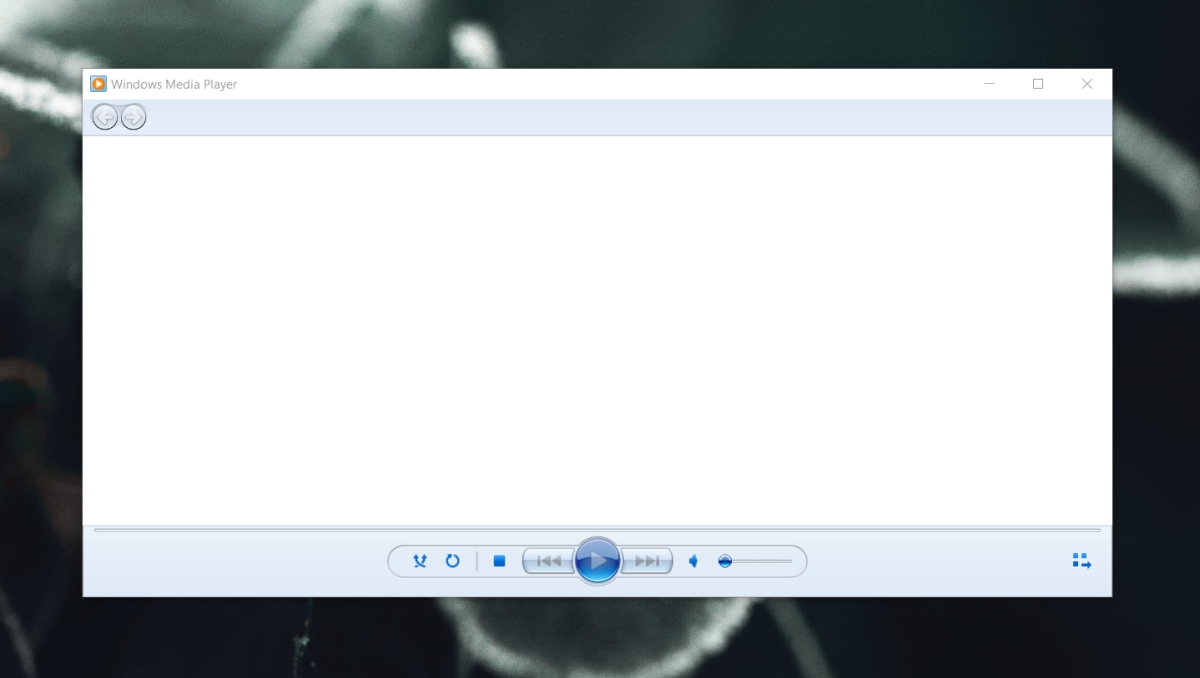 Here are a few things you can try to troubleshoot the problem.
1. Check the video file
Video files in media containers are often hard to play reliably in Windows Media Player. Check if the file plays in other media players e.g., the Movies and TV app or VLC player.
If the video plays in other players, the problem may be with Windows Media Player.
You should also try to play a different file that is in a compatible file format in the app e.g., play an MP4 file in Windows Media Player and in the Movies & TV app. If the file doesn't play in Windows Media Player, the problem is likely with the app.
2. Enable Now Playing
Windows Media Player offers users different media playback views; a skin view, a now playing view, and a library view. It is possible that you're in the Library view which will not show the video.
Play your video in Windows Media Player.
Once the video is playing, tap the Ctrl+3 keyboard shortcut to enable Now Playing.
Note: You can change the view mode in Windows Media Player from the View menu on the menu bar. Tap the Alt key to show the menu bar.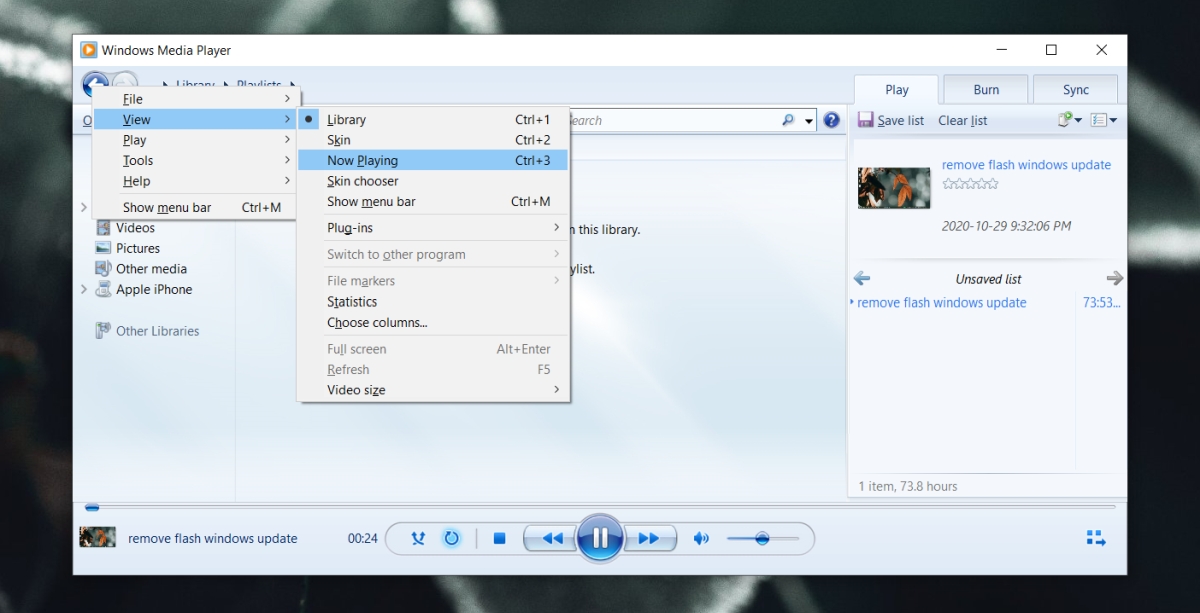 3. Uninstall and reinstall Windows Media Player
If enabling Now Playing doesn't get the video to show, there may be a problem with the Windows Media Player. Try uninstalling the app, and installing it again.
Open the Settings app (Win+I keyboard shortcut).
Go to Apps.
Click Optional Features.
Under Installed Features, select Windows Media Player.
Click Uninstall.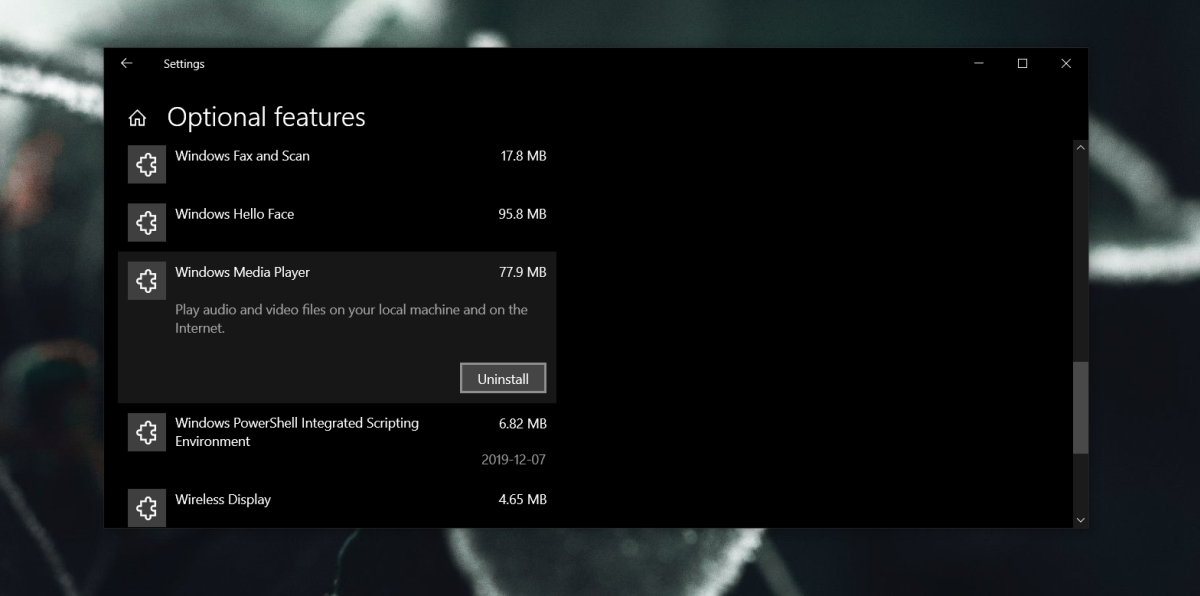 Once uninstalled, restart the system.
Open the Settings app.
Go to Apps>Optional features.
Click 'Add a feature'.
Enter Windows Media Player in the search bar.
Select it, and click Install.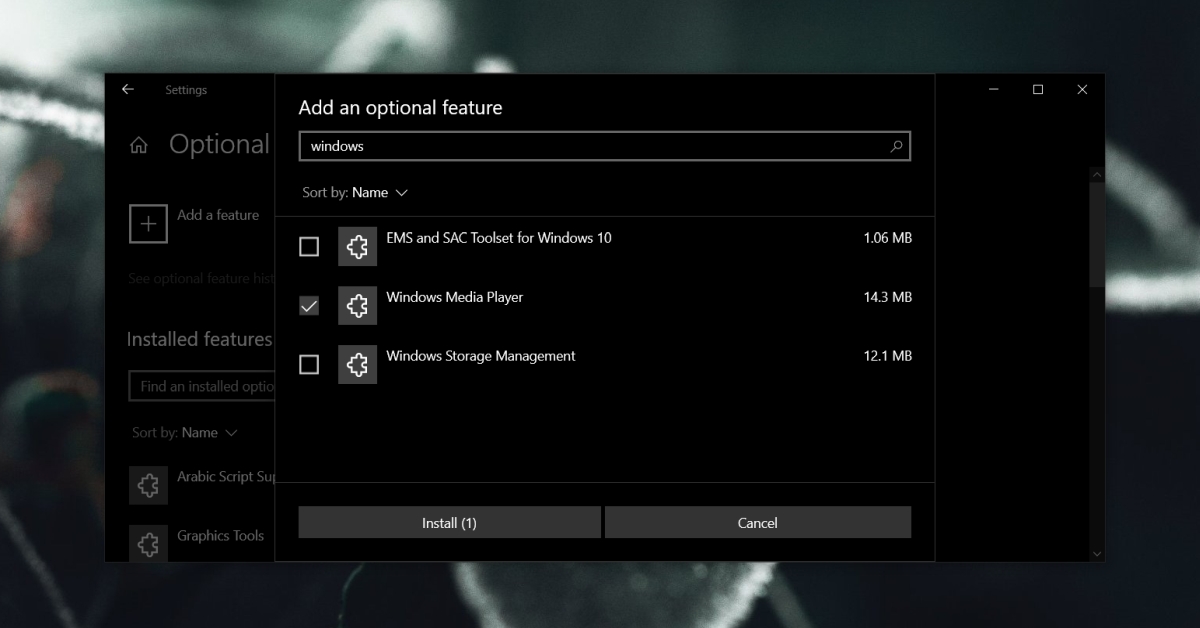 4. Use other media players
Windows Media Player is deprecated. It can be installed on Windows 10 but it isn't going to receive updates. It stands to reason that at some point, it may not run well on Windows 10. Try using a different player like the stock Movies & TV app or VLC player.
Conclusion
Windows Media Player has some really great features that you won't find in many other media players. VLC is the only app that can top it if you're looking for features and reasonably-easy UI to learn. It's no mystery that users still love this app and will do what they can to continue using it.