Windows Tweaker: 100+ Tweaks For System Utilities & UI Components
Most power users want their Windows to be customized to their own liking and comfort, and in order to achieve that, they tweak Windows Registry and Local Group Policy Editor. In the past, we've covered a lot of tweaking utilities for Windows 7, such as Sunrise Seven (an application designed for Windows 7 that provides you with a long list of tweaks compiled in a unified interface), and Simple Performance Boost (a system tweaking tool that enables you to to increase response time and ensure stability of the system by providing you with only the safest tweaks that do not compromise the security or functioning of your system). Today, we came across another system tweaking utility called Windows Tweaker. This open source application contains a large number of tweaks (over 100) grouped together in 11 different categories. The tweaks are related to System, Windows Explorer, Display settings, Right-click context menu, Windows Features, Login settings, Maintenance and other Utilities. Keep reading to find out more about Windows Tweaker.
The interface of the application is a bit cluttered. Although the tweaks are grouped into different categories, it still seems like a lot of options in each category. Another issue with the interface is that you cannot resize the application window. However, there is a total of 11 categories named System, Explorer, Display, Right-click, Places, Tasks, Features, Logon, Restriction, Maintenance and Utilities. Each tab includes a collection of related tweaks. For instance, the System tab allows you to tweak Shutdown Configuration, change the name of user & company in Registration, Edit the support information etc.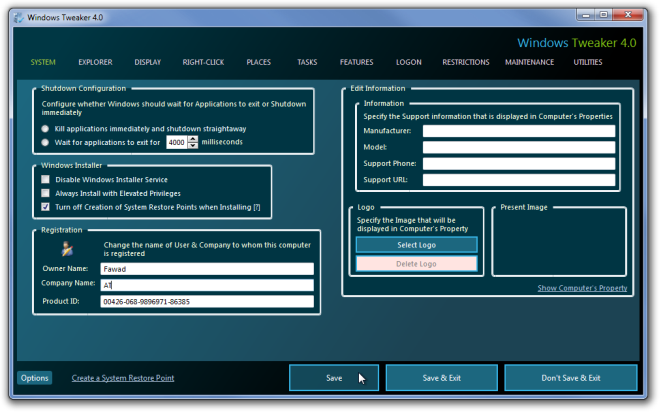 Settings related to Windows Explorer can be tweaked under the Explorer tab, the Display options can be changed in Display tab, while the right-click context menu as well as, the Send To menu can be edited from the Right-Click tab.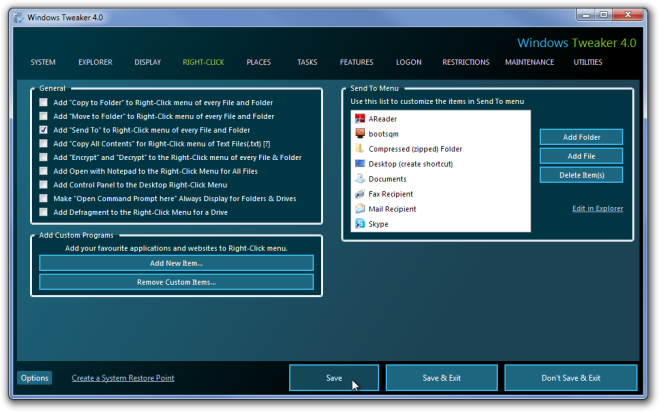 The Places tab lets you specify Open With menu and features a Startup Manager. The Tasks tab contains schedule shutdown, manage Special Hiding options etc. The Features tab handles Autoplay, Windows Update, Administrator Account and System Beeps. In Logon tab, you can manage Windows login settings, while Restriction allows you to disable options related to Explorer, Start menu, System and Taskbar.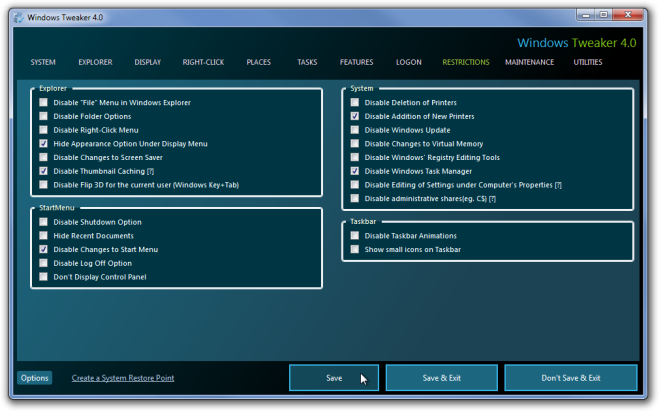 The Maintenance tab has Start Tweaks, Memory Tweaks and Auto-Reboot settings. The Utilities tab includes shortcuts to several Windows utilities including Local Group Policy Editor, Event Viewer, Windows Services console, System Configuration utility, Computer Management, Local Security Settings, System Information and more.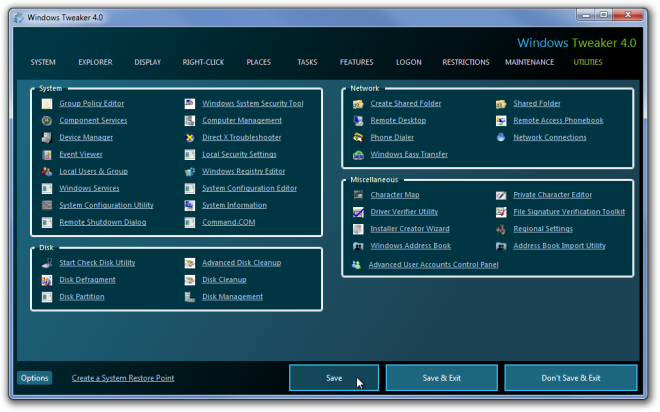 Windows Tweaker works on both 32-bit and 64-bit versions of Windows XP, Windows Vista, Windows 7 and Windows 8.