WinDroplr Brings 'Droplr For Mac' To Windows [Review]
If you are a Mac user, you must be using Droplr for multiple reasons, first because of the ease that it brings in sharing files, and second for its Twitter integration. For those who haven't heard about it before, it is a famous file sharing application only for Mac, allowing you to quickly upload and share just about anything, be it images, screenshots, notes, links, or any sort of file. By default, every user gets 1GB free space which comes without any strings attached.
Today, we stumbled across a Windows application called WinDroplr, which offers the very same set of features with equivalent ease as Mac counterpart. The best part is that it seamlessly integrates with Droplr, so synchronization can also be done with your Mac and iPhone device. In a nutshell, any files that are saved in Mac or iPhone using Droplr can be accessed by WinDroplr, and vice versa. According to the developer, you can "quickly access the files you saved from any of your devices".
Since Twitter integration plays a pivotal part in Droplr's fame, the Windows supported variant also integrates with Twitter, allowing you to share anything with your followers without any hassle involved.
Because the application is highly inspired or shall I say an exact copy of Droplr, it emulates the very same usage behavior. Running it for the first time prompts you to enter Twitter account login and password, once credentials are verified, you're good to go. You will see the application lying in the system tray, above it, a small drop box supports drag & drop behavior to begin uploading and sharing right away. Just grab a file, image, text, URL, or note, and drop it over.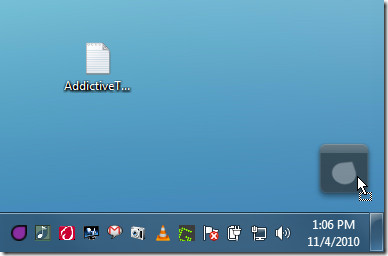 Once uploaded, it will notify you the about the link, indicating that file has been uploaded. Now just click the pop-up bubble to copy that link to clipboard.
You can share the recently uploaded file with anyone, just provide the recipient with generated link to let that person view or download the file.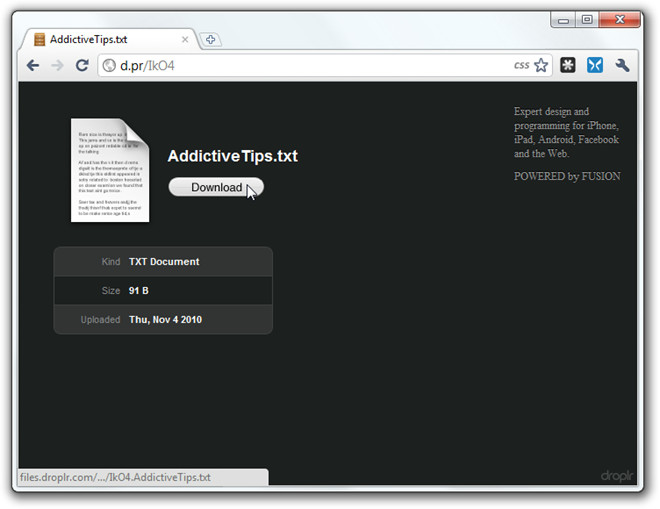 Just like Droplr, other fascinating facets are that it supports taking screenshots, offers notes composition and lets user view all the previous drops, so you can pick out any of the previously shared/uploaded item. Additionally, pre-defined hotkeys support make it further usable and easy. All these features can be accessed from its system tray right-click context menu.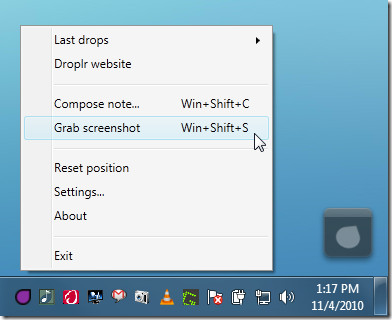 The note taking environment is utterly simple, with option to enter text either as plain text, markdown or in code styling. After you've done with writing a small note, click Upload to let it generate a shareable link for you.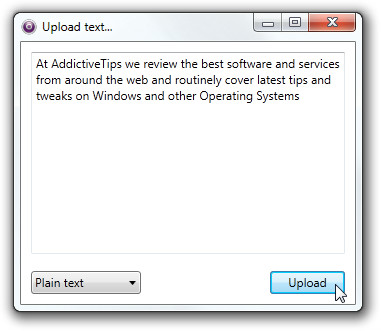 It is further possible to change the opacity of the drop box. You can also hide it while uploading is in progress, let it start with Windows logon, and enable/disable startup notifications. The Twitter account that you've configured at startup can also be changed from Settings dialog.
In short, WinDroplr has proved to be one perfect application, bringing all the nifty features of Droplr to Windows. In the developer's own words, it is "the only useful piece of software I've ever written". Below is a short video demonstration showing the working of WinDroplr.
The application works seamlessly on Windows 7 x86 system without showing any problems and lags in uploading files. It runs on Windows XP, Windows Vista, and Windows 7, provided you have .Net Framework 4.0 installed already.