WinMend Folder Hidden: Set Password To Hide And Unhide Files & Folders
Securing files has reasons of its own. Nobody likes their confidential data to be easily compromised. Although Windows security parameters are getting tighter and tighter, loop-holes still remain. Sometimes, even our kids using the PC can unintentionally make various alteration to important files, without us even knowing. If you absolutely cannot give second chances to your important data being stolen, then its time to step ahead and lock it away though some extra layer of protection. Try WinMend Folder Hidden, a robust application that allows you to quickly hide your files and folders placed in local hard drives, remote locations, and removable memory devices. The files hidden through the application are not accessible through usual means, i.e. via the default Show Hidden Files option or any other third party solution. For instance, if you hide a folder in a USB drive using WinMend Folder Hidden, you will not be able to view it in any other computer that includes even your own computer, unless you unhide it with the application itself. If you install the application on another PC, you will need to enter the same password to access the hidden files that you may have assigned on the PC where the files were originally locked away. More on WindMend Folder Hidden after the break, with a few screenshots.
After installation, the application will ask you to enter a default password upon first run. This acts as a master password and you can unhide the hidden files on another computer using the same password.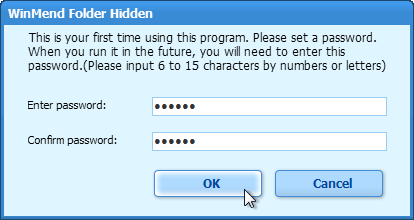 The default skin of the application is blue, with a few additional ones. The process of hiding files is really simple, involving simple dragging and dropping of files and folders into the main interface of the application. Likewise, to unhide the files and folders, select the required files & folders, click Unhide and you're done.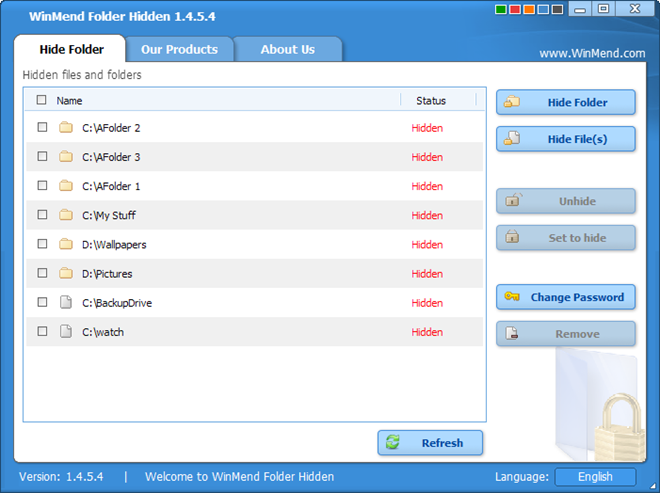 Even the default skin being blue, the Color bar at the top allows you to change application color to Green, Red, Orange, Blue and Black, while the Language menu in the bottom lets you switch application language between multiple languages, including English, French, German, Spanish, Dutch, Arabic, Korean etc.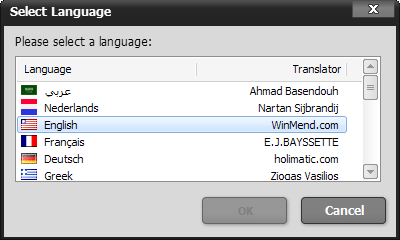 All in all, WinMend Folder Hidden is a flawless application and perfect for those looking for hide their important files from unintended eyes. It works on Windows XP, Windows Vista and Windows 7. Both 32-bit and 64-bit operating systems are supported.
Download WinMend Folder Hidden