wxHexEditor – Powerful Hex Editor To Recover Data From HDD And System Partitions
Generally, hex editors are used to tweak with source binary files for variety of reasons. For instance,  you might want to change restricted user preferences, add or edit default configurations provided by an application, or to modify application version information to make it compatible with other software. wxHexEditor is an open source and powerful hex editor, which, while having all the basic editing and analyzing capabilities, allows you to recover data from raw HDD and system partitions. Moreover, you can edit partition tables and recover files from system by opening required file in it. It comes with multi-tabbed interface with a facility of doing comparisons, so users can open multiple files and check them for any differences. With powerful editor, HDD and SDD disk devices can also be viewed and edited. Unlike other hex editors, it doesn't consume too much of memory while opening large files.
The main window is divided into 3 panes. The offsets are listed at the left side while Hex values and original file content is shown in center pane and in right pane respectively. The main toolbar holds handy options to go to specified offset, inject user-defined bytes, delete selected data blocks, and find Hex and Text data, At the left side of main window, you can see the opened file information, such as, total size, read/write access permission, file path with options to view selected DataInterpreter values.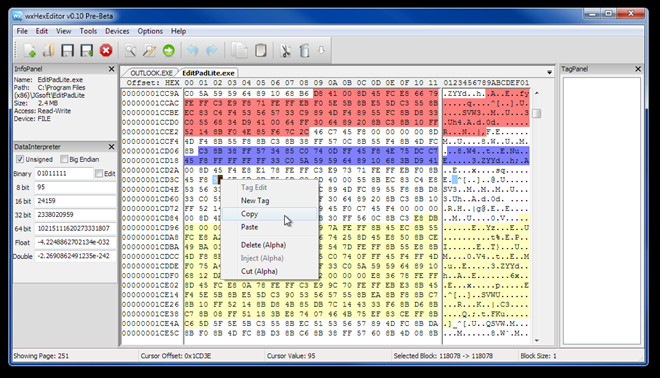 The right-click menu lets you open tag editor, create new tags, and perform basic copy and paste operations. The TagPanel is kept at right side of the window to quickly jump between tagged data values. If you are just reviewing a binary file, you can close tag pane to get more space.
You wont have to manually specify drive device or partition to recover data. From Devices menu,  just choose the partition or disk drive to retain the data back.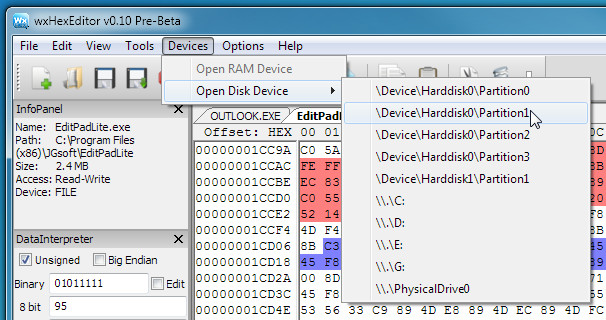 It works on Windows XP, Windows Vista, and Windows 7.