XnConvert Is Powerful Image Editor And Converter Supporting 400 File Types
Earlier this year, we covered XnConvert, which has a slew of options and tools to quickly edit, convert and apply different pre-defined effects over images. Recently, it has been updated with a lot of improvements and now available for Mac and Linux OS platforms as well. The latest version 1.0 is more stable than previously covered version 0.90. The multi-platform  application offers almost all the image editing tools and features whilst supporting more than 400 image formats, including, Camera RAW, WEbP, TiFF, PNG, JPG, etc. All the options to convert images, overlay watermarks, set brightness, gamma, and other photo re-touching features, and image filters are provided in a user-friendly UI, which makes converting and editing images a breeze.
On the main interface, you can either select multiple files manually from different locations or choose a folder to list down all the contained image files. The images files listed in main window can be sorted by Name, Size, Modified Data, EXIF data (if associated), Print Size, etc. The order must be verified before moving to  Actions tab, as it performs batch convert operation in defined sequence.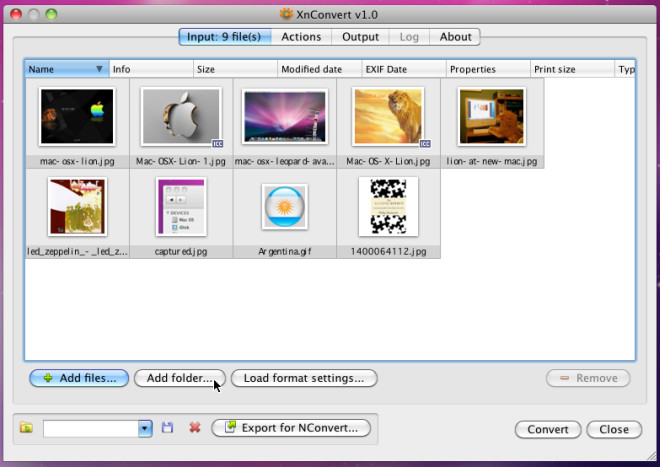 In Actions window, it will ask you to specify the operations which you want to perform over set of images. From left side, you can apply Image effects, choose image Map options, set Filters, and choose other miscellaneous actions which you want to apply over images.
From Output window, select the target folder and configure other File Output options, such as, adjusting file naming conventions, title case, filename format, and setting post output behavior. The Log holds information regarding image file conversion process. It supports both 32-bit and 64-bit OS editions.