XnConvert – Apply Effects And Convert Image File Formats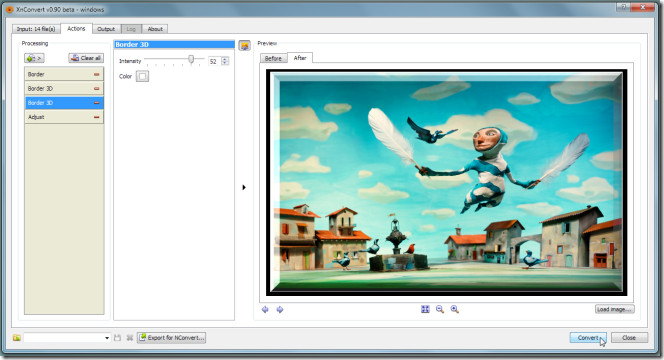 XnConvert is a portable application designed by developers of famous XnView Shell Extension – which brings XnView image editing capabilities in Windows context menu. XnConvert provides image editing tools to let user change, edit, and apply effects over images without putting much effort. Unlike other image editing tools, the application is backed by many pre-defined actions for applying Image, Map and Filter related effects over selected images. Compared with XnView Shell Extension, it encompasses a great deal of interesting effects and options which are bundled into respective action categories. Furthermore, it not only enables user to apply effects but let them change Output formats as well. While you can change the output file naming convention, image type can also be specified to always convert those images over which you've applied effects for better image quality result.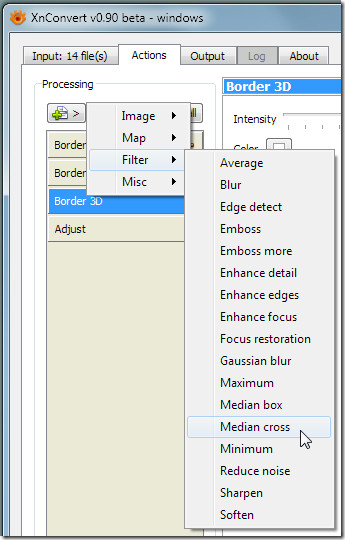 To begin, first off, add images manually or select a folder to import images from. Once listed, you can start off with applying effects and conversion. Navigate to Actions tab to select the effects which are to be applied, all the provided image effects come with intensity-level controller, so users can specify the level they want to apply over image in question, Changes can be retained back anytime, however, it comes with both Before and After previews to notice changes that will be made after the conversion process.
Effects are categorized into Image, Map, Filter, and Misc groups. Each group carries all the relevant effects and color-specific actions, nonetheless, in Miscellaneous category you have options for adding noise, border with effect like Lens, Mosaic, Shear, Slice, Swirl, Waves, and so on.
Once you've made changes and applied effects, move to Output window for setting file naming options. Here, images types can be selected to carry out file format conversion. It supports all the widely used image formats in addition with WBMP, XBM YUV, VST,PSD, PS, PPM,  IFF, ICO, GIF, EMF, and many other formats.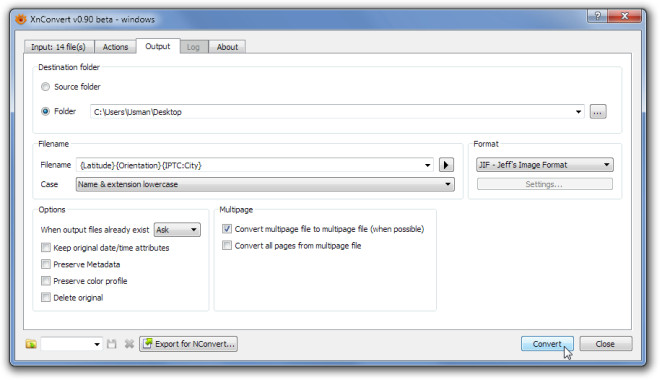 Conversion is carried out in batch mode, i.e, it can apply effects and then convert all the images from the selected directory in one succession. XnConvert is for users who need to apply same set of effects over a group of photos. Since it is in beta, you may find some features not fully functional. It supports Windows XP/Vista/7. Testing was done on Windows 7 x64 system.