Yandex.Disk: Cross-Platform Cloud Service With 10GB Free Space
Dropbox, SkyDrive, Box, Amazon Cloud Drive – all these cloud services have gained popularity among the masses. The internet juggernaut Yandex has recently found its interest in cloud computing as well, with the launch of Yandex.Disk. Capturing about sixty percent market share, Yandex is the largest internet search engine company in Russia and number 5th, worldwide. Their cross-platform cloud service promises to give Dropbox and SkyDrive a run for their money, by offering 10 GB of free cloud space to its users, which they can use to upload documents, music, photos, videos or any personal files. The files can be accessed from any internet enabled device, including iOS and Android phones. The desktop client is available for both Windows and Mac OS X. Regardless of which platform you're using it on, you can both access and upload the files, and everything is instantly synced. Albeit free for anyone to use, Yandex.Disk is currently invitation only, and it may take a week or two before you're offered an account after the initial sign up. Nevertheless, I got my invite within a day, and quickly hopped in to see whether it stands a chance.
Yandex offers a free space of 3 GB initially, but it can be easily raised to the 10 GB mark. You get extra 3 GB after installation of desktop client, an additional 2 GB after uploading your first file to the cloud, and finally, 2 GB more is offered when you share the service over Facebook, Google+ or Twitter. Furthermore, Yandex has integrated their Mail service with the Yandex.Disk, which, in turn, allows all your email attachments to automatically save to the cloud-based variant.
Desktop
To get started, you need to head to Yandex.Disk webpage and request for an invitation by entering your email address. Once you get the confirmation email, you may complete the whole sign up process and then download the desktop client for both Windows and OS X.
Note: The setup program tries to download and install Yandex.Bar, as well as set your web browser's homepage and default search engine to Yandex. You may, however, uncheck all three manually before completing the installation.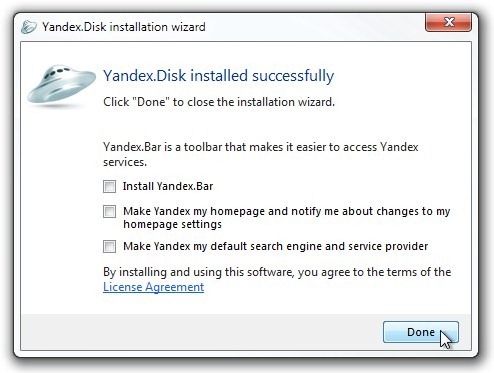 After installation, the application demonstrates the service within a few steps to get you acquainted with it. Once on the login window, enter your Yandex username and password and click Log in button.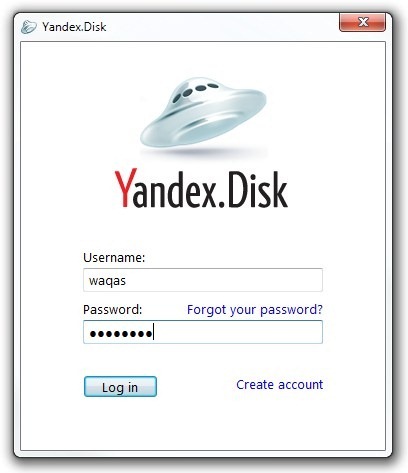 Similar to Dropbox, it automatically creates a Yandex.Disk folder, which is the main source for syncing your folders and files. The application sits quietly on the system tray, and from its right-click context menu, you can directly open your Yandex.Disk folder or the web API. It also lets you know about the current syncing process and you may halt the process by clicking Turn syncing off. Sharing your files is also quite easy – either select your file via Sharing > Select a file to share from context menu, or simply copy the file on your Yandex.Disk default folder and it will be synced to every device. It also allows you to create sub-folders in the main directory, which in turn will keep your files well organized.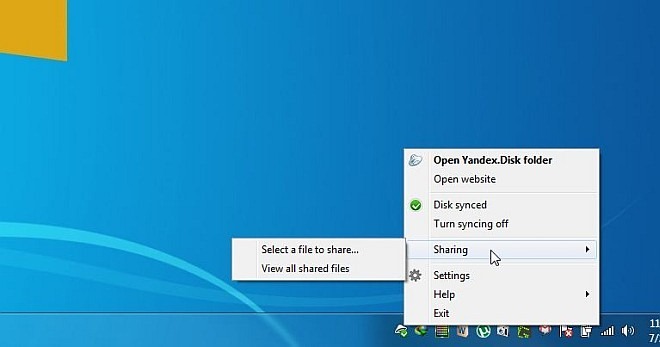 Settings window lets you configure a few options under General, Account, Proxy and Advanced tabs. For instance, under General tab, you may change local destination directory, as well as letting you know about the available cloud space. Folks who use proxy servers can enter required parameters under Proxy tab.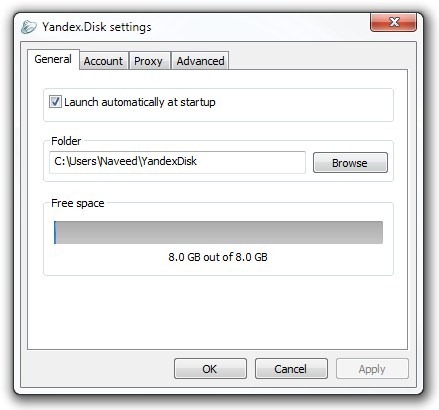 Web
All your files are accessible from Yandex.Disk web API, similar to Dropbox. The web interface looks sleek and intuitive. The developers haven't hesitated to provide the simple steps to obtain extra cloud space, on its Web API as well. It allows you to access and upload files, create and save contacts and read messages, all under one roof.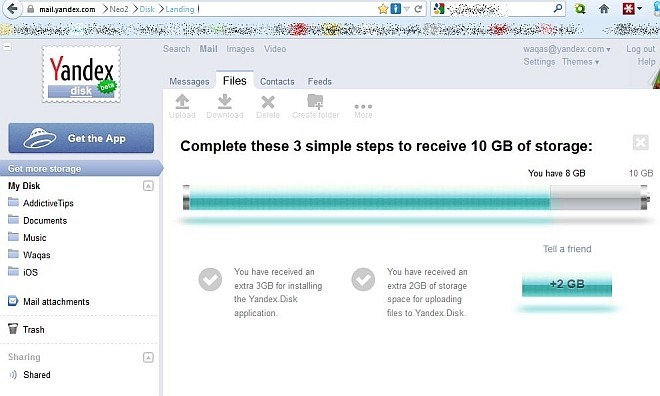 As stated earlier, it also saves your Mail attachments to the cloud, which you can see via clicking its respective button from the left pane. In addition, all the user created folders are listed in the left pane. Yandex.Disk allows the users to easily share files with their friends. To share a file, select it from its upload location and change its privacy from Private to Public. Yandex will provide you with the file's download URL, which anyone can use to download the file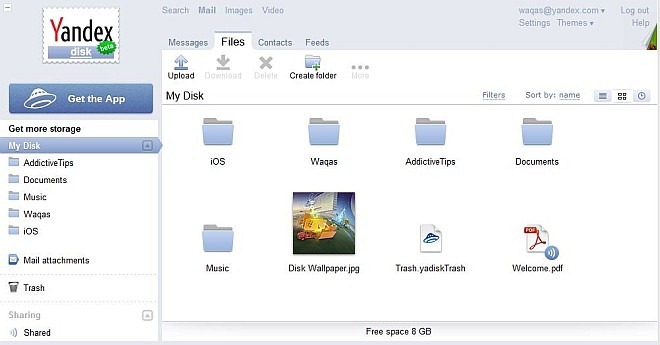 Android And iOS
Yandex.Disk is also available for Android and iOS devices, though the mobile app is labeled as Yandex Mail. Akin to web app, the Android app also looks pretty neat and elegant. It provides all the functionality of web API at the palm of your hand.
After trying the Android app, I also gave a shot to its iOS cousin, which pretty much performs the same. I tried syncing a couple of files and created an iOS folder, and the app worked as it should, as I was delighted to see how fast it synced the files to other locations. The iOS app also lets you create new Tasks and upload your Camera Roll and photos directly to the cloud.
Verdict
Yandex set out to compete in a cloud market that is already dominated by major players like Dropbox, SkyDrive and iCloud, and so far, the result is nothing short of astonishing. The blazing fast file syncing, 10 GB of free cloud space, email attachments and cross-platform support, might easily win the heart of the most. The company desires to continue it for free, but additional, paid plans seem imminent. Yandex.Disk is available for Windows, Mac OS X, Android and iOS. Testing was carried out on Windows 7, Galaxy SII with ICS rom and iPhone iOS 5.1.1.